OK, so I was expecting to get a week or two out before things fell apart.
Today looked good when we started out. The girls ate leftover cold pizza and almost-ripe bananas for breakfast as we broke camp and packed up just after 6 am. I had planned to meet a friend in Minneapolis for lunch, and doing that kept us on schedule. The drive to Minneapolis was nice. We were finally out of Illinois and off the toll roads. The girls settled on a Star Wars movie — after opening several DVD cases they'd brought and finding them empty (they'd packed in a hurry) – and once we passed Madison the scenery changed and we could "ooh" and "ahh" over pretty rocks once in a while.
We reached Minneapolis in just over 5 hours. Melanie is an old friend from my stay-at-home-mommy days when I was part of a playgroup/bookclub that met once a week for a few hours in the morning but occasionally stretched into, "Oh wow – the kids have been playing so well I didn't realize it's almost dinnertime." She moved to Minnesota years ago, so I was glad she had time to meet us for lunch and catch up a bit. We drove to a nearby park and ate as the girls wandered around, climbed in the trees, and cooled off in the lake.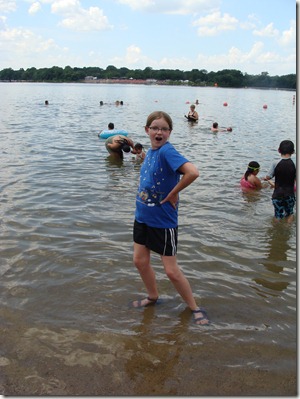 Julia dancing in Lake Nokomis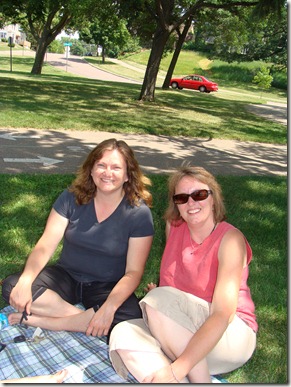 Lunch with Melanie D.
By two-thirty we were on the road. I only wanted to get as far as Fargo, ND, today, but we had a stop planned an hour away in Darwin, MN. If you weren't watching music videos in 1996, you may not know that Weird Al Yankovic made Darwin famous by singing about the creation of Francis A. Johnson = a 12 foot diameter/10,400 ball of twine. Some folks in Kansas may have the record for the biggest ball of twine total, but Darwin's twine ball is the biggest made by only one person. I mean, we were going to be within an hour. How could we NOT go a little out of our way to see the twine ball?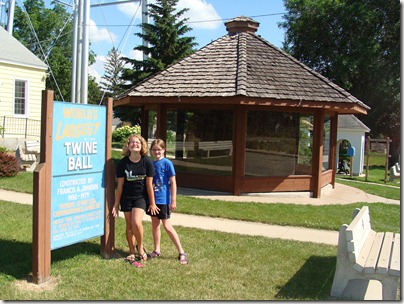 "If you could pick anywhere in this big world now, Where'd ya like to go ta?  They picked the biggest ball of twine in Minnesota."  –Weird Al
So we stopped, took a few pictures, bought some postcards, and even walked through the museum – yep, there's a museum. It was a good stop. The twine ball does not disappoint. You don't go into it expecting more. You expect to see a big ball of string, and there it is.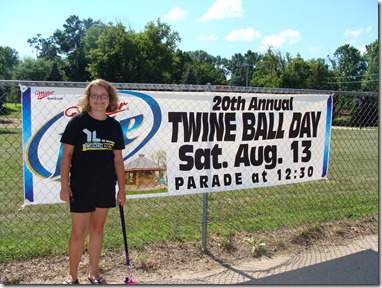 Darn it.  We're going to miss the parade.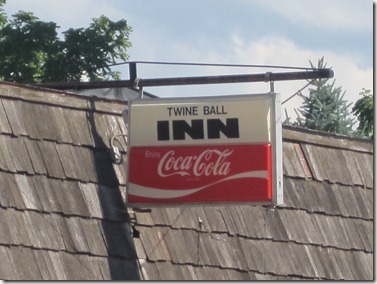 The Twine Ball Inn is closed.
Driving north toward Fargo, our mood was good and we were on schedule.
Then we heard a loud bang and in the rearview mirror I could see pieces of camper tire flying everywhere. Not good. As I explained earlier, I know how to change a tire, but the actual brute strength needed to do so is generally Mike's area. I knew this going in, though, so I had purchased rv roadside assistance back in June. After a quick call to CoachNet, the tire was changed and we were moving again. I was driving with more caution, though, because I can't figure out why the tire blew. We had just checked the pressure before leaving home, the camper is not carrying a lot of weight, and I didn't see anything on the road, so who knows.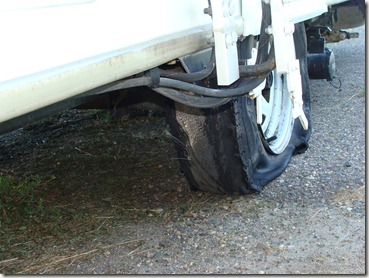 Not going far on this tire.
We pulled off early and stopped in Sauk Centre, MN. I found a campground not too far off the highway that ran along a river. Nothing special, but they had water and electric. It was our first night working the water system on our own, and I'm not going to embarrass us completely with the details, but it did not go well. Many things were overflowing and most of our towels now need to be washed. Whatever the opposite of beginner's luck is, that's what we had. Tomorrow we attempt to cross the entire state of North Dakota.
2 Responses to "Going West July 8: Rockford, IL, to Sauk Centre, MN"