High Point: Lunch at the Mexican Burrito Bus outside of Yellowstone
Low Point: Coming into Jackson from Hwy 22 over the mountains
Today we left the Yellowstone area and traveled south into the Grand Tetons.  Leaving Gardiner, we stopped for a few pictures of the main street and the park entrance.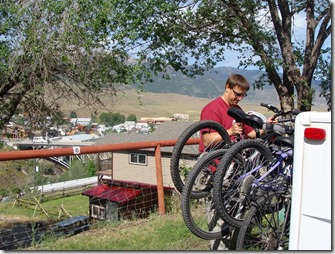 Mike packing up the bikes/Our view from Rocky Mountain Campground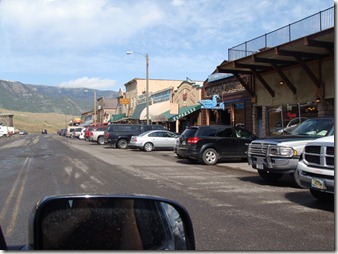 Downtown Gardiner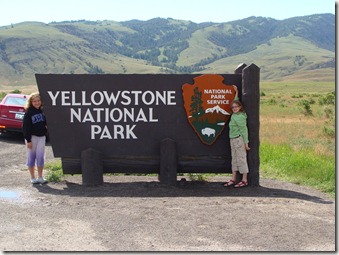 Starting our last drive through Yellowstone
Nice little town, and the campground worked out really well when we wanted to leave the dog behind for the day, so it was a good choice.  We didn't find anything similar near the Tetons, however, so our plan is to get as close to Jackson, WY, as possible where Buster can hang out in doggy day-care while we play.
Our day's destination, then, is the Gros Ventre Campground within Grand Teton National Park – only 12 miles or so from town but with rustic camping only (no water/electric).  Temps were going to be in the 40's overnight.  Not a big deal usually, but our camper battery seemed to be dead and Mike and I forgot to pack our sleeping bag.  Instead, we're sleeping under an old quilt of Julia's decorated with colorful, dancing monkeys.  Not very warm.  Therefore, today's big adventure found us wandering through Idaho in search of what Mike read would work best  = 2 golf cart batteries.  The easier option, of course, would be to buy a sleeping bag, but for some reason that's the back-up plan.
The good part of the detour was that we stopped for lunch in West Yellowstone at a place called Las Palmitas, or what we came to call "The Mexican Burrito Bus."  There were lots of local workers waiting in line instead of tourists, so we had a hunch it would be good . . . and it was.  Really good food.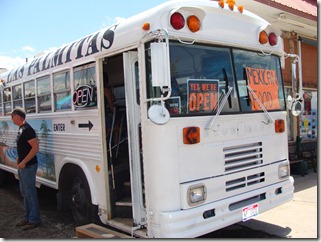 Our lunch stop in West Yellowstone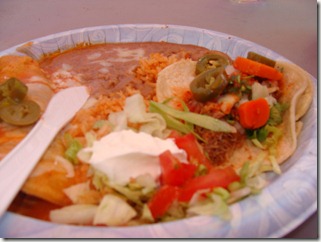 They don't serve chips & salsa, so no salsa review, but lunch = yum!
The detour also led us to the low point of the day:  Coming at Jackson Hole from the west over the mountains along Hwy 22.  We just followed the GPS route and ended up taking perhaps the worst route for anybody pulling a trailer.  Straight up.  Straight down.  Campers were bailing left and right along the way.  We made it, but barely; you could smell the brakes by the time we reached the end, and I'm pretty sure my fingernails left marks on the door grips.  Before we left Jackson, Mike was worried enough he actually took the camper apart to have a look at the brakes.  All good.
With two new golf cart batteries to power the heat, we set up camp in Gros Ventre in a spot where you could see the Tetons peeking over the sagebrush hills (sagebrush creeps me out, by the way – anything could hide in there).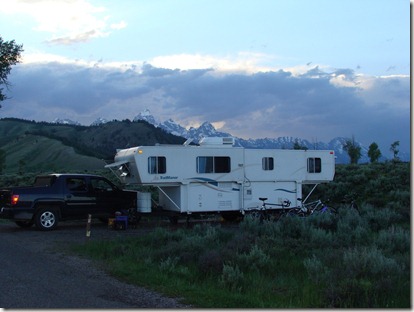 Setting up camp in the Gros Ventre Campground, site #71
The campground was first-come, first-serve, so after getting a battery we didn't spend time grocery shopping.  Dinner was canned ravioli and tuna casserole, but nobody complained. Nobody went to bed hungry either, 'cause Mike brought out the ice cream ball.  This time we added to it a couple of over-ripe bananas and some rocky road fudge we picked up back at Devil's Tower.  It was like homemade Chunky Monkey – our best effort yet!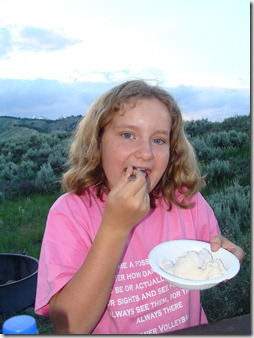 Bananas and fudge ice cream
Bedtime came when the sun went down.  Until then, I could sit and look at these mountains forever.