High Points:  6 moose, 1 almost-visible grizzly, erupting geysers
Low Points:  Traffic, Traffic, and still more traffic
Today we made arrangements for the campground to walk and water the dog while we explored the section of Yellowstone between Norris and Old Faithful.  That's only 60 miles of driving (30 to Norris, and then 30 between there and Old Faithful).  Knowing that, we half expected to get a little further and maybe make it as far east as the West Thumb area.  The first 30 miles to Norris went easily.  We saw our first two moose of the day, and we saw our first bunch of crazy people chasing moose through the fields with their cameras.  The only crazier human/animal situation came on the way home when Mike and Elizabeth spotted a grizzly bear off in the trees; although they were disappointed they didn't have a good camera shot, at least one guy wasn't giving up and started creeping up on it to get a good picture.  People are not too bright.  We even heard one young teen ask her mom today if everything in Yellowstone was for real or just man-made.  I suppose if you don't believe the bear will act like a bear, you don't mind chasing it through the woods (or propping your baby up on its back for a photo like we heard a ranger say he's seen some people do – yikes!).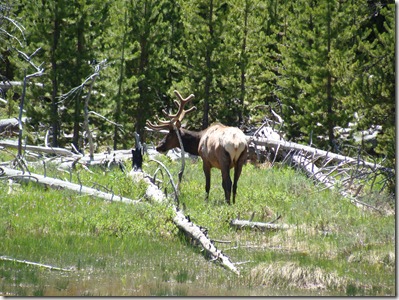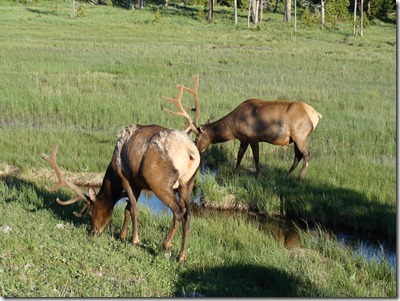 Moose wandering across the road and into the fields cause the first animal traffic jam of the day
Anyway, the day started well as we drove toward the geysers.  We made a quick stop in the Norris area to use the restrooms and let Mike pick up a book he wanted titled Death in Yellowstone, a ranger-written collection of all 300 deaths that have happened in the park.  There is some construction going on between Norris and Old Faithful and the signs all warn to expect 30 minute delays.  We got our 30 minute delay . . . and then we hit a second traffic jam and sat for another 45 minutes.  The kids were losing patience because we'd promised less driving today.  It was already 2 o'clock in the afternoon, so we broke out the picnic lunch and ate it while we sat there.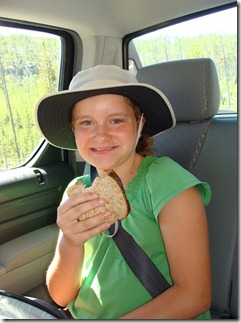 Lunch Break!
Mike started to entertain everyone with stories from his death book about all the ways you can get boiled, gored, or mauled in the park.  Julia made him stop so she wouldn't get nightmares.  In her words, "Dad, I thought I'd be glad to see you reading an actual book – you know, one that's not about computers, but I changed my mind.  Stop it."  It wasn't a horrible place to be stuck 'cause we could watch the a group of people fly fishing along the river.  We never did find out what the second, longer traffic jam was all about.  All of a sudden, we were just moving again.  Best we can tell, we were just at the trail end of a long animal-watching backup. Lesson learned: 20 miles on the map could mean 25 minutes, but it could mean hours.  Bring snacks.
Our first stop was a side drive through Firehole Canyon where you could pull out and see a small waterfall.  At the end of the drive was a parking area for those who wanted to swim in the river.  The ranger was turning people around today, though, because the river is too high and is considered dangerous.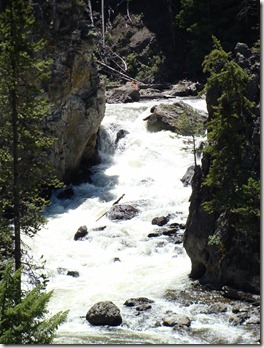 Firehole Falls
Our second stop was the Fountain Paint Pots, a series of bubbling mud, pools, and springs visible from a half-mile boardwalk.  Some of them are fairly new, too, because a whole area opened up during an earthquake in the late 1950's.  Bubbling mud always gets a good reception, but the Artists Paintpots from yesterday were honestly more impressive.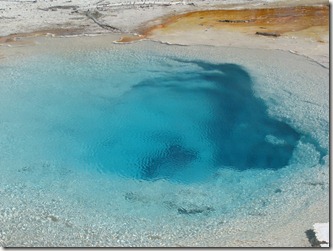 Fountain Paintpot Trail: One of the colorful pools along the boardwalk
Our third stop was the Midway Geyser Basin to see the Grand Prismatic Spring.  This was another half-mile walk along a series of steaming, colorful pools.  The kids liked that they could see animal tracks in the spring areas.  Mike kept us updated on whether or not anyone had ever met a grisly end in any of these pools.  He'd just told us about a guy who jumped headfirst into the Celestine Pool (back at Fountain Paintpots) to rescue his dog when we passed by a ranger talk and heard the same story.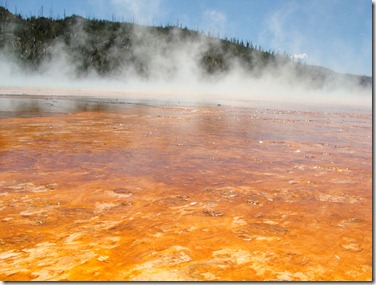 Grand Prismatic Spring: a large area of bubbling water and colorful bacteria.  Even the steam was shades of blue, green, and pink.  Here along the boardwalk, you could see animal tracks in the orange crust along the water pool. 
We finally arrived in the Old Faithful area.  We had been driving and/or walking geyser trails for 5 hours already, and the kids were tired.  We found a spot on the observation platform and waited about half an hour until it blew. 
That perked them up a bit, so we hit the mile-long Geyser Loop Trail.  We were told these small geysers go off intermittently so we couldn't be guaranteed to see anything.  We got lucky, then, because at least 3 of the small ones put on a show for us during our walk.  Some of them were right near the boardwalk, so you could really see the colors in the water and the thin layer of crust around the outside that fools many people into thinking it is safe to walk on.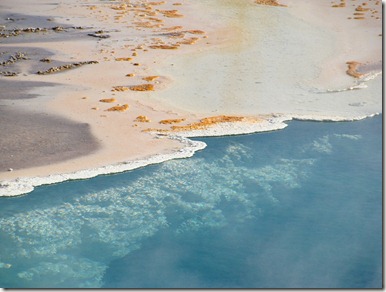 A good look at the danger of walking near the hot spring areas:
The ground is really a thin crust above what can be deep, boiling pools
Geyser Loop Trail: Old Faithful Area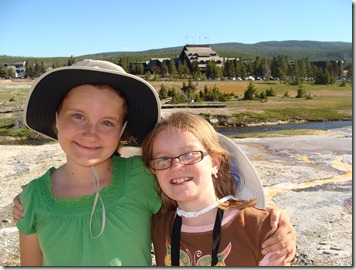 Walking the Geyser Loop Trail: Old Faithful Lodge in the background
An odd highlight of the trip came for the girls who love weird signs.  This one seems to imply that you should NOT throw anything into the geysers; instead, you should bring your dog along and have him do it for you.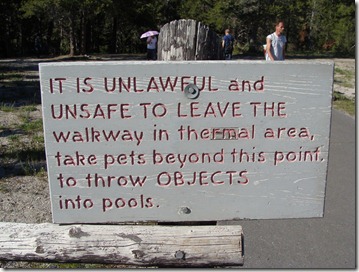 Hot springs, Fido . . . very dangerous . . . you go first.

We were dreading the drive home thinking it might be as long as the way down, but we breezed right through all the areas that had been difficult earlier in the day – even when there was wildlife to see. 
We arrived back at our camp around 9 pm to find a family with a renovated Airstream camper had pulled in beside us.  He gave us a little tour, and Mike was enjoying the irony that this guy had an Airstream (the campers I really like) but he was itching to get a look at our TrailManor (which he really likes).  He was hauling 9 kids and all their gear, though, so he needs all the extra room his current camper gives him.  Next time I'm complaining about the noise in the backseat of our truck during this trip, I'm just going to imagine this guy riding around with 9 kids all asking if they're there yet. 
Final note:  Buster did great and didn't give the dog sitters a difficult time when they came to walk him.  They said he was a great dog.  Yeah Buster!