This morning we dropped Buster off at Karen's Canine Campground for an overnight visit.  This gave us all day Monday and part of the day Tuesday to see Arches National Park.  We knew it was going to be hot, so we loaded the backpack with extra water, filled our water bottles, and brought along an entire cooler of drinks.  It's the last stop of the trip, and I think we've finally figured out this dry air requires an amazing amount of water to keep us all walking and feeling good.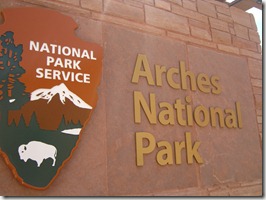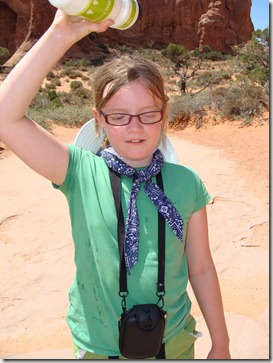 Water:  Julia cools off during a hike
A bonus find came at the visitor's center where everyone discovered bandanas with built-in cooling beads designed to stay cold for hours once soaked in water for 5 minutes.  If they worked, they were worth the money because we were tired of being miserable on hot hikes.  Mike and the girls got bandanas, and I got the hat version.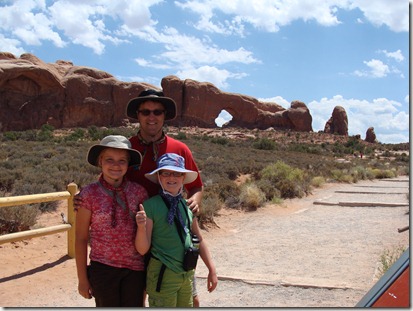 Everybody wearing their snazzy new cooling bandanas
I soon realized the cooling beads along the back of the hat work best if you don't have a lot of hair in the way.  I put my hair up under the hat, but then Julia said my head looked like a carrot.  Oh well. The cooling beads are weird.  They look and feel just like the gel bead things in baby diapers.  We decided it was a bit ironic we spent years cloth-diapering babies in part to avoid the icky, mysterious gel beads and today we were saying, "Here, soak these up and put them on your head."  Whatever keeps everybody cool and happy. 
We started the day with a couple of short hikes out to the Windows Arches, Turret Arch, and Double Arch.  Arches National Park has the greatest density of natural arch formations in the world; there are more than 2000 arches of all sizes, and 25 are more than 50 feet long. 

Park Avenue:  One of the first pull-off areas in Arches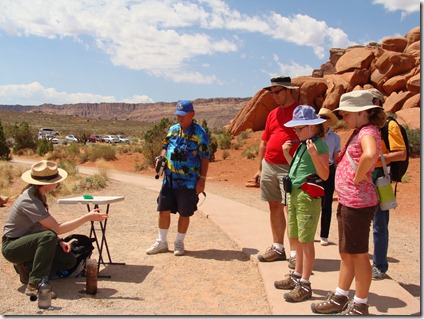 Talking about dirt:  A ranger gives a demonstration on how the arches were formed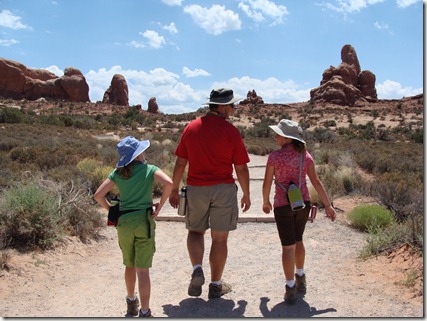 Mike and the girls walk toward the Windows Arches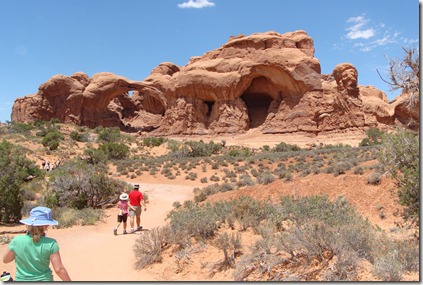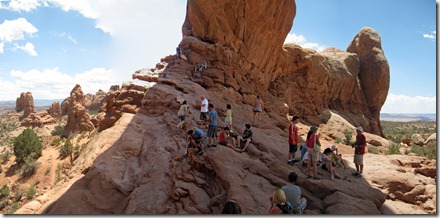 North Window:  Christine and Julia climbed higher for a good look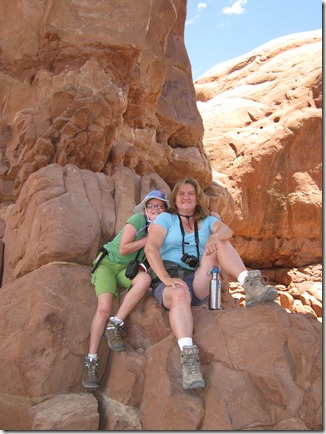 Looking across North Window:  Mike and Elizabeth are on the opposite side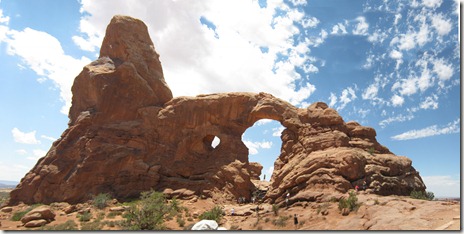 One look at Turret Arch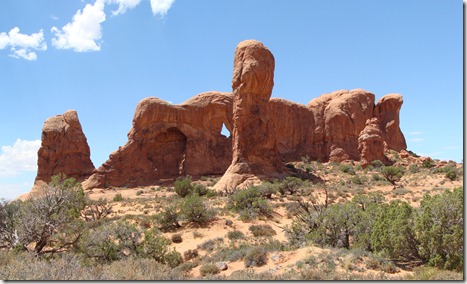 Another look at Turret
Julia is our daredevil, and knowing she wanted to climb high, one of us went with her at each arch.  Only once did she monkey-scramble up a rock face without a good way to safely get down.  That was at Double Arch where she and I climbed up to stand in the arch overlooking the road behind.  I knew I wasn't strong enough to brace the two of us on the descent, so Mike had to climb up partway and help guide her down.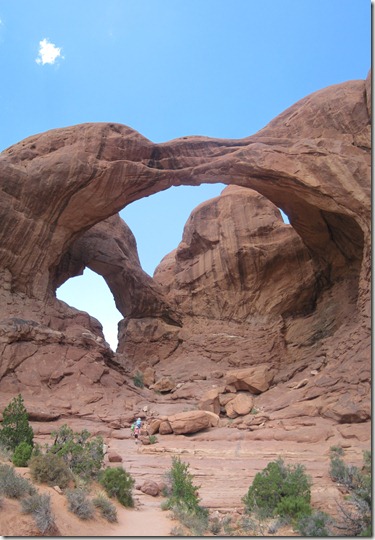 Double Arch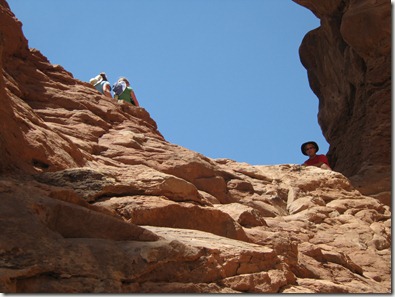 Christine and Julia climb into the lookout point for Double Arch . . .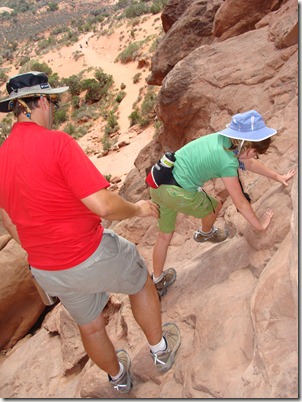 . . . and need Mike's help to get Julia back down
Meanwhile, Elizabeth found herself a cozy little nook with a good view partway up and was perfectly happy hanging there while the rest of the family made sure Julia got up and down in one piece.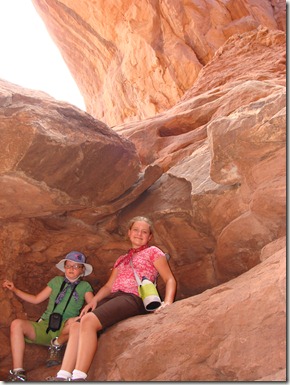 We also stopped a few times along the road to check out the rock formations you could see from there. 

Looking at Balanced Rock and the Garden of Eden area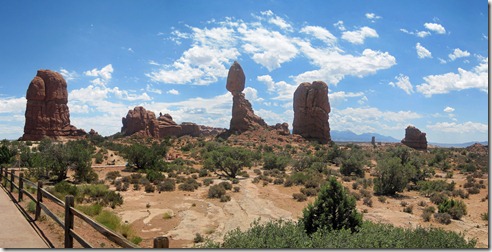 A closer look at Balanced Rock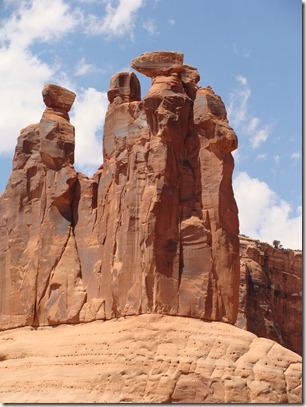 The Three Gossips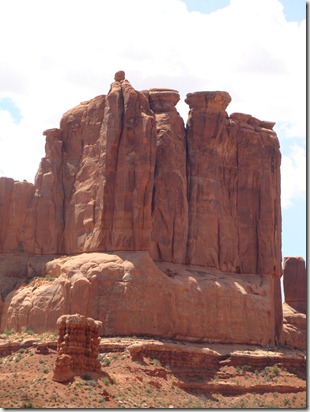 The Organ
We drove out to a picnic area hoping for shade but found only two picnic tables completely exposed to the hot midday sun.  The temp was reading 101, and nobody was anxious to sit outside and melt.  We joined several other families in parking at the picnic area but eating in the air-conditioned car.  Craziest looking picnics I ever saw.  We did make use of the rustic restroom facilities, though, and I just want to give a thumbs-up to the Arches National Park pit toilets.  They were sparkling clean and had nicer tile than my own bathroom at home.  When it's super hot and you're dreading entering a hot and humid bathroom, it's the little things that count. 
Without a doubt, the highlight of the day was the ranger-led tour through the Fiery Furnace area.  Taking the hike requires advanced registration and a small fee, but we'd heard it was fantastic.  We reserved tickets back in April and took the last ones available for the day.  We were looking forward to it, but by the time we pulled into the parking lot and realized it was already 102 degrees, nobody was super excited about walking into a Fiery Furnace.  It wasn't just our family; of the 28 people scheduled for our sold-out tour, only 22 showed up (the ranger said that is common on really hot days).
    Walking into the Fiery Furnace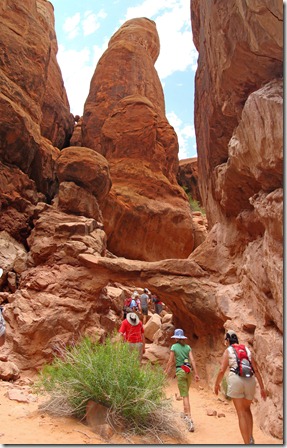 Walk-Through Arch
Once we started walking, however, we realized this was going to be okay.  The Woelmers officially like slot canyons.  Just like in Zion's Narrows hike, there were many places here where the rock fins soared above us as we squeezed our way through the maze. The hike was primarily through rocks and canyons, so you could avoid the direct sun.  Also, the hike was broken into sections with ranger talks every few hundred feet, so you were never walking for a long distance without a break.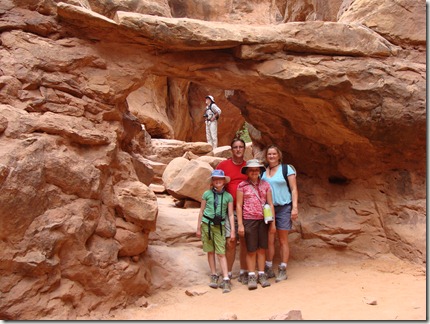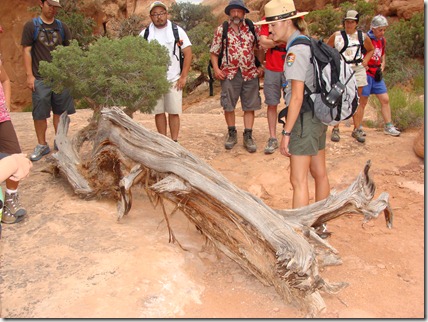 This Juniper tree is 300-400 years old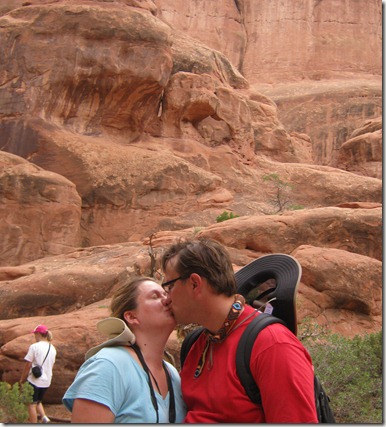 Imitating the arch called "The Kissing Turtles" behind and above us
We were glad for the breaks.  Even out of the sun, the air was so dry we were constantly having to drink water. This time we had a whole backpack full of extra water bottles, but I was worried it still wouldn't be enough.  Sure enough, it was gone by the end of the hike. 

The ranger stops focused on the elements shaping the landscape:  earth, wind, and water.  Our kids were the youngest on the tour, so they each got to take a turn in demonstrations.  Elizabeth pretended to be a salt dome, and Julia was calcium carbonate.  Elizabeth was also asked to taste a Juniper berry, which turned out to be a small pinecone and did not taste good at all.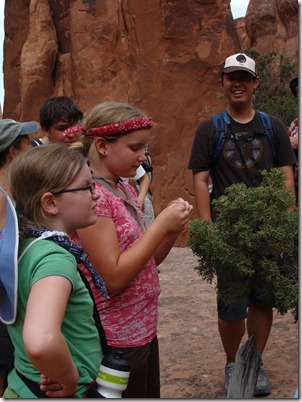 Tasting a Juniper berry
Between hikes, we scrambled up and down rocks, walked along cliff ledges, spider-walked along canyon walls, and crawled through some pretty tight spaces.  Julia loved it 'cause she loves climbing and exploring things.  I just wish she had a slightly better sense of danger, so we had to keep a close eye on her.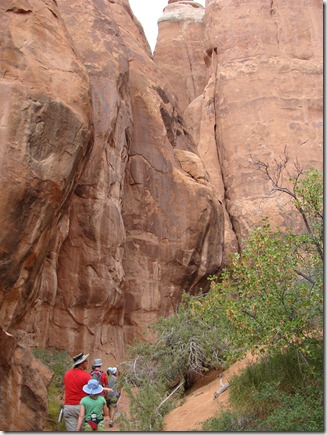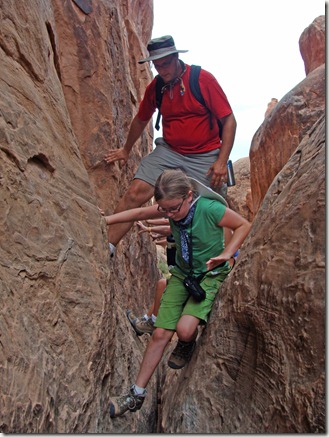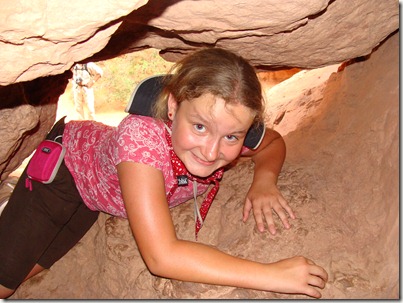 Crawl-Through Arch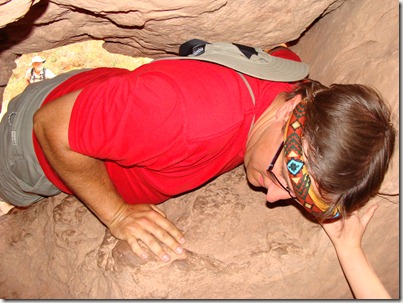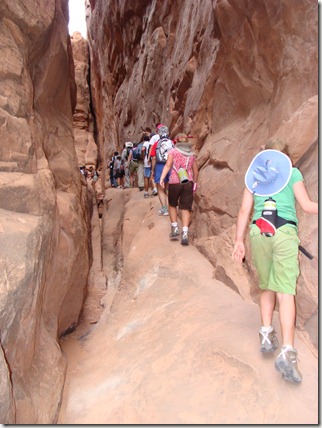 Halfway through the tour, we hiked into a place called Skull Canyon.  Here the ranger talk focused on how life uses water in the arch areas.  Of special interest was the fairy shrimp – a small animal that creates a substance known as trehalose to survive through even 50 years without water.  This same substance is collected and used to keep transplant organs viable during transport.  Sadly, although the fairy shrimp can live without water for long periods of time, it can't survive busy foot traffic, so there were no fairy shrimp living in Skull Canyon.  We were so caught up in the discussion about life in the water pools, we were actually surprised to turn around at the end and see the creepy eyes of the "skull" looking down at us.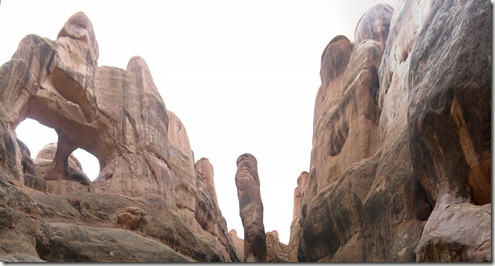 Toward the end of the hike, we made a technically difficult crawl into an alcove hiding the appropriately named Surprise Arch.  Everyone was tired, and the ranger had us all lie down and look up at the arch in silence for several minutes so we could hear only the wind blowing and sand moving across the rock.  Mike called it a "touchy-feely" moment he could have skipped, but it was a peaceful few minutes during what had been an exhausting three hours. 
The last stop was a good place to observe how the Fiery Furnace got its name.  If you happen to be looking at the rock formations during a bright sunset, the rock fins take on a deep orange color and appear to burn.  Very cool.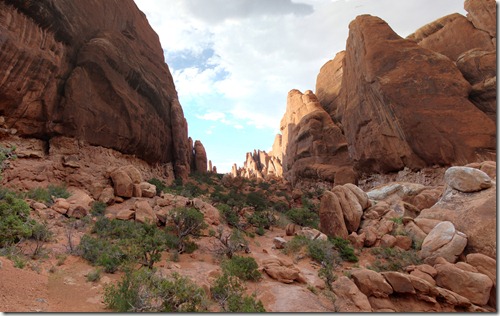 The rock fins look like flames in the furnace

Looking back at the Fiery Furnace area as we leave
Everyone was tired by the time we got back to town, so they voted to eat out at Fiesta Mexicana.  The salsa got a 4 out of 5 for taste because it had a good kick and the chips were tasty.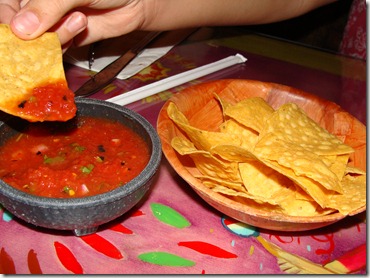 It was a really tiring collection of hikes, but the whole family had a great time.  The only casualty of the day?  Julia's shorts.  Cotton vs. Sandstone = Sandstone Wins.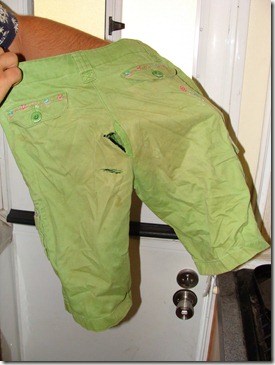 One Response to "Monday, July 19, 2010 (Arches National Park)"