High Point:  The drive along National Scenic Byway 12
Low Point:  Dinner at the Boulder Mesa Restaurant
Today was another 5 hour drive.  At this point in the trip, it's about all everyone can handle before we start hearing, "Hey!  You're taking all the room!" or, "That was my water bottle!" or, "I drove last time!" (yep, even the grown-ups can get in a mood).
Usually, even when we hit the occasional fantastic vista, we holler into the backseat, "Hey!  Put down the (DSI, computer, mp3, book, etc.) and look at this!"  This is followed by an overly dramatic "Whoa!" or "Ahh!" . . . a short pause . . . and then a resuming of the (DSI, computer, mp3, book, etc.).  Until this afternoon, I was convinced they could no longer be moved by something as simple as pretty rocks. 
Then we moved into some gorgeous country.  As we came closer to Capitol Reef National Park, we really started seeing unimpeded areas of colorful rock hills – striped in beiges, reds, and greens with well-defined layers.  It was impressive enough that we looked it up.  According to the park website, "The Waterpocket Fold defines Capitol Reef National Park. A nearly 100-mile long warp in the Earth's crust, the Waterpocket Fold is a classic monocline: a regional fold with one very steep side in an area of otherwise nearly horizontal layers."  So there you go.  It jumps out at you and ripples across the valley.  Fantastic to see as you round a curve and see new sections of it you didn't know would be there. 
The best came when we hit Torrey, UT, and started driving highway 12, a scenic byway.  We were again climbing, and (I know it sounds trite) the overlooks were amazing.  We started pulling out every few miles just to look.  For a good half an hour, we weaved our way up and around through Aspen forests, red rocks, and wandering cows (free-ranging in the mountains – we're not sure how they don't get hit all the time by cars coming around sharp curves).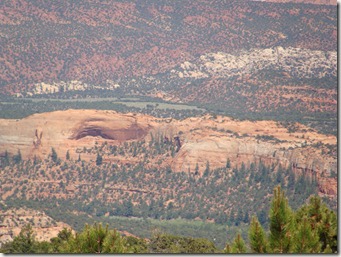 Overlooking the edge of Capitol Reef National Park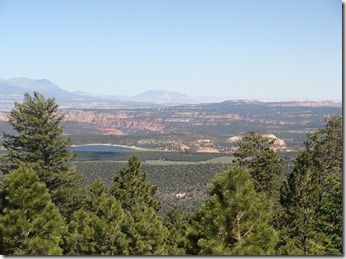 As we climb higher, red rocks give way to pine forests again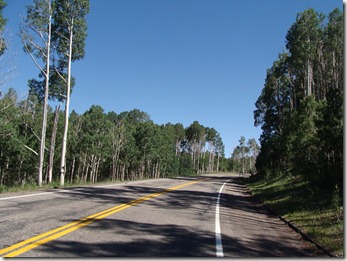 Even higher, Aspen trees crowd the roadside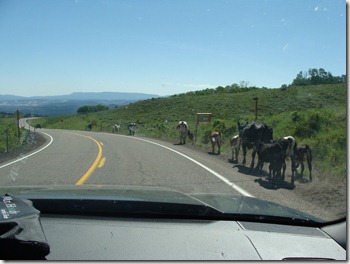 Cattle wandering along the road.  We put the camera away before they eventually crossed right in front of the car
This drive divides the northern section of our trip and the southern section, so while planning, I had assumed we would be more than ready for a relaxing night in a hotel with dinner out.  We had a room reserved at the Boulder Mountain Lodge, a mountain spa hotel along the scenic 12 road that is connected to a highly-rated organic restaurant.  Funny, though, that for some reason, we don't have that "need-a-shower-been-camping" feel.  Except for one time when we got into the truck in the middle of the hot afternoon and decided it smelled like old feet and had to ride with the windows down for a while, we don't feel desperate for a hotel.  If we could have cancelled the reservation, we probably would have done so and found a spot in one of the many national forest campgrounds along the road.  In the end, it was an unnecessary but okay stop.  We liked that they welcomed dogs, everybody enjoyed the hot tub overlooking the mountains, and it was fun to chill out in front of a tv for the first time in weeks.  We didn't like that the Wi-Fi access was hit or miss, the air was thick with mosquitoes, and our dinner at the Boulder Mesa Restaurant next door was a disaster (overpriced, no shade on the patio, ants crawling up your legs while you ate, slow slow slow service).  The only thing that saved the dinner was when the waitress poked her head onto the patio and said, "I'm real sorry we're slow, but we all just got hammered in here."  Julia whipped her head around, dropped her jaw, and looked shocked, whispering, "Did she say they all just got hammered?!  Doesn't that mean they're all seriously drunk!?"  So . . . vocab lesson of the day.  "Hammered" does not mean the nice older woman taking your order is passing around the whiskey in the kitchen.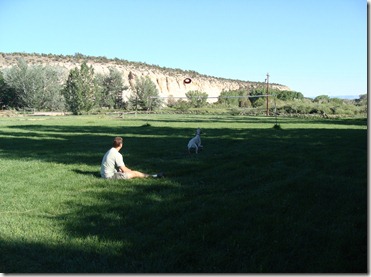 The front yard of the Boulder Mountain Lodge.  Mike and Buster play a little frisbee (and get eaten by mosquitoes — who knew they'd follow us from Michigan?)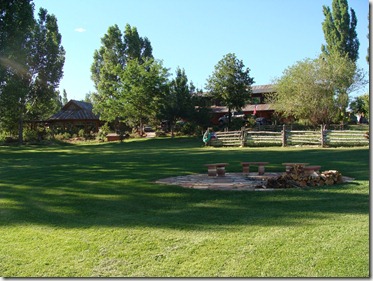 The fire pit area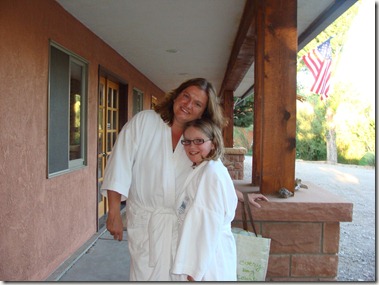 Christine and Julia head to the hot tub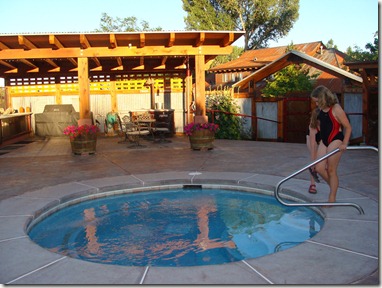 The girls test the water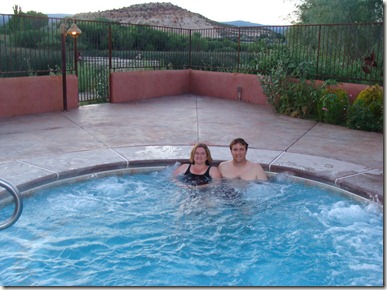 Christine and Mike soak up some bubbles
Looking ahead, the hiking area we had planned to explore in the morning is currently closed for a month for trail work, so we won't be exploring the Calf Creek Falls part of the Escalante region. I'm spending the evening looking at maps to see what else we have time to see.