High Point:  Looking down into the Grand Canyon
Low Point:  The long drive from Zion to the Grand Canyon's South Rim
This morning we packed up and left Zion National Park.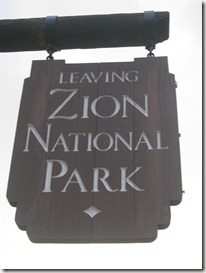 On the way out of town (Springdale), we stopped for lunch at Casa de Amigos, a restaurant from which we'd picked up chips and salsa last night.  It's been a long time since a salsa test because it seems we've never had opportunity.  Everyone has been happy eating lunch on a trail and then having a late dinner around 9 pm after we get back from whatever we've been doing each day.  No time to search for good salsa. 
Amigos won raves from the grown-ups as well as kids because the chips tasted homemade AND they gave us three different kinds of salsa (hot, verde, and a freshly chopped salsa with lots of cilantro).  After tasting the salsa as a snack, we decided it would be our meal out for our time in Zion.  Julia was the only one who didn't give it 5 stars for reasons she couldn't quite explain.  Friendly restaurant, too.  They brought water out to the patio for Buster, and when we said we lived near Detroit, they brought me back to the office where they tried to look up the name of a buddy's restaurant in MexicanTown there.  They never figured out a name 'cause the connection was slow, but if anybody happens to eat at a Mexican restaurant near Detroit that uses an old Spanish-style church as the logo on their menu, say "hey" from Utah.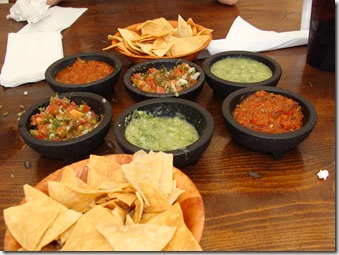 Chips & Salsa from Amigos!  So good, we ordered it twice in two days!
(the second day we ordered lunch, and that was good, too!)
According to our GPS, the drive to the Grand Canyon should take almost 6 hours.  Had we chosen to stay at the North Rim, we could have cut that time in half (the canyon is only 15 or so miles across but takes 3 hours to drive around).  We considered it because that side of the canyon is supposed to be quieter and less busy.  However, the weather is unpredictable and we would be camping with no hookups/air conditioning.  The dog isn't allowed to walk along much of the trail on the north side, so the south side sounded like the best bet because they had trailer hookups, a dog kennel if we wanted to have more freedom, and they allowed dogs on trails along the canyon rim. 
The girls spent their time watching movies.  Mike worked on the computer and organized the pictures we'd taken at Zion.  It was a long drive with little to see.  We did stop to take a picture along a fantastic viewpoint of a series of mountains that include the Vermillion Cliffs.  This was just before we entered the Navajo Reservation.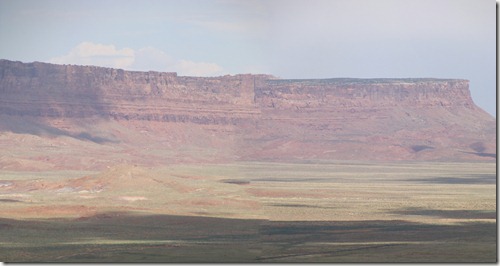 We entered the park through the East Entrance and stopped at Desert Viewpoint and the Watch Tower for our first look.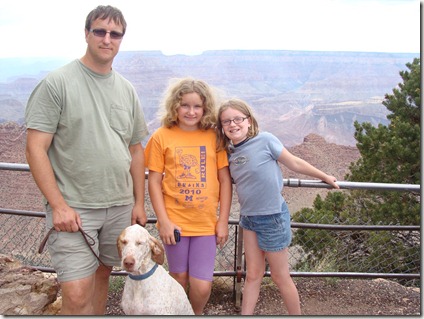 A look at the canyon from Desert View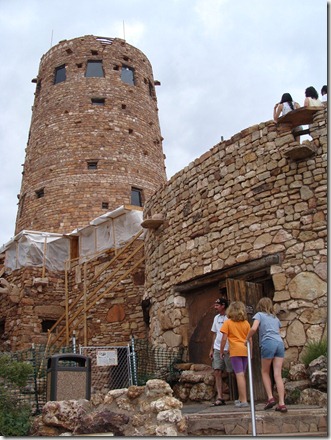 The Watchtower, 70 feet high, is the tallest structure on the South Rim. 
It is decorated inside with Hopi-style artwork.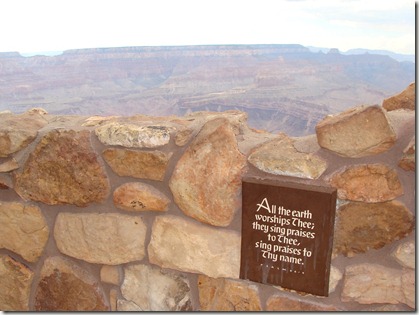 After that, we had almost 15 miles to the campground.  The girls were doing quick math because they wanted to finish their movie before we went sightseeing.  I decided that's a good sign we've been traveling for a while; we spent 3 week driving to the Grand Canyon and the kids are so tired of looking at rocks and holes in the ground they would rather watch Luke Skywalker blow up the Death Star for what must be the millionth time (we're starting to wish we'd borrowed someone else's DVD's for this vacation!).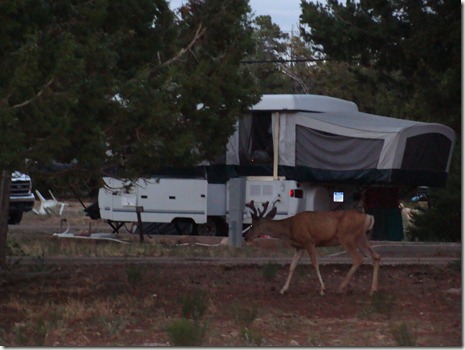 A deer wanders through Trailer Village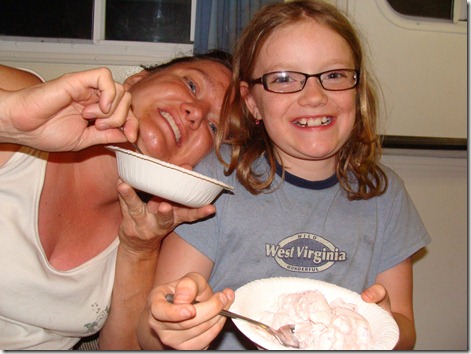 Mike made strawberry ice cream for dessert!  Yum!
One Response to "Sunday, July 11, 2010 (Drive to Grand Canyon)"