This morning we left Mesa Verde and drove to Moab, Utah, a town within 30 miles of Arches National Park, Canyonlands National Park, and Dead Horse Point State Park.  We only have one scheduled hike for this stop, so we're not sure yet what we will do.  Canyonlands is just a huge area that is really best-suited to those interested in backcountry driving or biking.  We've been told the view from the overlooks is actually more impressive at Dead Horse Point, so there is a possibility we may do that park and skip Canyonlands.  We'll have to see what we have time to do. 
Anyway, packing up today was a little more difficult because we no longer have the bike rack.  The two surviving bikes and the useable remains of a third needed to be stored in the camper, so there was a great deal of puzzle-figuring to find a place for everything. 
The drive was interesting because as soon as we left Cortez and started driving north we saw a familiar landscape we hadn't seen in weeks:  crops.  Farmers were actually growing things here, and the checkerboard fields were a welcome sight.  We passed a few grain elevators that advertised pinto bean processing, so we're guessing some of what we saw were bean farms. 
The geology did change as we neared Arches.  There were some great sights along the way.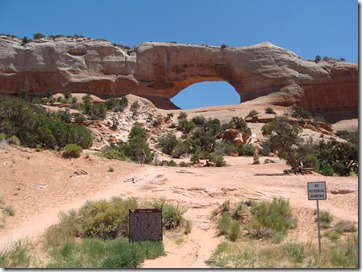 Our first arch sighting!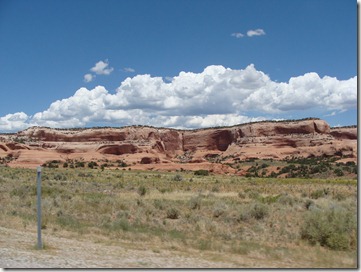 Impressive scenery on the road to Moab
We were also reminded why it is important to keep parts of this beautiful country away from private industry; without the national parks, many of the gorgeous vistas we've seen may look like this: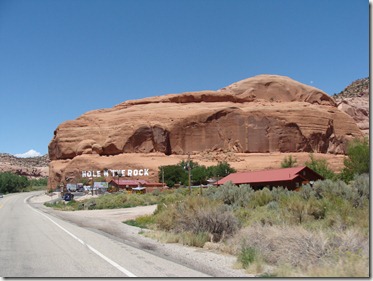 Does the sign really have to be written on the rocks?
It was only a 2.5 hour drive to Moab and our campsite at Canyonlands Campground.  The heat was oppressive, so I immediately took the girls to the pool to cool off.  Mike and Buster stayed with the camper because Mike had a dream last night that he could fix the air conditioning.  There was always the chance he was just delirious from the heat, but it was worth a try.  He climbed up, started taking the AC apart, and immediately found the problem.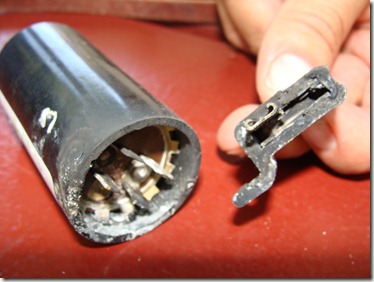 A totally fried start capacitor:  Why we have no AC
Stupid Camping World people apparently never actually checked the AC unit itself – otherwise, they would have found it right away.  We don't have access to replacement parts, however, so it's going to be a hot few days.
For dinner, I made enchiladas and supplemented it with chips and salsa from The Slickrock Café.  This batch only got 2.5 stars out of 5 because while there was nothing bad about it, there was nothing special about it either.  Too much black pepper and not enough cilantro.  Completely boring salsa with boring chips.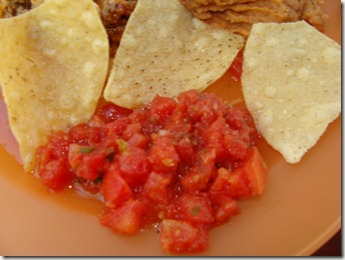 Chips & Salsa from The Slickrock Café:  Not worth a return trip
To use up some cream that had been in the fridge for a few days, Mike and the girls put together a batch of blueberry ice cream enhanced by a couple of Hershey bars.  That helped take the heat off for a while.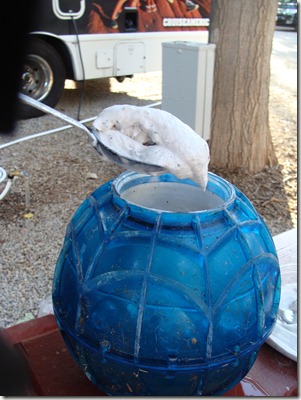 The ice cream ball couldn't quite solidify the blueberry ice cream when the temp hovered around 100 degrees.  Almost as good as Guernsey Farms Grandpa's Blueberry Way!
As the evening went on, it was obvious we would no longer benefit from the higher elevation we had in Mesa Verde.  By midnight, the temperature had only cooled down to around 83 degrees.  That and no wind made for our first really uncomfortable night in the camper.  It was like sleeping in a food dehydrator where you could imagine all the moisture being sucked out of your body.  We were missing the cold nights in the Tetons when Mike and I tried to share Elizabeth's extra sleeping bag and we flipped coins to see whether the kids or grown-ups won the honor of having the dog sleep on their bed to keep warm. 
We weren't the only one having problems, though.  A German couple in a rented RV next to ours had their electric connection melt.  Mike smelled it just before the man came out and announced the electric had gone off.  He had a dilemma because the only tool he could bring over on the plane was a Swiss Army knife, and that wasn't enough to do the job.  We, on the other hand, have been carting a massive amount of equipment around for thousands of miles, so Mike offered his help.  Together, they took apart the cord and repaired the damage.  They discovered that when you open a tool box and stand around talking, other people stop by to see what's up.  A retired electrician from Florida wanted to make sure nobody was going to get electrocuted and offered the use of his tester.  His wife stopped by to see the dog.  The German man marveled our children have been out of school since June.  Finally, the wire got fixed, beers were passed around, and the men discussed the merits of the metric system before everybody retired to his own camper and called it a day. 
2 Responses to "Sunday, July 18, 2010 (Why Camping World is Incompetent and the Drive to Moab)"