High Points: Finally finding a campsite! Clean laundry!
Low Point: Not being anywhere near the city we'd planned on stopping
Today there isn't much to say.  We woke up, sorted laundry, packed up the truck, and started driving south.  We have two days to reach Boulder, Utah – about a 10 hour drive.  There is only one problem.  When we planned the "big picture" of the trip, we thought it would be cool to be near a bigger city on the 4th of July so we could join the local festivities/see fireworks.  Salt Lake City/Provo were the right distance to split the trip.  Provo advertises a huge "America's Freedom Festival" which sounded like a good bet.  We hadn't considered that the 4th was a Sunday, however, and apparently the largely Mormon Utah population doesn't organize fireworks, etc. for that day.  We found fireworks on the 3rd or the 5th, but Park City seemed to be the only place in the state having a celebration on the 4th of July.  We gave up the idea of visiting one of the big cities and instead planned to get a national forest campground near Park City and head to town. 
We were, of course, naïve to think we'd find a campsite anywhere on July 4th.  I started calling around, and they all laughed.  They we found out the whole Provo/Park City area is considered a watershed, so we couldn't have the dog in a state or national campground anyway.  Unless we wanted to park and sleep in a Flying J truck stop (and we did consider it), our best bet was a private campground.  I started calling the night of the 3rd and came up empty.  As we drove on the 4th, I kept calling and finally found an RV park with an open spot in Heber City – about 17 miles SE from Park City (but more than a half hour drive in the hills) and 40 miles from Provo. 
Oh well.  No fireworks, but it was a place to park and sleep.  We had a lot of laundry to do anyway.  The re-routing took us down hwy 89 through the far SE section of Utah.  We kept weaving between Utah and Wyoming all afternoon.  Somewhere along the way, the forests of Wyoming disappeared and gave way to rolling red hills dotted with green sagebrush and small trees.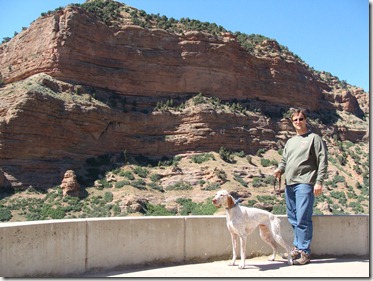 Mike and Buster at a rest area in northeast Utah.  Our first real glimpse of red rock mountains.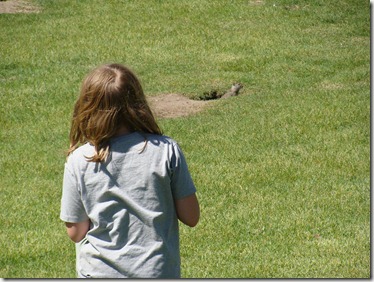 Julia watches a ground squirrel-type thing (don't think it's a prairie dog) at a rest area
Our campsite wasn't bad.  It wasn't near much of anything, but it was quiet, had a game room, and had a laundry.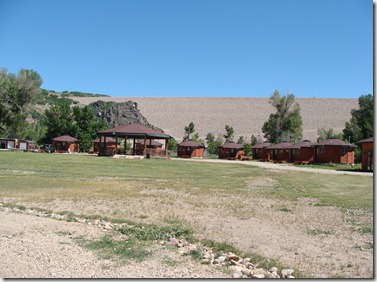 The only campground in Utah (from what we could tell) that had open campsites on July 4th:  Our campsite at River's Edge at Deer Park in Heber City looked out at a group of yurt cabins.  Behind them is a huge dam holding back a popular fishing reservoir
We did 7 loads of laundry before dinner.  Mike took Buster out along the back side of the camp and played a little frisbee next to a creek.  Quiet night.