Today we had problems.  Not big, important life problems – just disappointing, frustrating problems. 
It started out pretty well.  We left Monument Valley and stopped at mile marker 13 (some websites say marker 16 to get one of the most famous shots of the valley.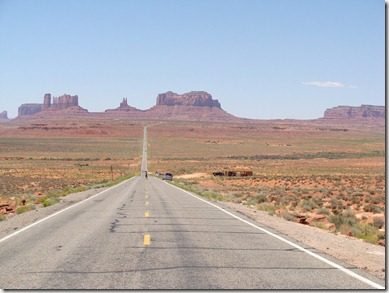 Right around Mile Marker 13 as you leave Monument Valley . . . .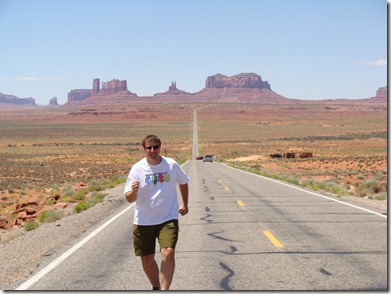 Also known as, "Where Forrest Gump stopped running."
A bit further up the road we came to the town of Mexican Hat – named for the rock formation just to the north of town.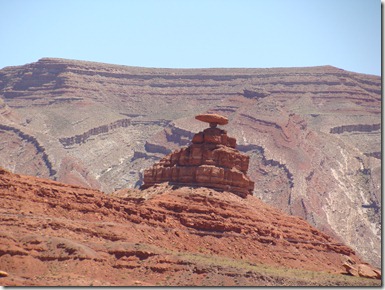 Mexican Hat
We then took a 6 mile detour to drive out to Goosenecks State Park where we heard you could get a great view of the San Juan River.  Camping here is free for those who can take the heat, so it was our backup plan if we ended up not able to get into Monument Valley last night.  The overlook gives you a great perspective of the San Juan.  In a width of 1.5 miles, more than 6 miles of river curve beneath your feet.  Monument Valley is in the distance.  Really good stop. 

Goosenecks State Park:  You can camp right on the edge, but it's not a great campsite for sleepwalkers!
Leaving Goosenecks, we realized we had no cell phone or internet service.  Therefore, we had no GPS and had no idea where we were going.  The only other visitors at Goosenecks were 3 older French couples; one of them spoke English really well and pulled out a map to get us pointed in the right direction.
We passed one mountain the family has called "Charlie Brown Mountain."  Amazing colors in the rocks.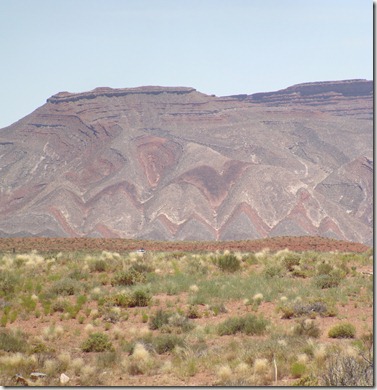 We expected a 3 hour drive to Cortez, Colorado, to put us at the entrance to Mesa Verde.  It was a long drive with few towns and a lot of road that looked like this: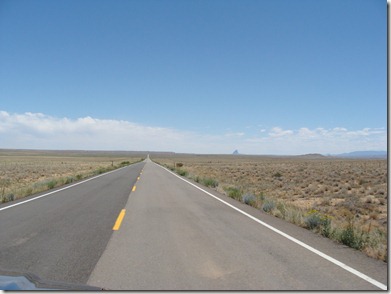 Whole lotta nothin'
At one intersection, the sign said "Four Corners:  5 miles."  It hadn't been on our list, but for a five mile detour, we decided we had to do it.  We'd heard there wasn't much there except a seal to stand on and a vendor selling ice cream.  This time there wasn't even ice cream.  Four Corners was closed.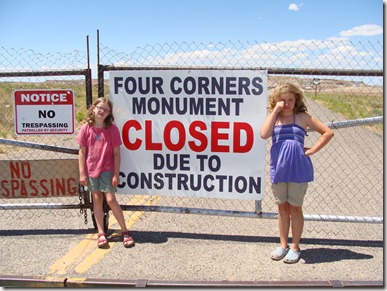 Somebody put tape down outside the gate for the desperate who really felt the need to stand on something, but based on the tears from little kids and the cursing from adults who had likely driven many miles out of the way to get here, they weren't fooling too many visitors.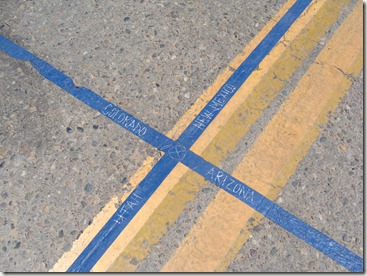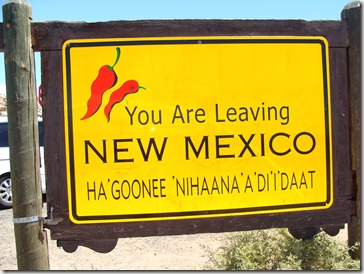 As a bonus, we did get to visit New Mexico for about 3 minutes – the only time we'll be there on this trip.  Being there, we can say we were in New Mexico, Arizona, Colorado, and Utah – just not at the same time. 
About 20 miles up the road, a car flagged us down to tell us we were dropping bikes everywhere in the road.  Sure enough, one of the arms on our trusty Thule bike rack  had snapped off.  We found my bike a few miles back in pretty bad shape.  We drove all the way back to Four Corners, but we never did find Elizabeth's. We threw the other two bikes on top of the truck and hoped for the best.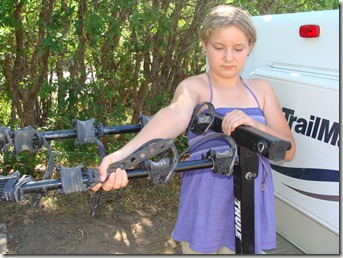 Elizabeth holds the arm where it should be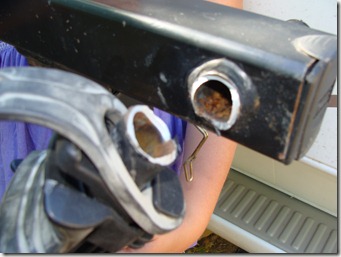 The bike rack snaps:  Not going to be an easy fix
We finally reached Mesa Verde and set up in our rustic campsite only to find the batteries had run down during the drive and the air conditioner was once again not working.  Same burning smell as at the Grand Canyon.  Apparently, the brown out really did fry the thing. We're not sure why it worked at Monument Valley.  Mike "borrowed" the electric from another site to charge up the batteries for a while, but it wasn't enough to run the fridge overnight.  Everything had to get moved to the coolers.  Ugh.  The Woelmers are not a desert people.  We start wilting in the mid-day sun.  I was really hoping we'd have air/refrigerator for this last week when we were in the desert, but at this point we're not going to take the time to fix anything.  Instead, we spent our time in camp doing laundry and getting our tickets in order for the ranger-led hikes through Mesa Verde (to see the 3 most popular cliff dwellings, you need inexpensive tickets). 
Just a note:  Mesa Verde has no cell reception and only has wireless service in two buildings.  Right now, we're hunkered down in the basement of the Far View Lodge to catch up on email, blog, etc.  Not being "connected" is both restful and frustrating! 
One Response to "Thursday, July 15, 2010 (Drive to Mesa Verde = Multiple Equipment Failures)"