High Point: Whitewater!
Low Point: Breakfast before grocery shopping (Lucky Charms with no milk)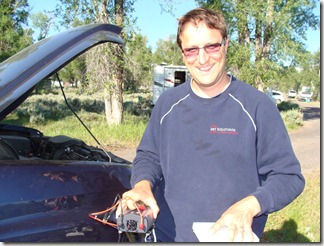 Mike needs a caffeine fix = coffee pot fail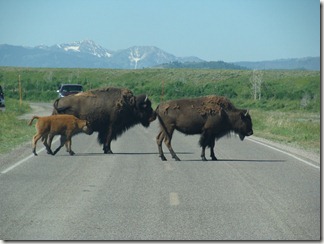 On our way to Jackson Hole:  How long will they block the road?
We really need to do some shopping.  Breakfast was Lucky Charms with no milk.  Mike attempted to run the coffee pot through the battery on the car, but that didn't work so well.  Then he went rummaging through the coolers for some orange juice and came up empty.  I found him sitting at the picnic table eating his cereal and drinking a beer.  Definitely time to refill the coolers.
Today we started the morning dropping Buster off at the Happy Tails Pet Resort in downtown Jackson.  After hitting Anderson's for groceries, we had a picnic in the park of fried chicken and potato salad and then walked around town for a few hours.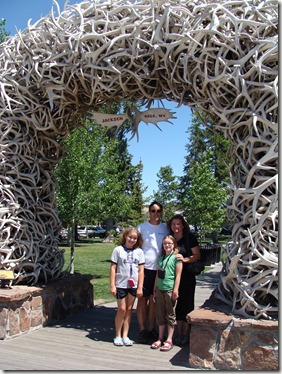 The antler arch in downtown Jackson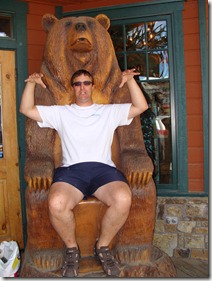 Touring the shops
At 2:30, we arrived at the Mad River Boat Trips office for WHITEWATER!  The temps were in the high 70's, but the water was only around 50 degrees, so we were outfitted in wet suits (which are really unforgiving and I swear look good on almost nobody out of their teens).  Our 8 miles down the Snake River covered class I, II, and III rapids.  The trip was a blast – we had such a good time.  Mike and I paddled, Elizabeth hung on for dear life, and Julia sat right up front and kept telling us what to expect:  "I see some awesomeness up ahead!  Oh yeah – come and get me waves!"  At one point, the guide announced we were at a suitable spot to jump out and swim if we wanted.  At first, nobody moved 'cause the water was so cold, but Julia stood up and yelled, "If it's a once in a lifetime, I'm goin' for it, baby!"  before plunging in to the water.  Later on, we did let her know that she'd eventually be old enough to choose her own vacations and could come back if she wanted, but it was good to see her taking advantage of the situation.
After a stop along the way for hamburgers and sweet corn (note:  they FEED you on the 3:00 trip, but not the earlier trips.  Same price — ???), we finished our river run with some good class III rapids, including one called Lunch Counter where they took our photo.  The pics are cool, so we'll likely order some online.  Without those, it's difficult to describe the complete terror on Elizabeth's face during the entire ride – how someone can be smiling and freaking out at the same time is unbelievable).