High Points: Swimming pool in the campground, giant meteor crater, brownies for dessert!
Low Point: Just one more reason to not like the Grand Canyon operation . . .
Our update should say "Grand Canyon Day 2," but that didn't happen. When we first plugged in to our campsite in Trailer Village (#46), all the alarms in the camper started blaring. When we got that resolved, the next few hours were a series of brown-outs and blown fuses. When that all simmered down, the air conditioner suddenly smelled like it was on fire, so we shut it down. We could smell burning plastic every time we turned it on. I talked to the people in the camp office, and they sent a guy from the Xanterra company out to look at our electric. He concluded we did indeed have electric service (no kidding), but he insisted that if anything was wrong with the power level/electricity, it was the fault of our equipment – not their service.
OK. We're getting ready for the last leg of our trip which will be primarily desert. We will not be driving through any major cities until we drive home. Weighing our options, we decided to make a detour into Flagstaff today and see if Camping World could fix whatever was wrong with the air.
Conclusion: Nothing is wrong with our air conditioner. They turned it on for an hour and couldn't replicate the burning smell. We're spending tonight in a KOA near Flagstaff and have been running the air for a few hours with no problems. So thanks, Grand Canyon, for apparently nearly frying our electric system and then declining to investigate the problem. Maybe Xanterra wants to pay our Camping World bill?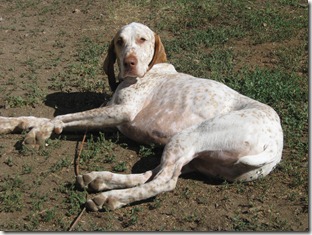 Buster watches us pack up
On the plus side, we've never been to Flagstaff, so we looked around for something to do while they ran a diagnostic on the camper. Mike and the kids voted to see the giant meteor crater just east of town. The familiar brown signs label it a national monument, but it is privately owned by the Barringer family so there is a fee to see the museum and walk the rim. At nearly 2 miles across, it is impressive.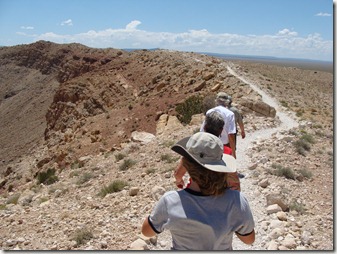 Taking the guided tour of the crater rim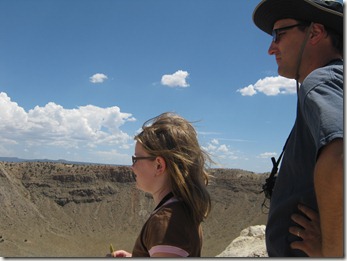 Looking into the meteor crater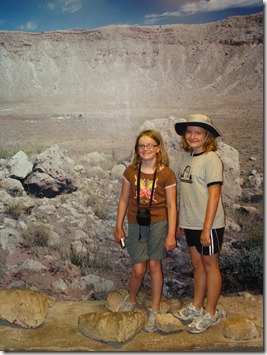 Exploring the museum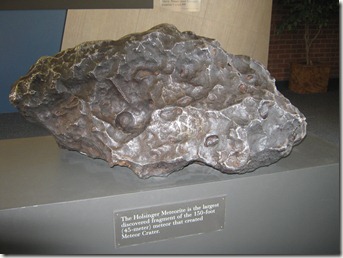 The largest piece of the meteor ever recovered
After leaving the meteor crater, we grabbed a few tacos from "The Whole Enchilada" – a little shop inside a gas station just down the road. Mike was lobbying to make the 20 minute drive into Winslow, AZ, so he could stand on the corner. We opted instead to turn Pandora radio onto an Eagles station and pick up the camper before they closed.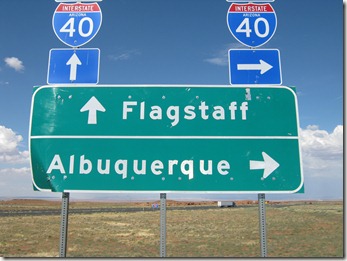 . . . . and then we had to listen to Bugs Bunny jokes for the next half-hour
The KOA was a nice find as a way to reward the kids for being so patient with an unexpected day of driving. Pool, putt-putt, a dog agility area, go-carts. . . I think they'd stay here for a few days if we didn't want to be in Monument Valley by tomorrow afternoon.
One Response to "Tuesday, July 13, 2010 (Flagstaff Area)"