There are several long hikes in Arches NP that take you out to some spectacular places.  The most popular of the longer hikes is the walk to Delicate Arch.  This is "THE" arch everyone is familiar with.  It is the arch on all the Utah license plates and was used in promotional materials back when the Olympics came to Park City, UT.  It is only a 1.5 mile hike one way, so it doesn't sound too bad.  All the hike literature, however, warns this is a "strenuous" hike and should only be done with "at least one quart of water per person – ideally more."  This is a hike that gets very hot very fast.
The hike starts out looking pretty mild.  The trailhead is at the sight of an old homesteader's cabin which runs near a stream, so everything is green and pretty.  Then you pass over the first hill and realize the next mile and a quarter will  be mostly uphill – some is in sand and the rest is across slickrock – a strong red rock that heats up easily.  Even if there were shade available (which there is not), it is often too hot to comfortably take a rest.  For this hike, we packed even more water than yesterday.  We also packed Jolly Ranchers to stop our throats from getting dry.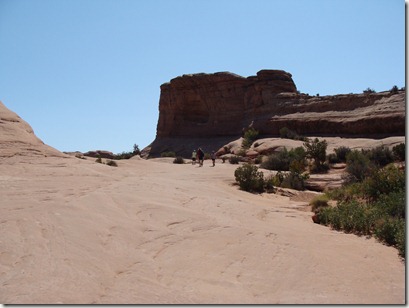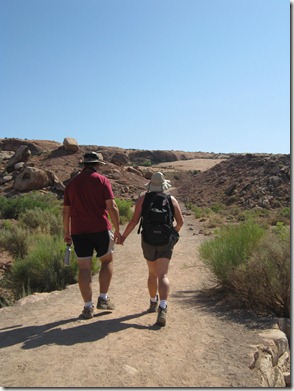 When the trail is along the slickrock, cairns (the stacked rocks) mark the trail.  If you know that, it is easy to find your way.  If you don't know to follow the cairns, you can quickly end up lost.  A young couple following us started arguing about the path and went straight up the slickrock instead of turning when the cairns pointed that way.  We never saw them at the arch, so we're guessing they gave up and went back to the trailhead.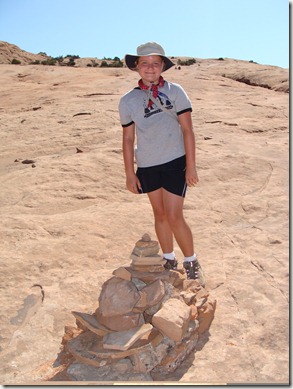 Elizabeth found some small rocks to add to one of the cairns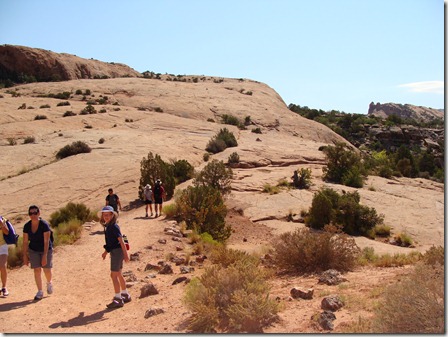 Walking up the slickrock.  I love this picture because the woman in the blue shirt (left) is walking back from the arch and looks totally miserable.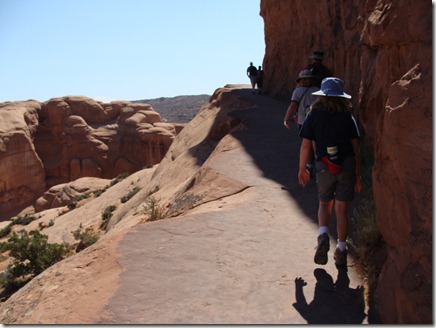 Once we were up high enough, we started weaving around ledges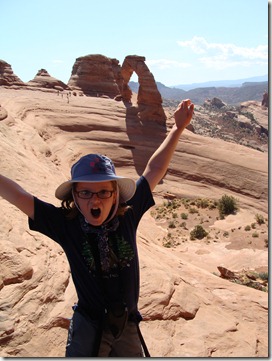 A smaller arch provides a window's view of Delicate Arch.

A first peek at Delicate Arch

Delicate Arch stands opposite a bowl-shaped hollow.  There is really no flat surface across to reach it, so everybody just hangs far to the outside.  It's a really bad place to drop a water bottle, though (Christine dropped hers and it rolled over the edge)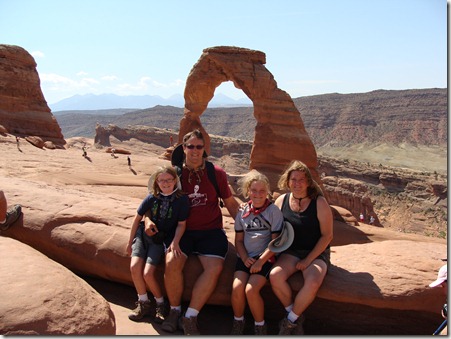 We're either happy to enjoy the view or happy to finally sit down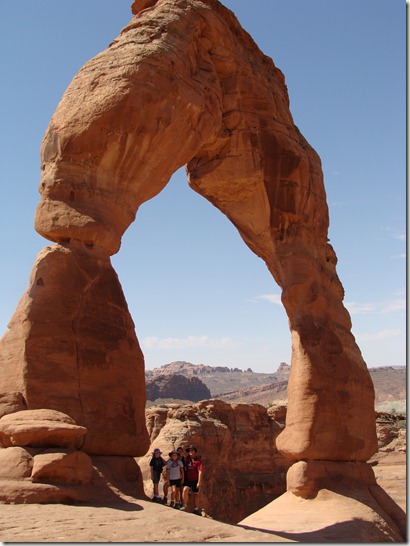 Early settlers called the arch "Cowboy Chaps" or "Schoolmarm's Bloomers"

The valley behind the arch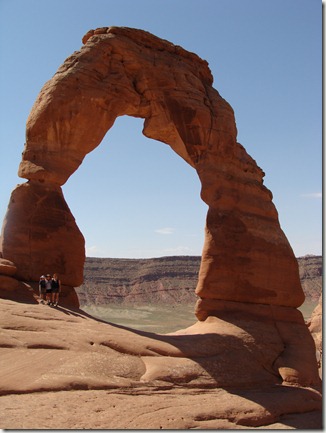 The walk back to the trailhead wasn't too bad only because we were going downhill.  It still felt long.  It took us 3 hours to walk the 3 mile round-trip.  When we finished, it was noon and the sun was doing its heating-up-the-earth-thing.

Knowing the heat was already bad and was only going to get worse, we apparently went a little nuts because we decided we still had one more arch to see before we left the park.  Landscape Arch is the longest such structure in the world.  Reaching it uses the furthest parking lot in the park at the Devil's Garden trailhead.  The arch spans 306 feet and is currently 6 feet thick at its weakest point.  In 1991, a huge 70 foot section broke off and crashed down (almost hitting several hikers who ran scrambling when they heard it cracking).  One of the pamphlets noted Landscape Arch was standing while the Egyptians built the pyramids.  It was standing at the time of Christ. It was standing long before Europeans began exploring the Americas.  Then, one day, it will just fall.  It is already thinner and more fragile than an arch that collapsed in 2008 (Wall Arch was 70 feet wide and 33 feet tall when it disappeared overnight).  The park can't guess when Landscape Arch will finally collapse.  Therefore, we wanted to see it while it still stands.  We hadn't planned on taking 3 hours to hike Delicate Arch, though, so we weren't totally prepared.  We hadn't had breakfast because we were running late, and we didn't have any extra snacks because we planned to eat lunch when we got back to camp.  Landscape Arch was only a 1.5 mile round-trip, so we hoped the water was good enough to get us through.  Refilling the bottles we'd emptied during the Delicate Arch hike, we started down the Devil's Garden path.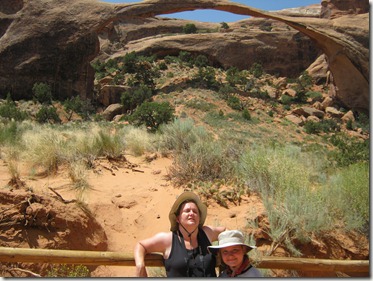 We made it, but we didn't look good doing it.  At this point, it was almost 1:00 pm and the temperature was right around 101 degrees.  And yes, it was an impressive arch.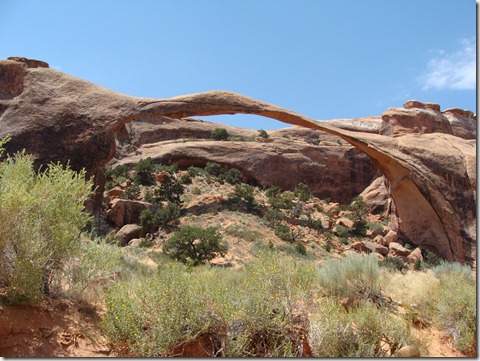 Its fragile structure means hikers can no longer get underneath the arch.  The path now only allows people go get about 150-200 feet away.

By the time we drove the length of the entire park and made it into town, nobody wanted to wait for lunch so we grabbed pizza.  Then I dropped everybody off at the campground while I went and picked up Buster from Karen's Canine Campground.  I really have to give this business an extra-special note.  We've boarded Buster 6 times during the trip.  Most of these have been standard kennels adjacent to vet offices or just a typical boarding facility.  Karen's CC is run out of her home.  Her backyard (which should be hot and covered in dirt in Moab) has fake grass and tents thrown up all over the yard for shade.  There are kiddy pools everywhere and misters cooling the dogs off.  As long as the dogs are well-behaved, they can run free and play with the other dogs.  When we picked Buster up, she noted he'd been playing ball all afternoon.  He honestly seemed to have a great time.  I didn't feel so bad boarding him knowing he'd had one big playdate.
The rest of the afternoon was spent in the campground swimming pool until lightning drove us back into the camper.  Rain did cool things down and bring wind, though, so it was not nearly as uncomfortable as before.
Our original plan for the night was to pack a dinner and drive the 30 miles out to Dead Horse Point State Park.  Canyonlands was almost double that distance to get to an overlook and we were too tired.  Mostly, we wanted to see the overlook which we'd been told rivals the Grand Canyon.  Dead Horse Point was even used as a stand-in for the GC in the movie Thelma & Louise.  We wanted to eat dinner where Thelma & Louise drove off the cliff.  It didn't happen, though, because (surprise!) it actually rained all afternoon.  The sky was really hazy and we just decided to hang around camp and use a bunch of leftovers to try a stew in the Dutch oven.  Another Dutch oven success – it was delicious.  After dinner, the girls went to bed and we spent a little time planning our route home.  We have no particular stops in mind, but we hope to drive through Denver and some parts of Nebraska we haven't seen.