Arizona was slowing us down.  Our destination, Monument Valley, was four hours away.  We wanted to break camp, drive, set up again, and still have time to visit Monument Valley before dark.   We always forget, though, that Arizona feels like it has its own time zone because they don't recognize Daylight Savings Time.  So by the time we finally got moving today, we were already running an hour behind.  Also slowing our move this morning = the kids were having a great time playing with the dog at the KOA.  Mike even found some go-carts, so of course they had to check those out, too.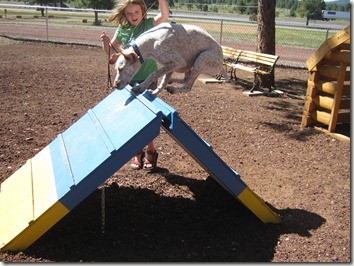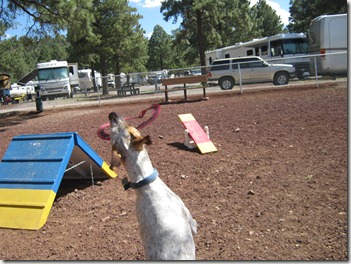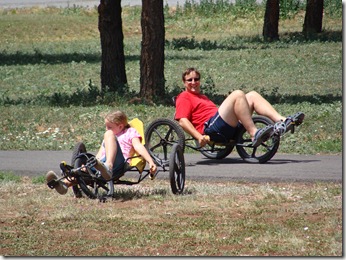 We picked up groceries in Williams, AZ.  Williams' main street is registered as an historical landmark because it is a section of Old Route 66 that has been largely preserved as travelers would have seen it as they drove across country between Chicago and  Los Angeles back in the early to middle decades of the 1900's.  Lots of neon and tacky statues.  I wish we'd have driven through at night when all the neon signs are lit up, but there were still a couple of interesting sights: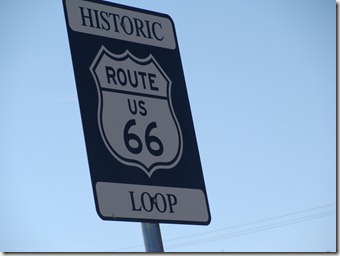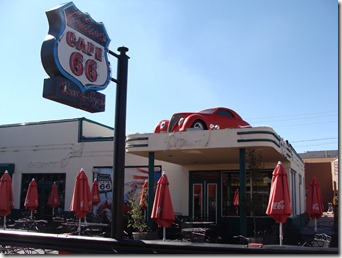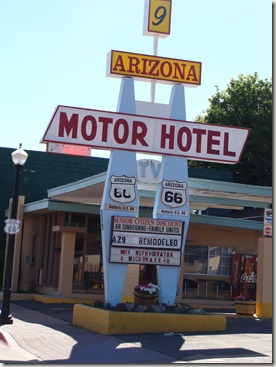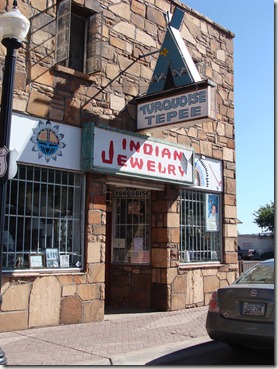 From Williams to Monument Valley was just under a four hour drive.  It's really dry here in Arizona, and there are signs posted everywhere that fire danger is high.  We even saw a helicopter dumping water on what was most likely a high-risk area.  When we entered the Navajo reservation from the south, the rocks and dirt changed colors to a deep shade of red.  Beautiful in the hot sun (temp outside was 97 degrees).  In Kayenta, we broke away from the main traffic and joined a few other cars heading toward Monument Valley.  As soon as you pass behind the town recreation center and hotels, you get a glimpse of what is waiting down the road: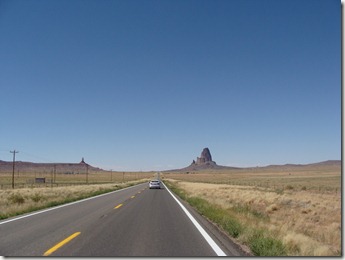 Monument Valley's facilities are easy to navigate.  When you reach the junction, turning left takes you to Goulding's Inn, campground, and stores.  Turning left takes you into Monument Valley Tribal Park.  We first went to Goulding's to set up camp.  The campground is set behind tall rock walls.  It was rather pretty later in the evening, but it just felt unbelievably hot when we were hooking up the camper.  It's not a large campground, but the kids were pretty excited the pool was right across from our site.  We realized later we were sharing the campground with 3 different large groups of French teenagers, so the pool area was always busy.  The kids were all in tents, though, so in that heat, I think the pool is pretty much your best option.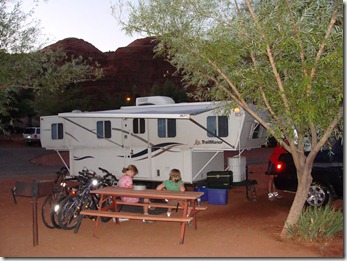 After a minute to catch our breath, we crossed into the Tribal Park.  The girls and I explored the visitor's center before starting our 17 mile loop tour.  There were some nice overlooks along the back of the hotel.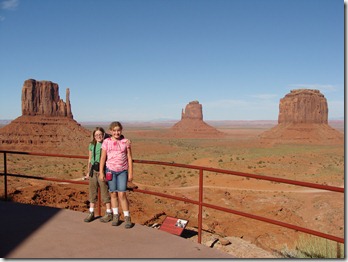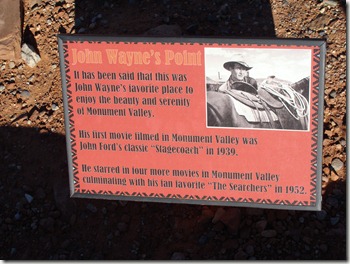 The girls also were excited to see a "John Holliday" listed on a plaque in one of the exhibit rooms as one of the respected elders and historians for the area Native Indian groups.  Hmmm . . . an interesting name – anything to that, fellow Holladays?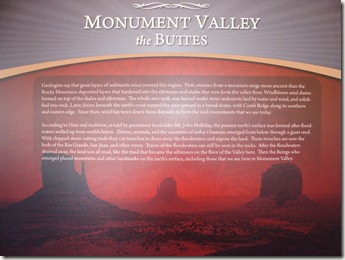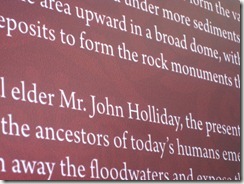 The Valley Loop Drive is 17 miles long and takes you to 11 overlooks throughout the park.  You can choose to drive it yourself, or for $40, you can catch a Jeep tour or ride along in the back of an open-air bus.  You wouldn't think many would take the paid tours until you see the road.  It was Escalante all over again.  Huge ruts, sand pits, washboard surface, washouts along the sides . . . it is a slow 17 miles.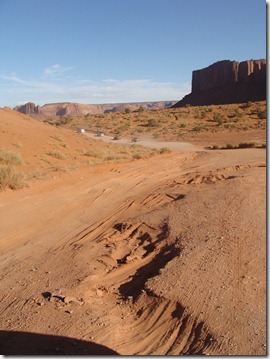 We started our tour at 6 pm and finished just after 8:30 as the sun disappeared.  Sunset is a great time to explore the valley because the sun catches the rocks in curious ways.  It was just a beautiful drive.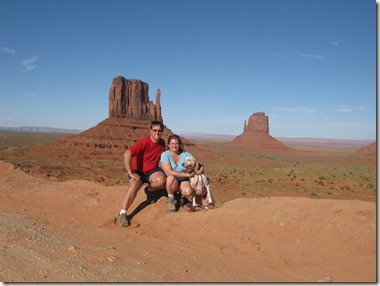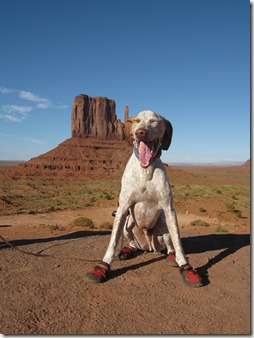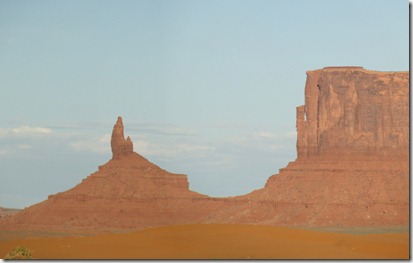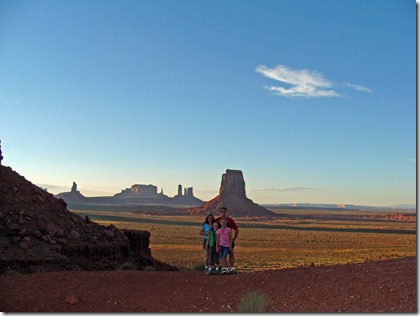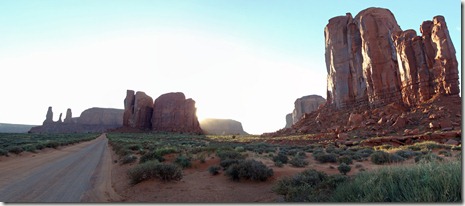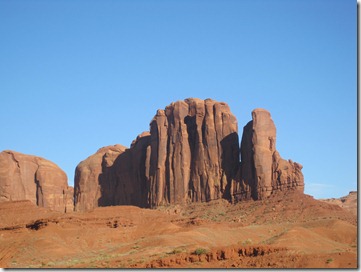 Elephant Butte (the "trunk" is on the right side)

You have to click to enlarge this one to really see it, but it's pretty awesome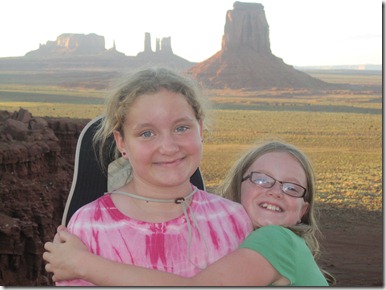 Elizabeth & Julia near the end of our tour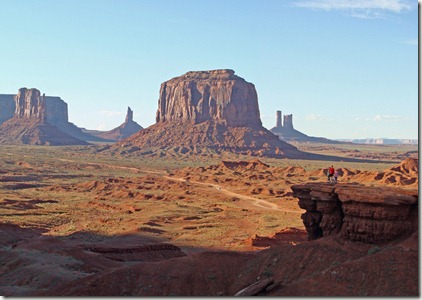 Mike, Elizabeth, Julia, & Buster stand at John Ford Point
Stop #4 is called "John Ford Point" because the man who directed Stagecoach filmed more than 11 westerns in the valley.  From this overlook, the landscape looks familiar because it has been the backdrop for many, many movies.  The red earth was a perfect fit for the early parts of 2001: A Space Odyssey, Back to the Future Part III was here, and Mike read in one of the brochures that Clint Eastwood stood on top of one of the Totem Pole rocks during the movie The Eiger Sanction.  Hmm . . . that looks tricky, so we'll have to add it to our Netflix list.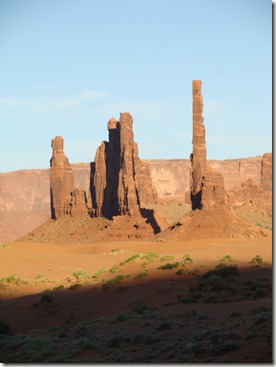 "Totem Pole" features
We left the park just as the sun disappeared behind the mountains in the west.  Julia took the best shot of the sunset: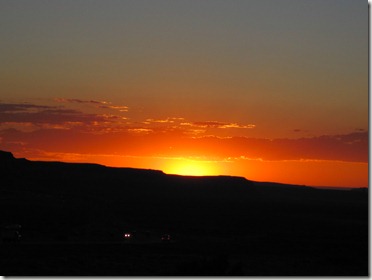 One Response to "Wednesday, July 14, 2010 (Monument Valley)"