Today is part one of a two-day long drive. We need to put in 8 hours today. We were up by 6:30 and on the road before 8:00. We didn't take time to make breakfast, so I promised McDonald's if we could get moving on time. I sort of take for granted that some sort of fast food is a mile or two down the road. Not here. We drove for what felt like a looonnggg time before reaching the town of Deer Lodge where we ordered a couple McSkillet burritos. High fives all around to the McDonald's staff in Deer Lodge, too, for handing us our bag and letting us know they'd put a couple extra hash browns in there. The girls were geeked. That and a Harry Potter collector's magazine we found at the gas station elevated the mood for most of the morning.
I love driving through Montana because the hills are beautiful and for some reason the sky really does look bigger.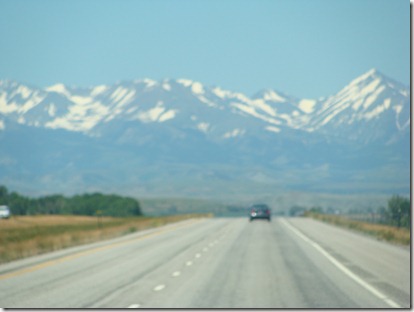 Driving into the mountains (after this, I decide the girls
need to be responsible for pictures while I'm driving)
We had no stops planned, and we just wanted to keep moving. The girls amused themselves by balancing water bottles on their heads. They were running out of things to keep themselves busy.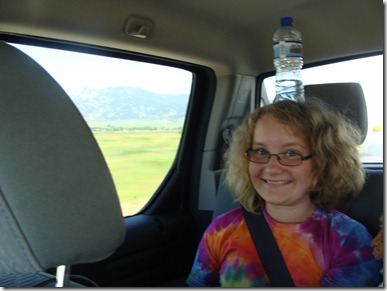 Oh yeah.  We did drive through Butte, Montana.  Put two kids in the car, and "Butte" jokes can take you through half a state.  Elizabeth started writing down her favorite  road signs:  Scenic Adventures in Butte . . . Do You Know the Real History of Butte? . . .you get the idea.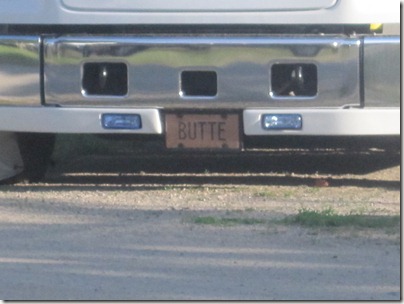 The kids had a feeling Mike would be sad to be missing out
on all the "Butte" jokes
The payoff was that when we reached our campsite, Fairmont RV Park, we were across the street from a hot springs resort. We reached camp around 4:30, and we spent 3 good hours swimming and soaking before getting some sleep. It was a good night, and we were ready for another long drive.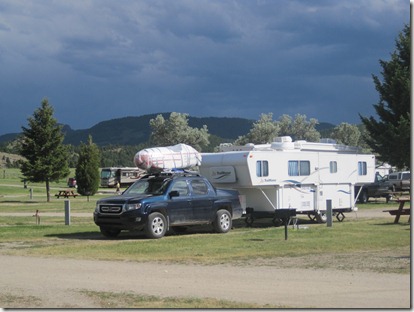 Our campsite in Anaconda (Fairmont RV)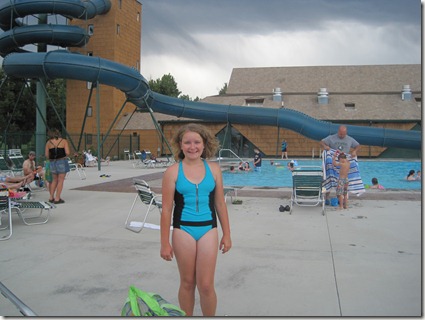 Getting in some pool time before the rain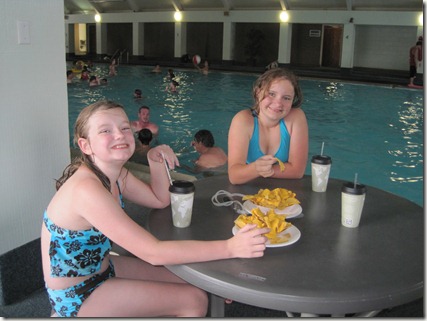 Nachos make thunderstorms pass more quickly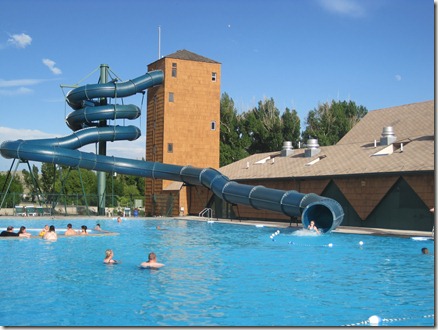 Julia on the water slide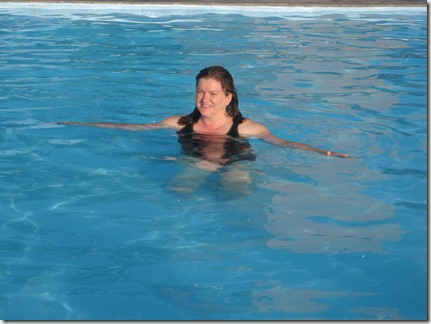 Christine in the hot spring area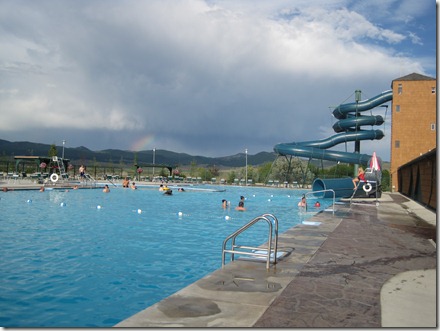 After a brief storm, we had a rainbow