Before starting the trip, everyone should know I am excited about it, and traveling alone with the girls off and on for a month was my idea.  However, I do have slight panic moments when I wonder what I'll do if something mechanical goes wrong with the truck, camper, or bike. I'm not incapable of fixing things, but that's just always been Mike's area. Mostly, I'm worried about getting the bike to Portland unscathed. To ease my mind, he has that thing strapped on really tight. It doesn't even wiggle, so I have my fingers crossed we can say the same after 2000 miles at 70 mph.
My goal for today was to get a big chunk of driving done on the first day. I wanted to get to Minneapolis, but when we were still adjusting the bike at noon, I knew that wasn't going to happen. When we crawled through Indiana and Illinois in rush hour traffic, I knew we weren't getting far at all. We were also tired after packing and planning, so around 8:00, we turned off at the first campground available, Rock Cut State Park in Rockford, IL. We only saw the drive in and our campsite, #503, but the place looked nice.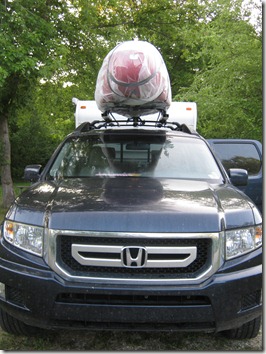 This is how we look arriving at Rock Cut State Park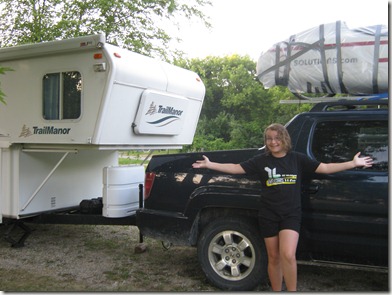 We successfully put the camper up and took it down with only
a half dozen calls home to Mike.  We were so proud.
It was our first time putting up the camper on our own, so it took Elizabeth and I a while to go over all the checklists and get everything taken care of. By dark, we were settled in and glad to be off the road.
High point of the day = getting a call from my friend, Marcia, who was on the road traveling toward Michigan while we drove away. Our paths crossed on the highway near Gary, Indiana, so we both pulled off within minutes of one another.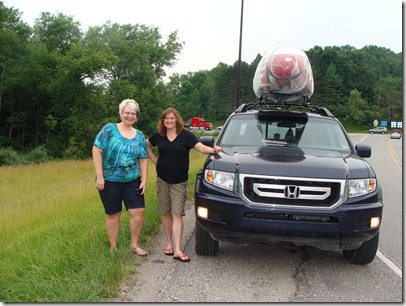 A quick hello somewhere near Gary, Indiana
Low point of the day = calling for pizza the minute we arrived in camp and waiting for more than 2 hours! Note to Maciano's Pizza in Loves Park, IL = If someone asks, "Do you deliver to the state park?" — and you normally do not – the correct answer is, "No." Saying it's not a problem and then driving aimlessly around for hours makes tired campers grouchy. I give credit to our delivery guy, though. I had him on the cell phone for almost an hour as he drove all over that part of the state looking for us. First time I've happily given a tip for cold pizza.
One Response to "Going West July 7: Milan, MI, to Rockford, IL"