Today we moved camp from the Rainier area north to the Kitsap Peninsula. Our only scheduled stop was at Wolf Haven International – Julia's only requested stop on this trip. She'd read about the place at school and often checks the web site to see the wolves. She loves wolves right now, so is a natural stop for us. My GoogleMaps gps dropped us along a road with no apparent signs. We were also out of Verizon range, so we had to drive a mile or so just to get coverage and ask for directions. Turns out, we were only a mile off, so we found the place pretty quickly.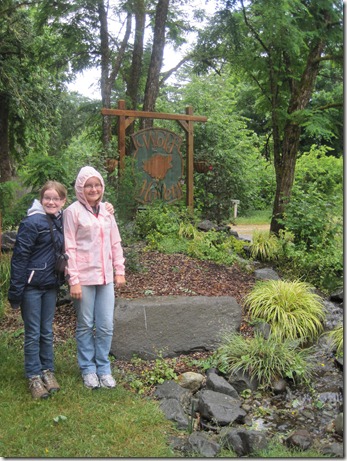 The entrance to Wolf Haven International
We were a few minutes early for the noon tour, so we had time to walk the meadow area and visit the wolf graveyard where volunteers have placed memorials for the wolves once cared for in the sanctuary.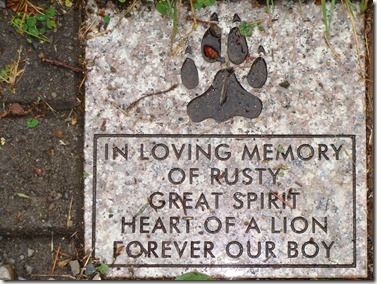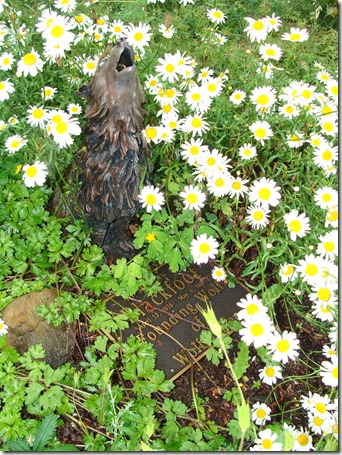 The meadow area is currently used as a relocation opportunity for a little creature called a pocket gopher.  They had a few educational flip signs posted along the walkways, so we got to see a picture of it.  Definitely not cute.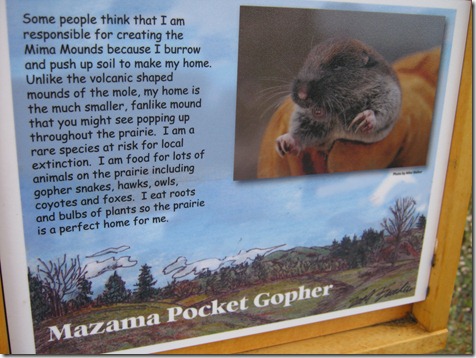 Wolf Haven has two parts. One portion is open to the public and provides tours several days of the week. This is the front area where a tour guide will lead groups quietly around a series of caged wolves grouped in pairs. These wolves were all born in captivity and were eventually cast off by zoos, research facilities, or uninterested owners. The wolves here were often neglected or abused and require medical care and healing. They will probably never leave the facility, but they are cared for until their death.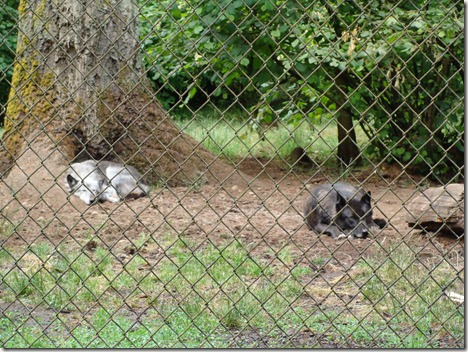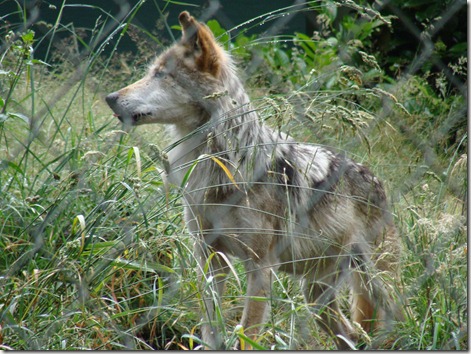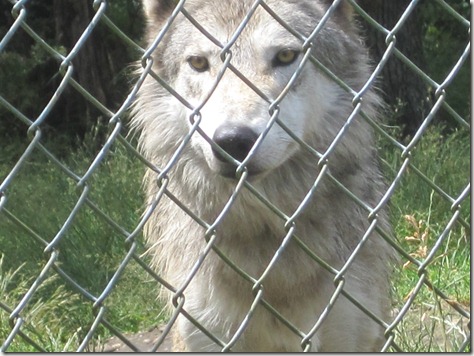 The second portion of the facility is in the back and houses small packs meant to further the species. These packs are eventually released into the wild. Because of this, they have no contact with humans. Cameras watch the animals, but even their caretakers use loud noises to scare them off before entering the caged area and dumping animal carcasses every few days (they have an agreement with the local gov't to receive any large roadkill).
It was kind of sad to see the wolves all caged up, but these are animals that wouldn't survive otherwise. One of their newest wolves arrived 9 months ago and has already gained 30 pounds.  His new home isn't as open or large as that of the special survival packs, but it is larger than the 2×3 cage he'd lived in before coming to Wolf Haven.
Our volunteer tour guide was very passionate about the group's work and drives 3 hours round trip a few times a week just to volunteer his time. He wasn't shy about voicing his opinion on pending legislation in Washington and Idaho concerning the hunting of wolves, and he had a number of sad stories about people who insisted they could handle wolves as pets and then had to give them up when the wolf became an adult and insisted on being the alpha member in the house.
Our tour ran a half hour longer than expected, and the girls both started to lose interest in all the legal and political discussions. I thought it was interesting, though, and it was worth a stop just because I'd never seen anything like it.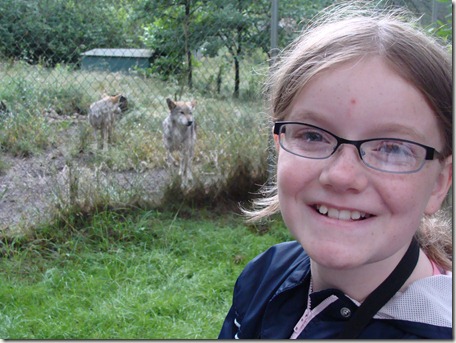 Julia finally gets to see her wolves.  She took more than 150 pictures.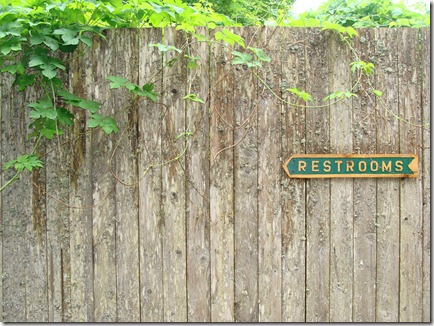 The girls thought I was crazy, but I thought the restroom sign wall was pretty
We reached our destination, Poulsbo, WA, in the late afternoon. We set up quickly and then headed into town to do laundry and grab some groceries.