After leaving Port Angeles, we followed Highway 101 to the west side of the Olympic Peninsula. We made some last-minute phone calls home because we knew our campsites would have limited or no Verizon signal. As it turned out, we spent 3 days with only occasional phone service, no internet, and (as the girls like to remind me) no electricity or showers. For 3 days, we were really camping.
We passed Lake Crescent, known for its deep blue water, and snapped a few pictures.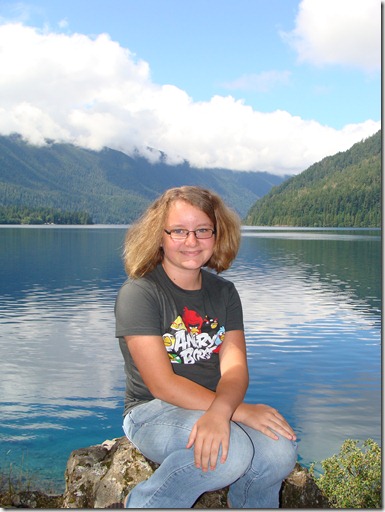 Elizabeth, Lake Crescent
We camped at Mora Campground, part of Olympic National Park. The setting was beautiful, but all were rustic sites. We chose site #11. It was at the end of the road and had some privacy. We didn't have many neighbors. It was $14 for the night, and it was only 1.5 miles away from Rialto Beach.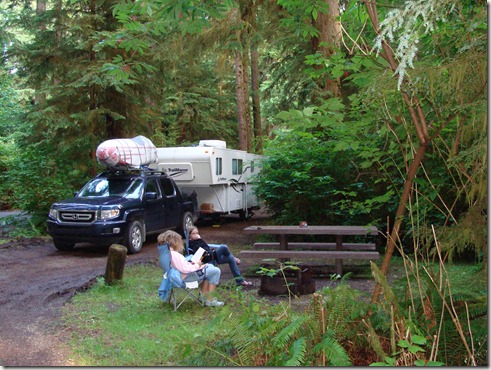 Mora Campground, Olympic National Park
We ate a late lunch at Rialto and walked the beach a little. It was almost high tide, so the waves nearly covered the walking area. We saw enough to know we wanted to come back.  The ranger we met walking the beach pointed us to the tide charts and suggested we arrive in the morning with time for a mile walk before low tide.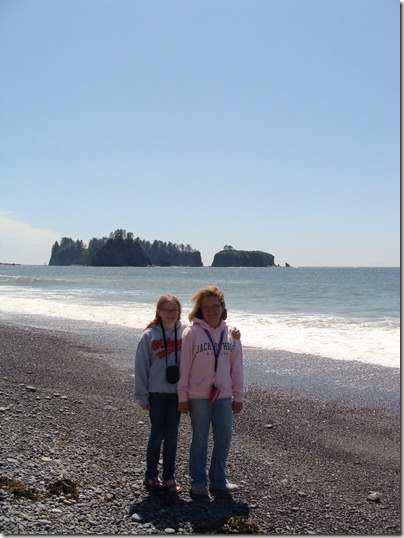 Rialto Beach (on a rare sunny day!)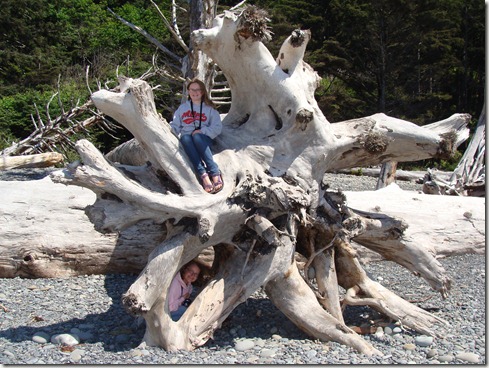 Driftwood Posing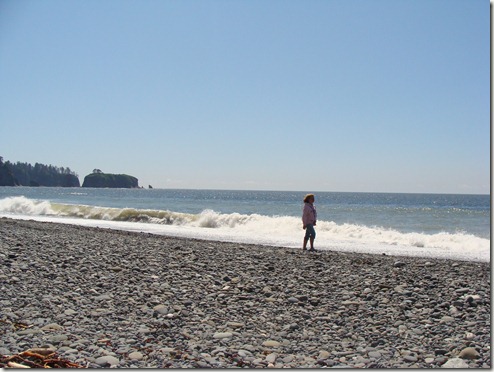 Rialto Beach (in the background, you can see the cliffs it shares with First Beach)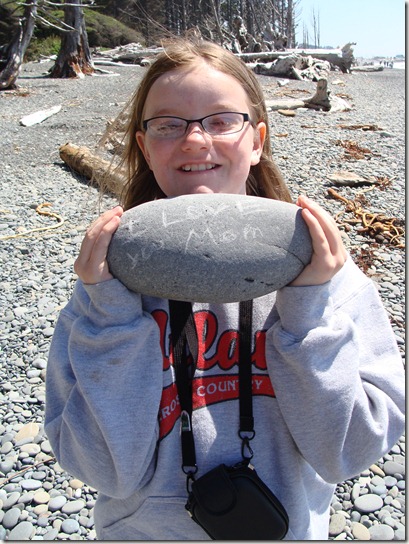 She dropped her camera in the wet sand and I got it fixed again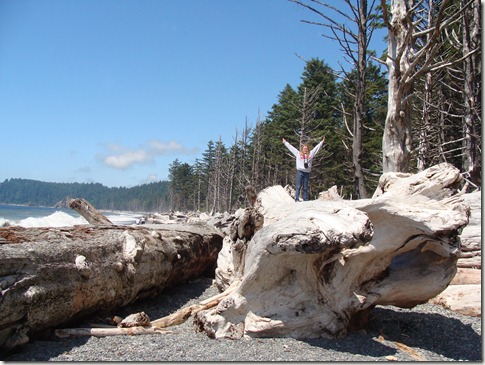 Our next stop was La Push. You could see it from Rialto, but you have to access it from a different road about 5 miles east of our campground. Here the road forks; one road takes you to Mora and Rialto, while the other takes you to La Push and First Beach. La Push/First Beach are part of the Quillayute Indian Reservation.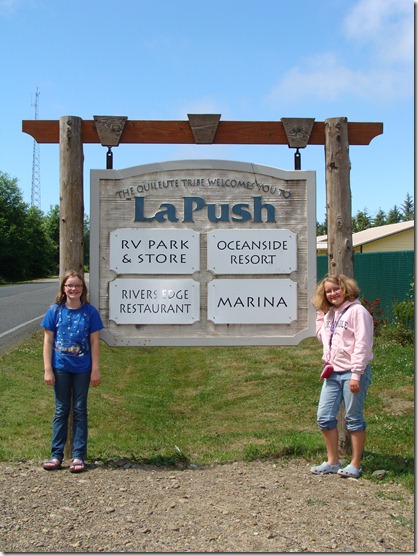 First Beach was a good place to start our stops that tied in to the Twilight novels. We'd seen a few things in Port Angeles, but here we were in the heart of the story. We had nothing planned for the afternoon except to drive around and check things out, so this became our Twilight afternoon.  I ok the books for middle school, but if you're in my house you have to listen to my speeches about how Bella is a terrible heroine, how she's a lousy role model, how Edward is a creepy/controlling boyfriend, etc.  If you're willing to listen to all of that, then let's have fun with it.  At La Push (where Twilight's werewolves live), we saw First Beach and took pictures of the rocks where the characters go cliff diving.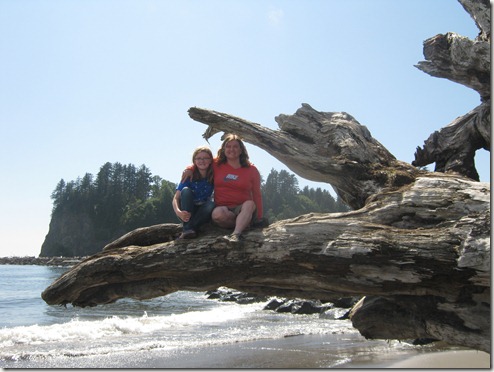 While Rialto was rocky, First Beach was sandy and busy with families
There are actually signs posted everywhere with the warning, "Although Twilight's characters dive from these cliffs, please do not attempt. They do not go straight down and the water is shallow."  We walked the beach, climbed on the rocks, and bought batteries for our flashlights.  In the camp store, I paid while the girls wandered outside looking for the advertised "Bella's tree."  I asked the clerk what Bella's tree might be, but she just shrugged and said she was "more of a Harry Potter fan."  So there you go.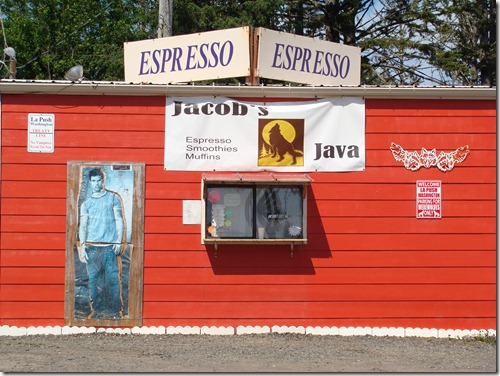 Where the werewolves get their caffeine fix
The girls did find something titled "Bella's Bulletin Board" where fans had posted messages.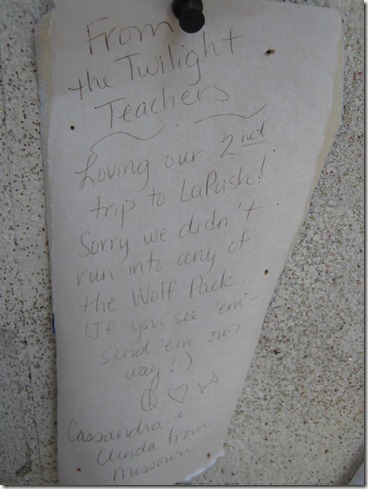 One of the notes posted to "Bella's Bulletin Board"
Leaving La Push, we crossed the "treaty line" where Twilight's werewolves and vampires dare not mix. We spotted some far crazier Twilight fans who paid for a bus to drive them around to all of this stuff.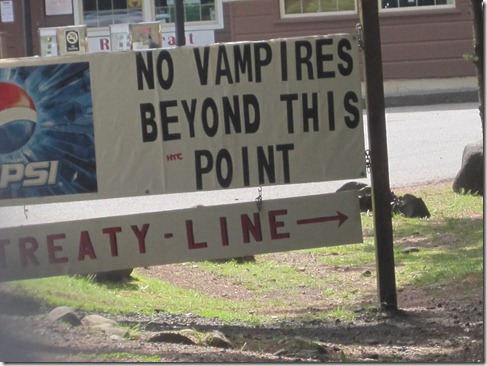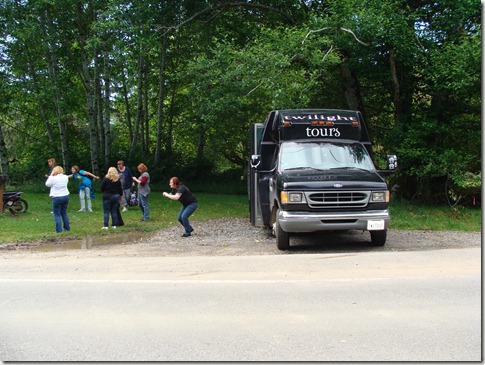 Fans take pictures of a little house with the sign "Jacob Black's Cabin"
Then we drove into Forks where Twilight-themed stores line the road and maps will point you around to all the important landmarks. Mind you, the movie didn't film here, so these are simply the places where the events in the books might have happened. I have to hand it to Forks.  It's a tiny little place with not a lot going on.  It looks like mostly a logging town area.  These movies will be over sometime in the next year, and the popularity of the books is bound to fade.  They're cashing in while they can.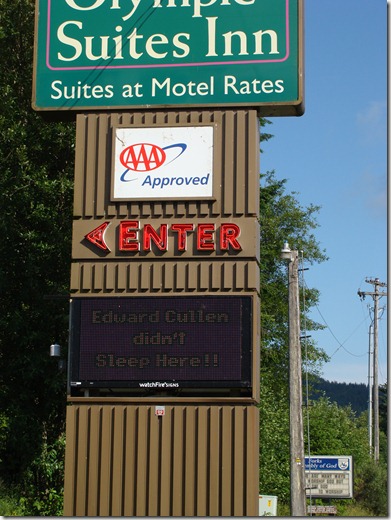 . . . 'cause, you know, vampires don't sleep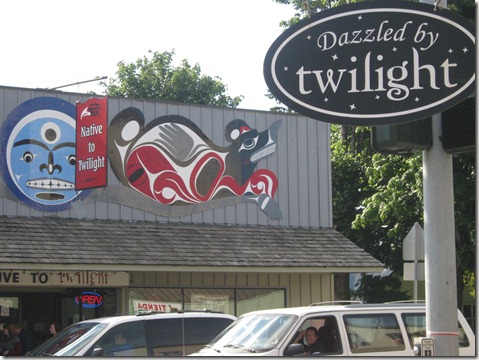 In downtown Forks, competing stores sell werewolf/vampire memorabilia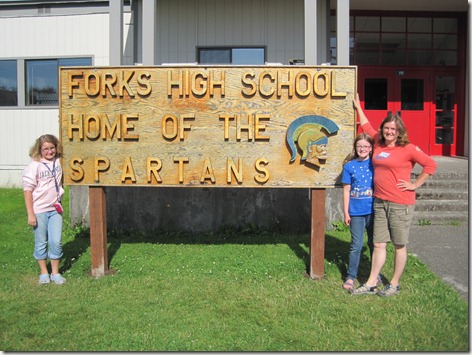 In front of the high school, we had to wait behind 3 other cars to get out and take a picture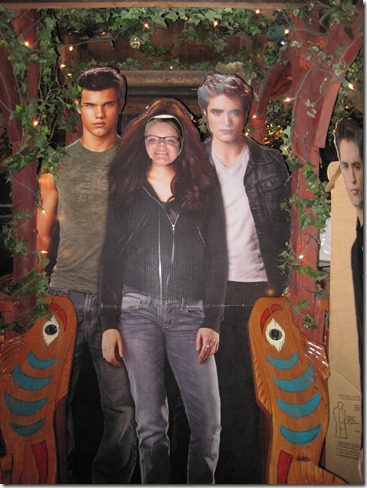 Photo opportunities everywhere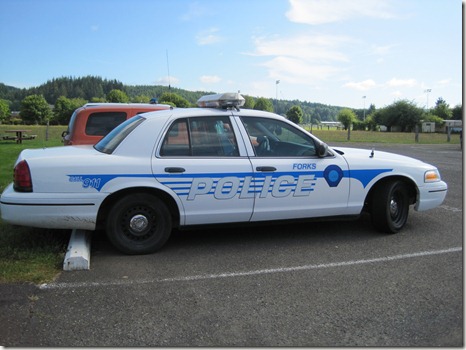 Bella's dad was a police officer, so cars drive in and out of the parking lot snapping pics of the cars (apparently replicated for the movie)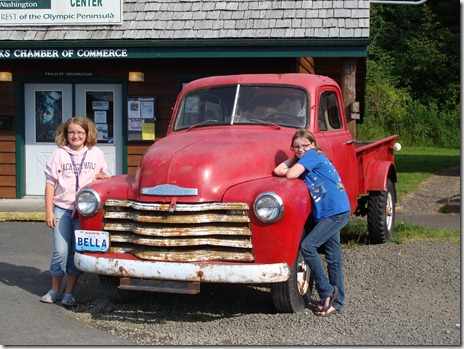 "Bella's car" is permanently parked outside the Chamber of Commerce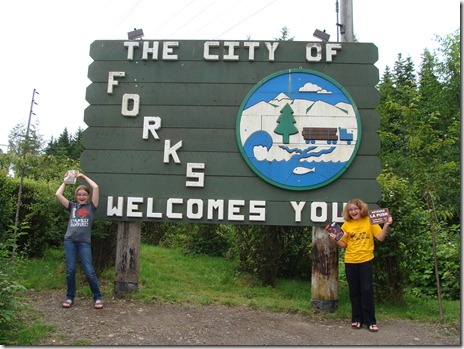 The tshirt Julia is wearing (I heart sparkly vampires) is one Elizabeth meant to give a friend last year before we found out it was too small. We brought it along just for pictures (note: we somehow forgot the spaghetti pot, but we remembered the shirt – go figure).
Forks has a lot of tourist activity, and it was mostly middle-aged moms and their daughters. It was actually quite weird. Still, we had fun driving around and laughing at the silliness of it all (one house advertised that they sold "Twilight firewood" (???). The town is getting some business out of the whole deal, and the good people of Forks seem to have a sense of humor about it. For example, one guy mowing his lawn motioned my car over to point us to the building with a parking space sign for Dr. Cullen. Apparently, it's a common site to see cars full of girls circling the hospital with cameras hanging out of the windows. He knew exactly why we were there.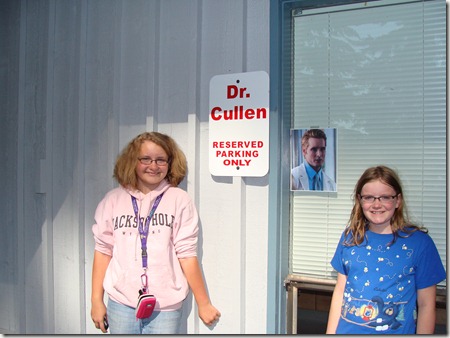 The sign used to be outside the ER, but that was obviously too disruptive.  It's now on the back of the last outpatient building.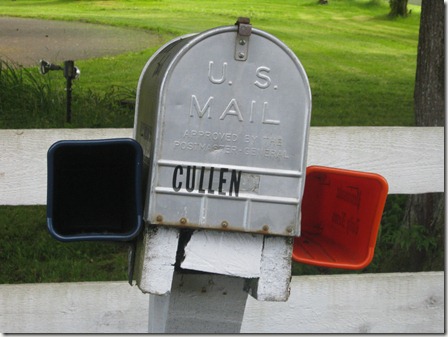 A little bed & breakfast added this to the front of their mailbox and made themselves part of the unofficial Twilight tour.  Good marketing. 
It did bother Elizabeth that the mailbox with "Cullen" (the vampire house) was right next to the police station. That was apparently too far from the story to work for her. Oh well. It was a fun day and we ended it with s'mores back at the campground.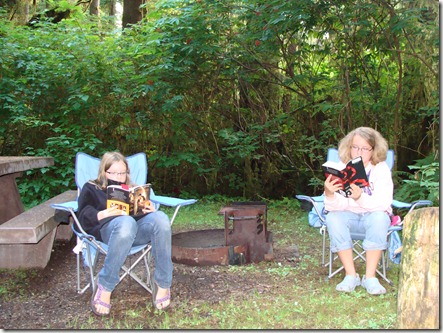 If you're going to read the series, you can't beat the location . . .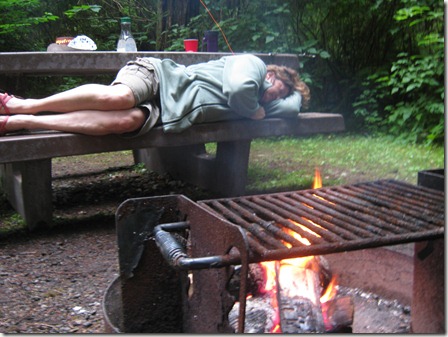 Crashing out after a long day