The tide charts told us we could sleep in today!  Low tide didn't arrive until after 10 am, so we actually started our day with bacon and eggs before driving the 10 miles north from our campground in Kalaloch.  Kalaloch is a beautiful place, and it's the only one in Olympic NP that can be reserved ahead of time.  It was full for our entire stay.  It also has no services, so the setting trumps any need for comfort. 
It was overcast (again), and it was still on the cold side (50's), so we packed extra jackets and set out.  My fear is the pictures from Ruby will look too much like those of Rialto.  Big rocks, tide pools . . . but there are differences.  Ruby Beach felt more rustic and wild than Rialto.  There is a parking area, but accessing the beach means a 10 minute walk down a muddy path, across a bunch of logs, and over a small stream.  If you're out here at 10 am, you've worked to be here. 
For the first hour, we didn't have much company.  Several families wandered around, but that was it.  There was no major destination like Hole in the Wall from the previous beach.  Instead, you simply wandered from rock to rock exploring the pools and stones.  Because it wasn't something new this time, we had more fun with it and the girls got silly.  It was a great morning.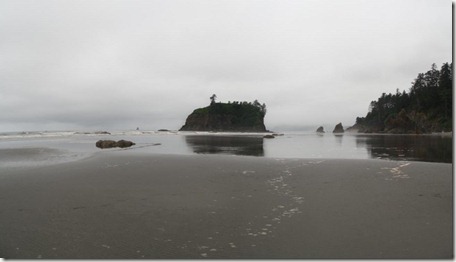 Arriving on Ruby Beach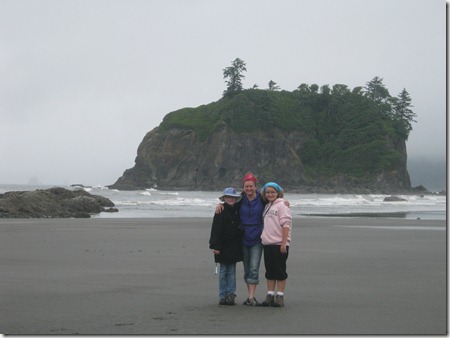 Ready to wander!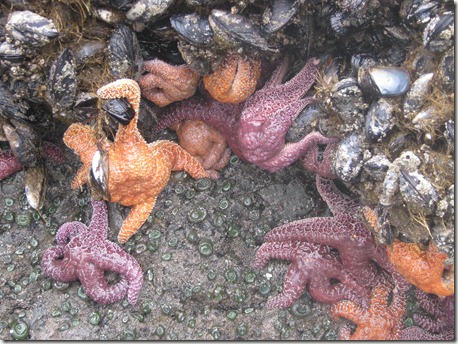 The tide pools were not disappointing!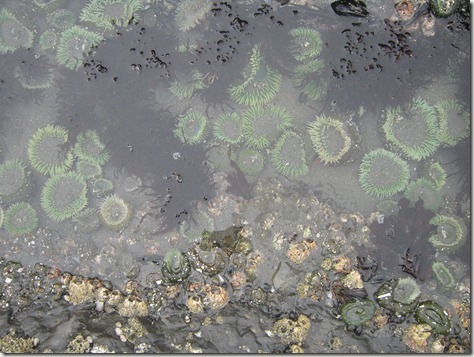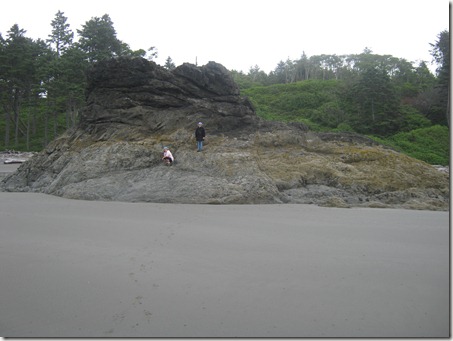 If it can be climbed, Julia's ahead of us giving it a try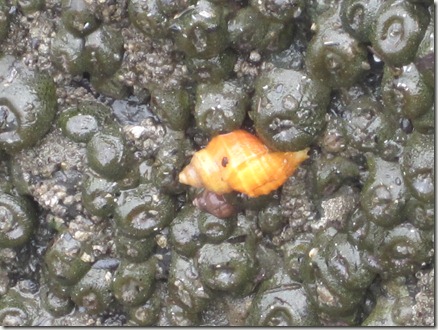 The girls noticed the small things today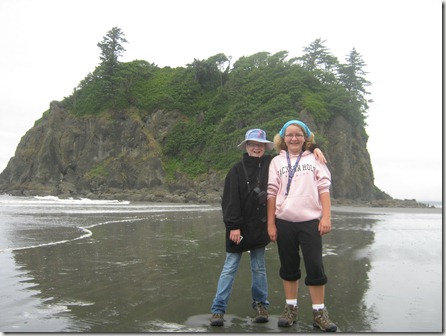 Stompin' the waves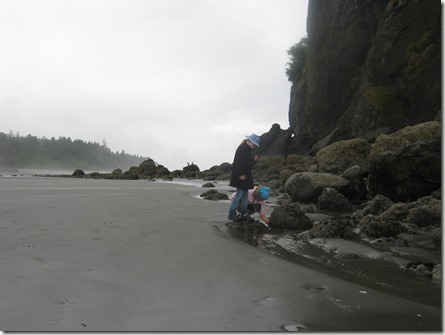 Getting ready to tackle one of the larger rocks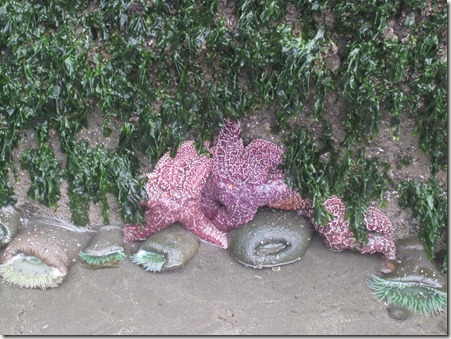 Things that squish and ooze – some of our favorites!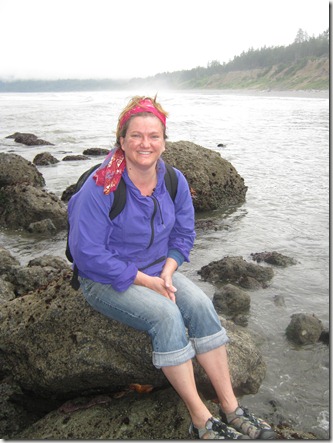 Taking a break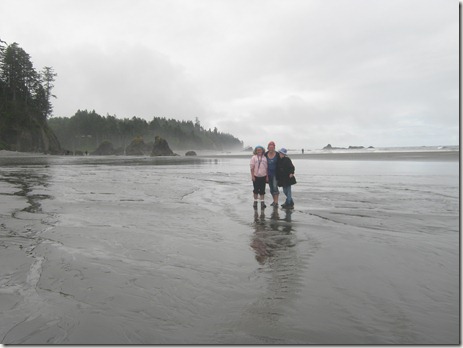 If someone is around to take our picture, we don't pass up the chance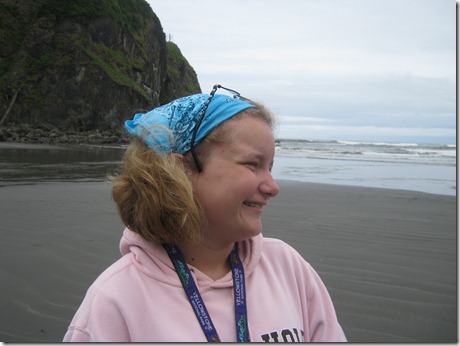 I love that they make each other laugh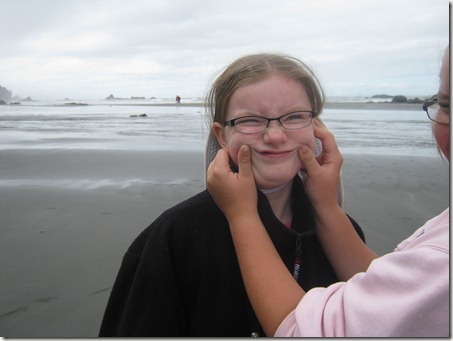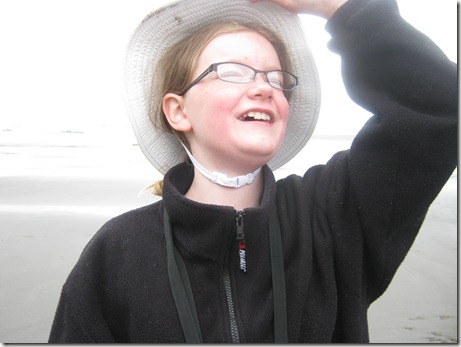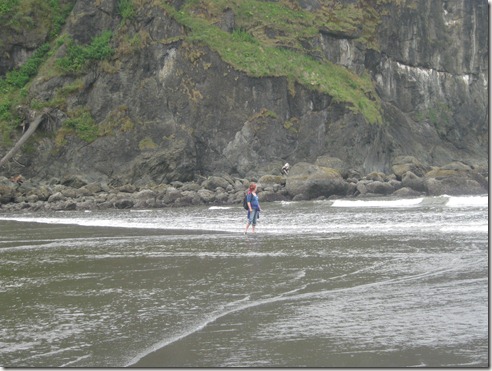 Elizabeth captures this shot moments before I get completely soaked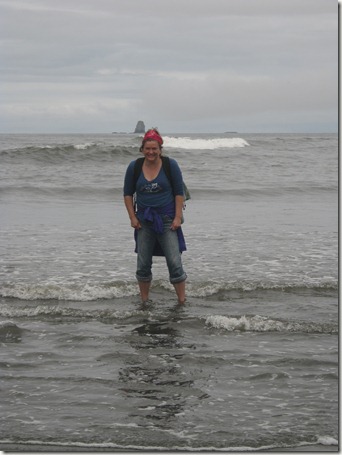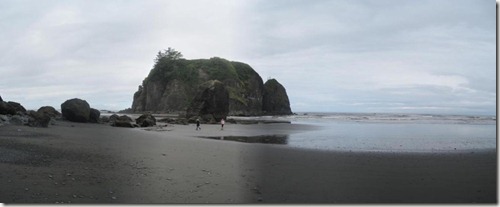 Moving between beach outcrops can take some time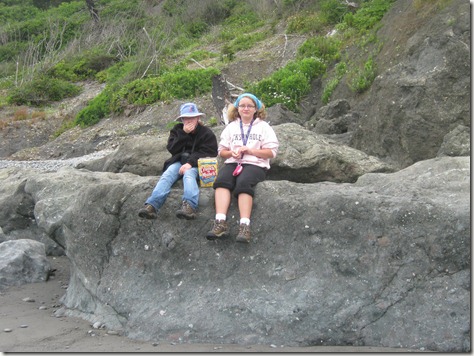 Snacks refuel a good walk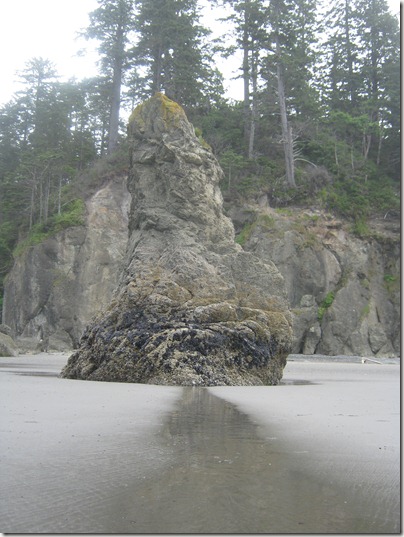 Little rivers appear from seemingly nowhere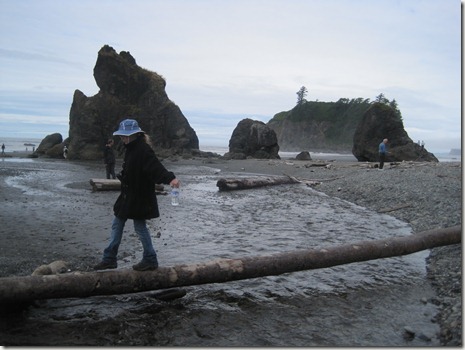 By the time we returned to the main area of the beach, the small creek was up to our knees (or you could just walk across the log)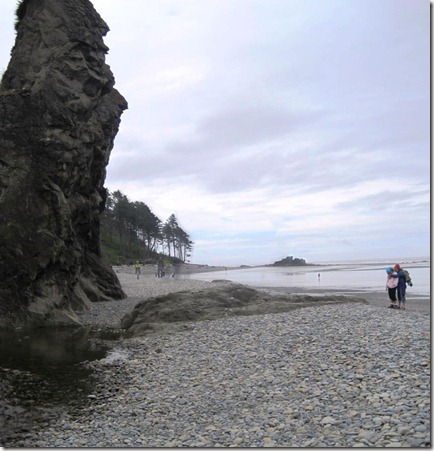 Resting before the last walk back to the car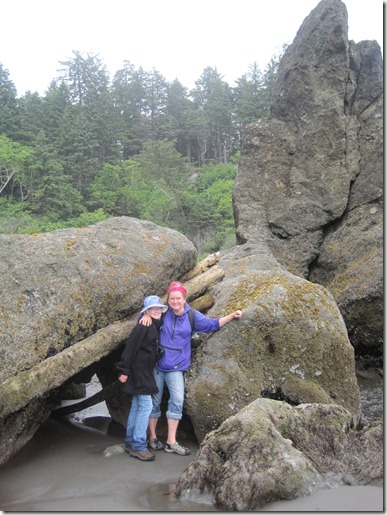 Julia, of course, finds one more set of rocks to check out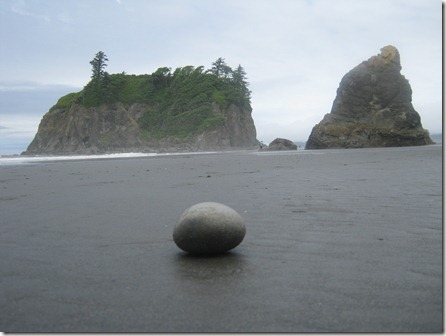 Leaving just before 1 pm, more people have arrived, but it is still easy to feel very alone on this beach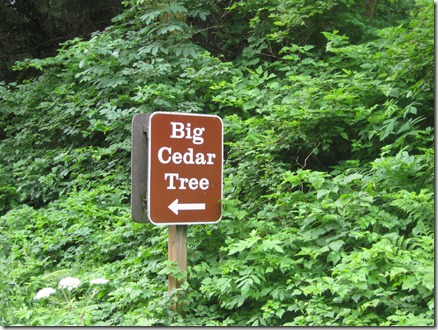 Driving back to the campground, how can you not take the road promising a big cedar tree?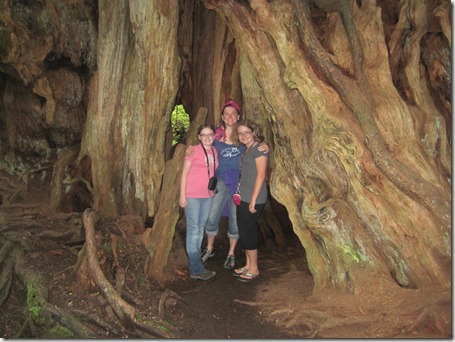 Yep – it's a big tree.  Here we stand inside part of the trunk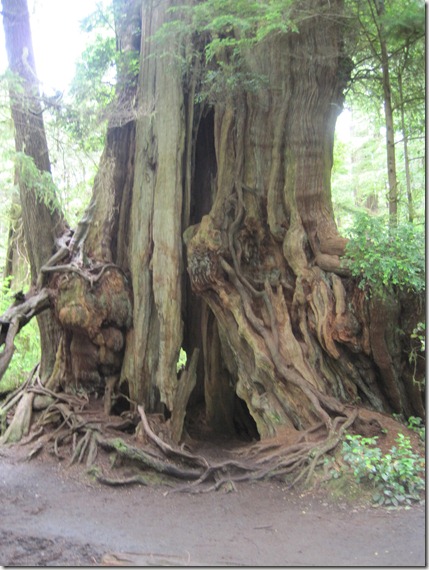 A wider view of the tree's trunk
Julia said, "Mom, going on vacation with you is a lot like school, only there are no weekends to sleep in."  Well, she might be right.  I like to keep moving and not waste time when we're somewhere I haven't fully explored.  Today, though, the whole afternoon was wide open and I promised a big day of doing nothing.  The sun actually came out for a few hours, so we packed up a bag and took the campground path to the beach.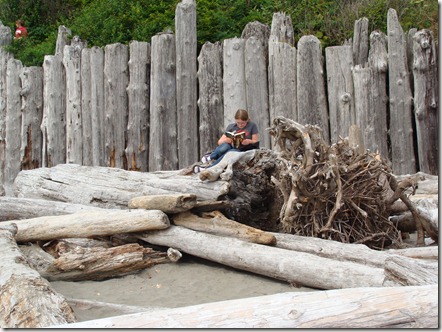 The night before, Julia made herself comfortable on some driftwood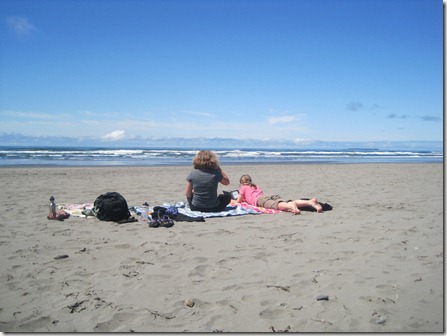 Today she joined us on the beach blanket and found the Brothers Grimm stories on my Kindle.  She entertained us with those all evening around the campfire.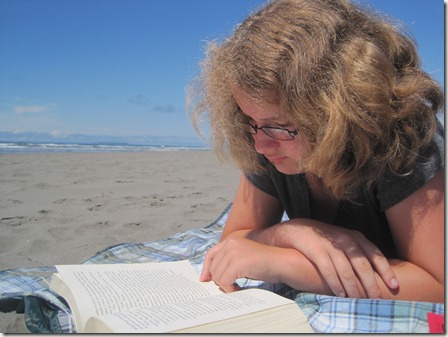 A beautiful place to read
The girls took pictures of me and my "hasn't had a shower in almost 4 days" hair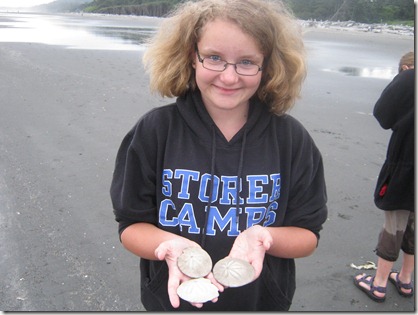 After dinner, we came back to the beach.  It was no longer sunny, but it wasn't raining yet.  The girls collected sand dollars.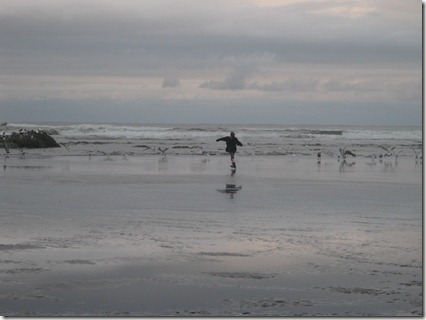 Julia chased some sea gulls
Our neighbors left us their firewood, so we made a big fire to keep warm and make s'mores. 
I know she was hoping to capture the smoke, but it doesn't quite show up.  However, lesson learned.  No matter how cold you are, when Elizabeth yells, "Mom!  Your flip flop is steaming!" it is time to back away from the fire before your shoes melt. 
Kalaloch is one of my favorite campgrounds.  It is really, really big (more than 200 sites), but the trees and ocean absorb a lot of sound.  No electricity, no water, no showers, no wifi, and no Verizon service does make for a quiet camping experience.  Tomorrow we leave the west side of the Olympic Peninsula and move to the more resort-like west coast of Oregon.  I initially planned our stays in these rustic campgrounds out of necessity because I wanted to take time to visit the beaches.  In retrospect, it was an excellent decision.  I'm anxious to reconnect with Mike and others at home (even after just a few days!), but these were simple, beautiful days I got to spend with my girls.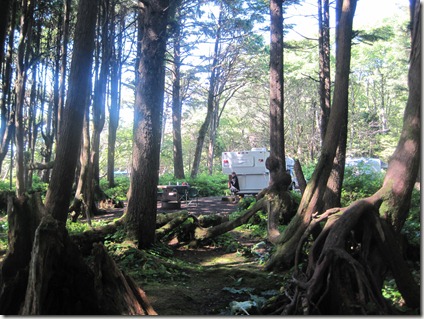 Kalaloch Campground (site #B15) from the back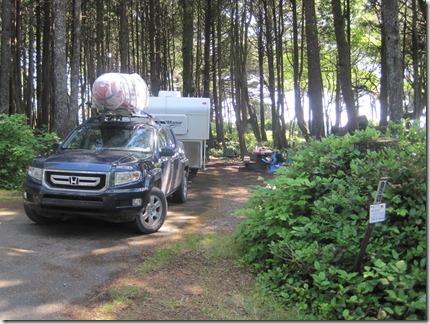 Our campsite from the front (the sunlight behind the trees is coming from the beach)