We were on the road again today:  A slow drive south.  It's just over four hours from Kalaloch, Wa, to Cannon Beach, OR, but it took a little more than five because traffic essentially stopped once we left the lonelier roads of Washington and made our way through a lot of tiny little towns along the Oregon Coast.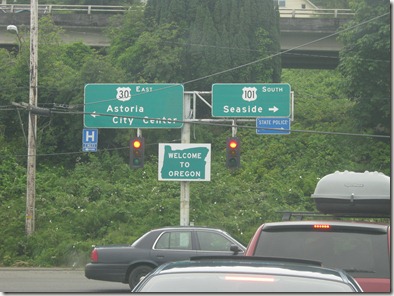 I drove, the girls read or played games, and that was about it.  We did spend some time, though, trying to recall all the strange things Julia has said on the trip.  Her little brain is usually whirring away, and sometimes she comments on her own thoughts (which is weird for those of us not sharing a topic plan with her brain). 
Here are our top three:
3.  "OK.  Number one.  Lions don't live in the jungle."  (said while we were quietly walking along a beach – and not talking about lions)
2.  "Mom, what's a moon dance?" (this one I kind of followed because we just passed a fancy sign for a Moon Dance Bed & Breakfast)
     "It's like when the moon shines on the water and dances around all shimmery in the waves." 
     "Oh." (giggle) "I was pretty sure it wasn't what I thought it was."
And our favorite:
1.  "You know, there are a lot of differences between the ancient zither and the modern zither."  (said in the restroom of a Chinese buffet)
Anyway, we love her.  She's awesome. 
We set up camp, drove into town to fetch some groceries, discovered Cannon Beach is really more of a good place to buy exotic kites or glass sculptures and not really a supermarket kind of town, located a tiny little surf shop that sold milk and bagels, walked down to peek at the beach while we waited for take-out fish & chips, devoured our fish (from Mo's), went swimming in the campground pool, and crashed out asleep until morning.
Friday we slept in, ate Pop Tarts to wake up (decided to save the bagels for lunch), and packed a bag for the beach.  We'd heard Ecola State Park was one of the prettiest on the Oregon coast, so we wanted to check it out.  We might have been tired, but Ecola just didn't do it for us.  It was the busiest beach than we'd been on so far.  There were lots of surfers gearing up in full wet suits and dozens of people climbing all over the small number of rocks accessible at low tide.  We found a few starfish and other colorful critters, but we didn't find them in nearly the numbers we'd seen at Rialto or Ruby.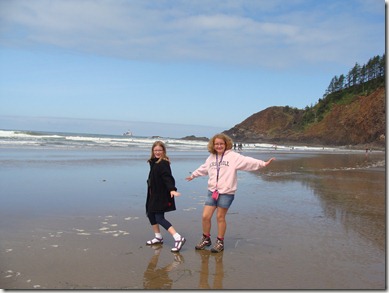 Watching the surfers on Indian Beach, Ecola State Park (Elizabeth says, "That looks dangerous."  Julia says, "That looks awesome!")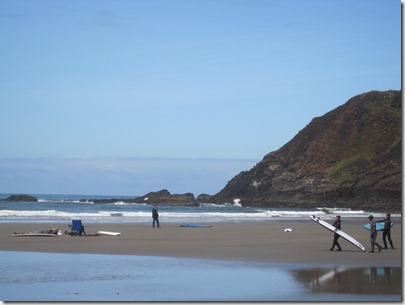 Julia says, "I wonder if those guys can hang 10 – that's the hardest move on a surf board because you have to keep all ten toes just off the board."  When asked how she knows so much about surfing, she says, "I read it on the back of a shampoo bottle."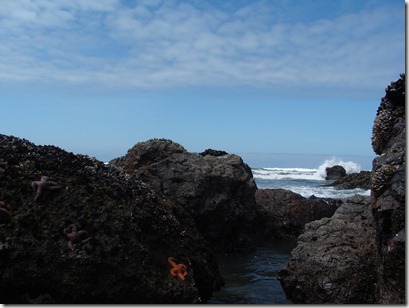 Rocks at Ecola State Park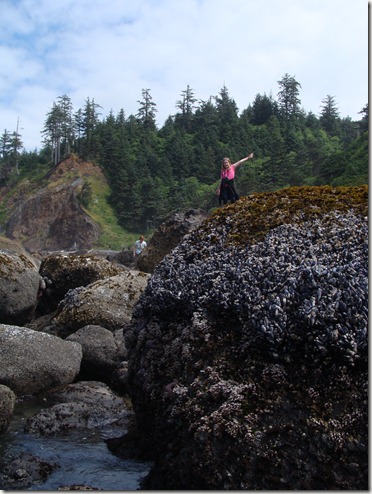 More rocks to climb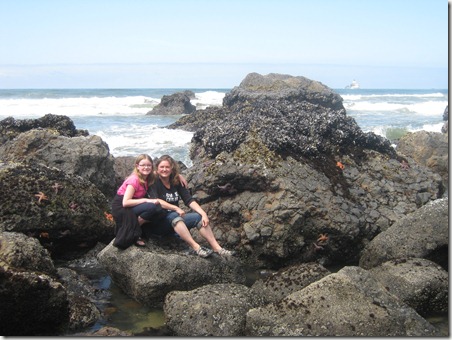 You can see Tillamook Rock Lighthouse off to the right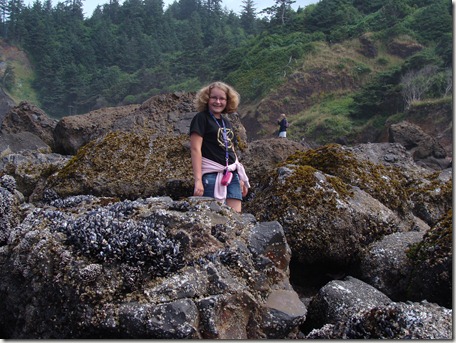 Elizabeth is cautious and is never pleased when the "path" is really a bunch of pointy rocks, but she ventured out more than usual today
Before bailing on Ecola State Park, we drove to the lookout point to see the view of Cannon Beach itself.  It's busy . . . and touristy . . . but a cute little town with a gorgeous beach than empties out as you move from the town center.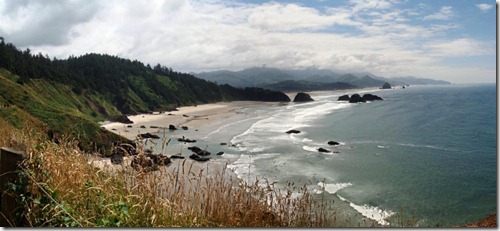 Looking down at Cannon Beach from Ecola State Park.  The town is near Haystack Rock – the largest rock toward the end of the beach on the right.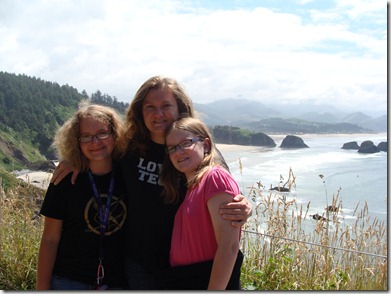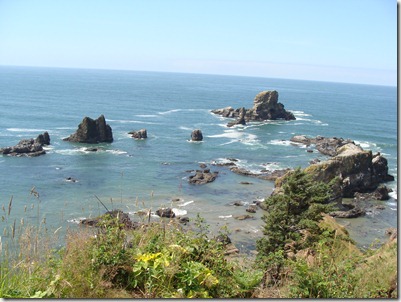 The other side of the viewpoint trail looks down on what they call "Sea Lion Rocks," but there were sadly no sea lions today. 
We drove up to Seaside (about 10 miles north) for lunch and laundry.  The only exciting thing about Seaside was finding the "Holladay" road sign along our route (for those who don't know, I was a "Holladay" before I was a "Woelmer," and it's rare to find it with the correct spelling).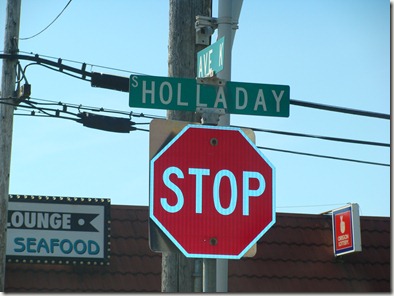 Back in Cannon Beach, we parked downtown and walked for a couple of hours.  We visited Haystack Rock on the coast, and we then walked through the cutesy shopping streets and found some yummy ice cream at the Picnic Basket.  We also visited a little dog specialty store, but it just made us miss our puppies, so we didn't have the heart to buy anything.  After another evening of swimming and relaxing, we called it a night.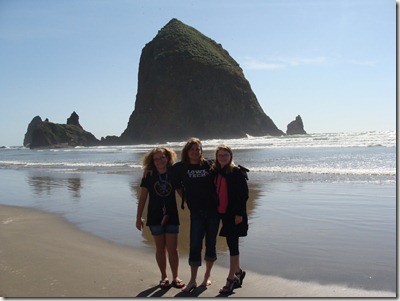 Haystack Rock, Cannon Beach, OR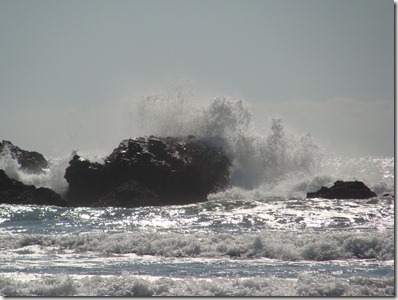 I liked watching the waves come in
Saturday was spent breaking camp, driving to Portland, setting up, and fetching Mike from the airport.  Our big family outing?  Picking up groceries.  We welcomed Mike "home" with deli chicken and a list of things that needed fixing on the camper (I think he worked on the table, the hot water heater, leaky pipes, a dead fuse, the furnace cover, and the stove edge before he called it quits). I am both sad and relieved that my "wandering time" alone with the girls is over.  I was sure we could manage, I was excited about seeing a new part of the country (I love love love the Olympic Peninsula!), the girls were great, and we had some solid mom/daughter time; however, I would have liked to have shared some of the destinations with Mike – it was like our daily puzzle was missing a piece.  I was happily surprised, though,  how quickly both girls fell into routine jobs and responsibilities along the way.  Just yesterday, the cover for the hot water heater came loose.  I had plans to fix it before we left camp, but Elizabeth secured it with duct tape before I had the chance.  She just didn't want it to get lost.  That seems trivial, but they really did step up with Mike not here.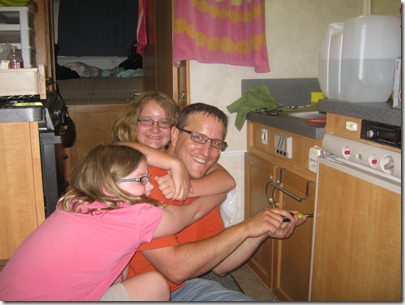 With us five minutes, and we put him to work
That being said, we're sooooo happy to have him here.  It feels like a long time away, and we're going to have some family time until we have to leave him part way through his bike trip (we'll follow him over the Rockies and leave him somewhere in Montana).  The bikers all arrive Tuesday and begin the ride on Thursday.  Until then, we hope to see a few things in the area and spend some days just hanging out.