After yesterday's tire blowout, we had some time to make up. I was anxious to take off across North Dakota, but we first had to make a morning of phone calls and stops in order to track down a tire so we would have a useable spare. Everyone was sure they had one – "Just roll the busted tire on in" – until they physically saw it. It's a weird size, but the number code sounds almost like a common one. Elizabeth and I got really good at taking the camper up and down and getting the tire off and on the spare holder. They really should make the spare accessible without requiring a ton of work first. It was exhausting, and by the time we found a Goodyear dealer in Fargo who came through on his promise of a replacement tire, we were more than ready to move on.
After only a few exits into N. Dakota, though, I just got this bad feeling that I should stop and check things. I pulled off to find our electric cable somehow came loose from where it was wrapped around things holding it off the ground and had been dragging along the highway for who knows how long. This is bad. Very bad.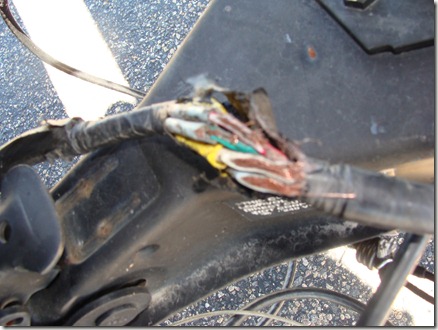 Blurry (sorry):  Not what you want to see when you're
hauling a camper through a state with few exits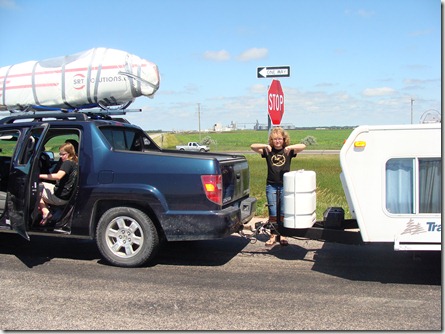 The kids agree:  The whole breaking-down-every-few-miles thing is no fun
So . . . another bad news call home to Mike. In the end, I sliced the already-taped cord to expose more wire.  Then I wrapped electrical tape around each individual wire before  wrapping the whole thing in more tape. My brake and turn lights still work, so hopefully everything else will, too. As we pulled back on the highway, Julia said, "Mom, you're awesome. I would have totally cracked back there."
We made another stop in Jamestown where they were having a birthday party for their albino buffalo. The little wild west theme village was filled with people in costume getting ready for some kind of shoot reenactment (we didn't stay long enough to see it), but we spent a little time checking out the exhibits and, of course, getting our picture taken with Dakota Thunder, the world's tallest bison statue.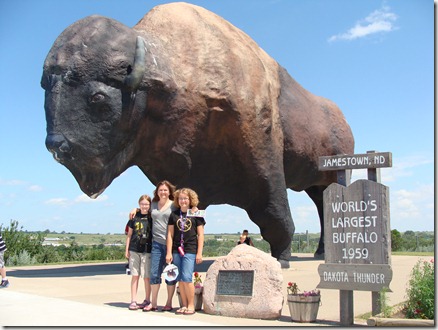 "Dakota Thunder"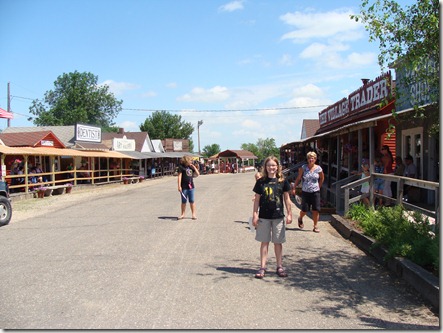 The girls explore the village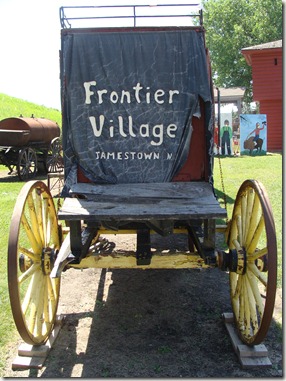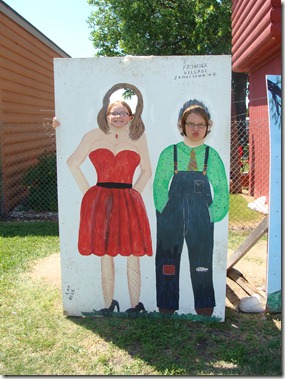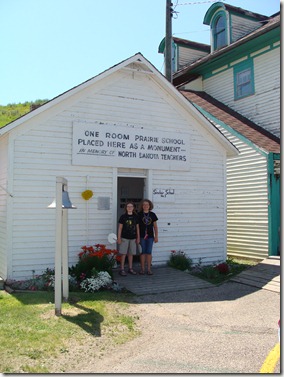 Visiting the old school house
The drive was quiet across most of the state. Dakota is extremely boring. There's nothing to see and almost nowhere to stop. I started stopping for gas around the halfway mark just so I didn't have to worry. The biggest excitement was watching workers set up barriers along several stretches of highway where floodwaters threatened to cover the road.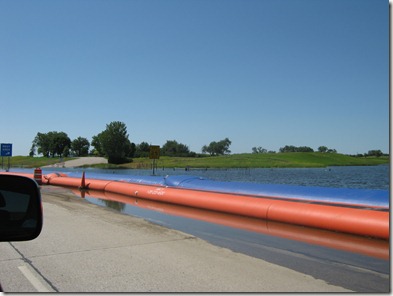 Water lapping over the road barriers
Finally, in the last few miles of the state, we entered Theodore Roosevelt National Park. We only stopped for a look at the overlook, but it was a fantastic view.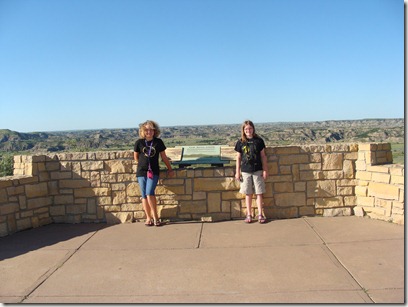 The lookout point into TRN Park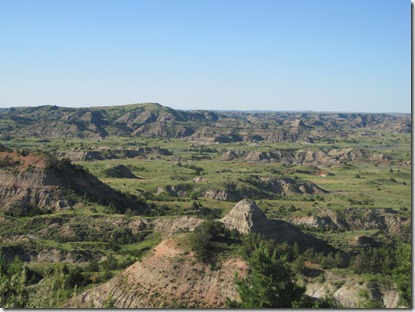 Looking into the valley
We ended our drive in Glendive, Montana, at Makoshika State Park – the Badlands of Montana. This park lacked the majestic feeling of the South Dakota Badlands, but it had a more relaxed personality. It also had what must be one of the coolest Frisbee golf courses ever. If we walked the trails, there were apparently lots of dinosaur fossils here, but it was too late for a hike.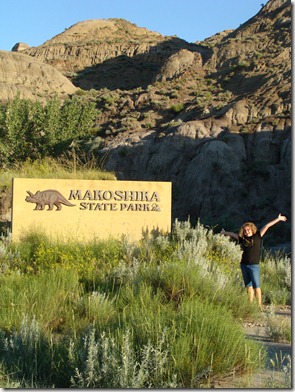 The entrance to Makoshika (Glendive, Montana)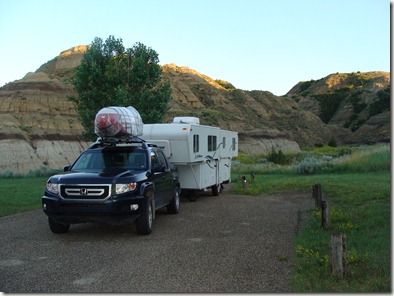 Our campsite for the night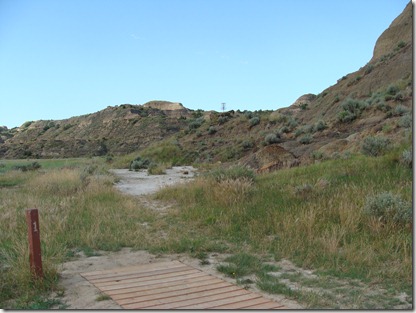 Frisbee golf!  From this first throwing point, you can see the
Frisbee cage up on top of the hill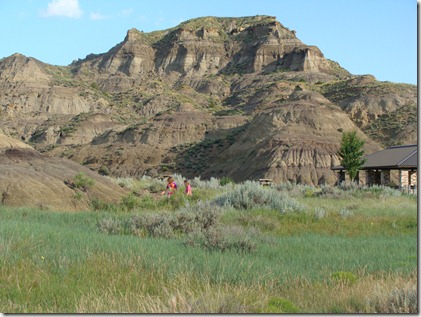 The girls explore the trails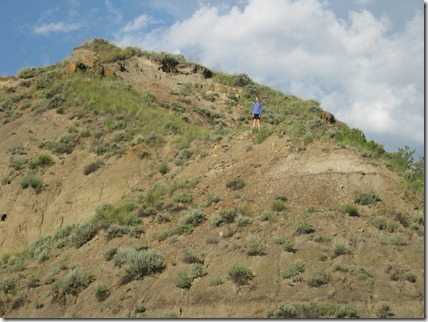 Julia makes a climb (easier going up than going down)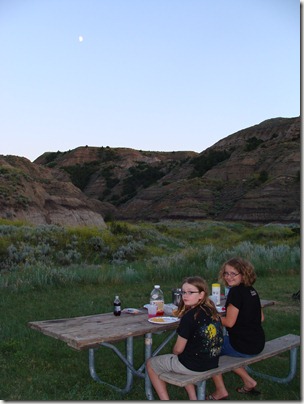 Eating dinner as the sun disappears behind the hills
No electricity here, and our rv batteries appear to be dead, so we went to sleep when it got dark.