One more day until the ride!  Time to run a bunch or errands and make sure we are ready to roll.  Julia stayed with Mike to work on the bike while Elizabeth dragged a bag of laundry and a shopping list into my truck.  Of course, laundry and shopping is boring, so we added a few small "food errands" into the route just to mix it up a little.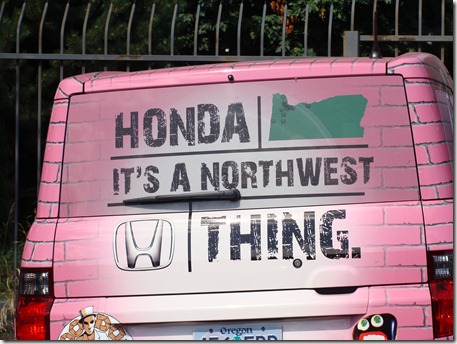 Food Errand #1:  We stopped by the satellite store for VooDoo Donuts and picked up a snack (the lemon cruller had a very sharp lemon taste that was amazing!).  We liked their pink VooDoo van in the parking lot.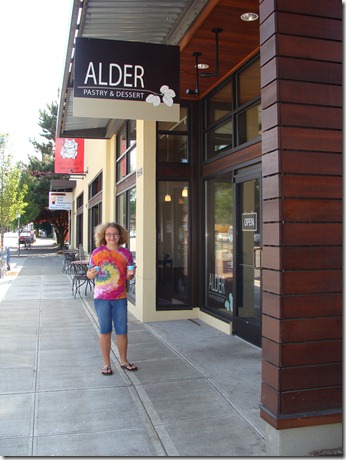 Food Errand #2:  My cousin recommended her nephew's pastry shop, and because it was so near VooDoo, we had to make a stop to say hello and have gelato and yummy baked goods (can we call it second breakfast?).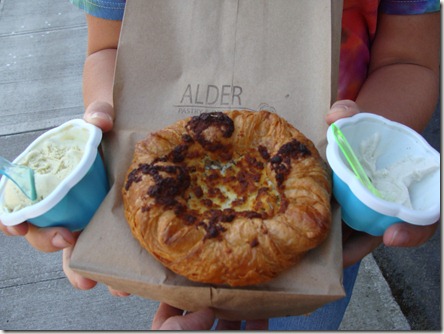 Pistachio gelato was reallllly good!  The goat cheese & herb croissant was even good enough to guilt me into saving the bacon maple donut from VooDoo until the next day (and it made me feel not so bad about eating twice in one morning!).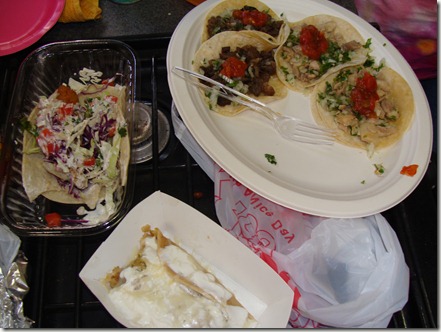 Food Errand #3: After making stops at Camping World and then spending two hours feeding change into laundry machines, we had clean clothes and needed to get back for lunch.  We got a little lost on the way, however, and drove past a little taco hut.  El Tacoriendo looked a bit beat down and had colorful language spray painted on the side, but it was getting a lot of local traffic.  The owner made the tortillas while I waited for my order.  Really good and inexpensive ($1.25/taco).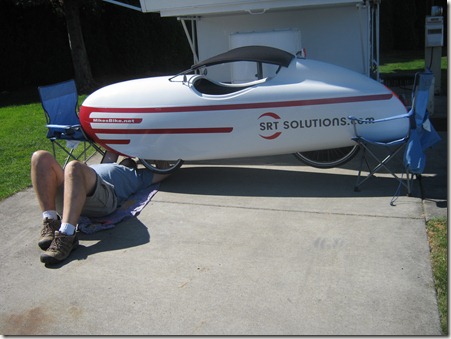 We returned to find Mike still working on the bike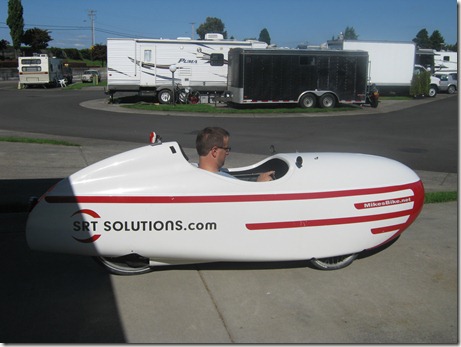 It was dinnertime before the bike was ready to ride.  We spent the rest of the night at a ride meeting. 
Thursday, July 28th:  Ride Day!!!!!!!
The Day's Inn Parking Lot is a little crowded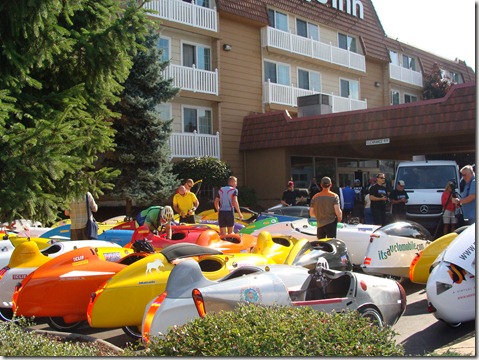 At 9:00 am, the riders do last minute checks on their bikes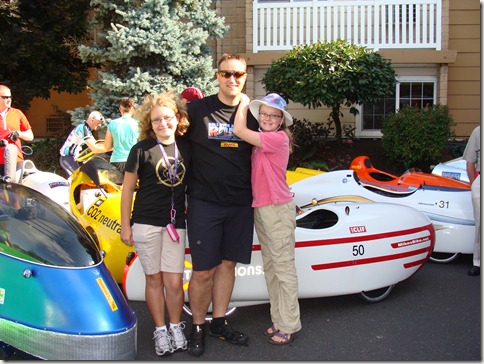 The girls wish Mike good luck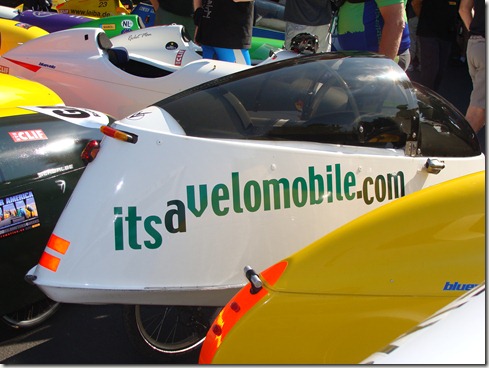 A home-built velo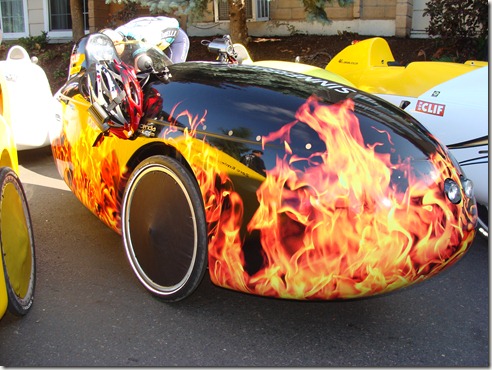 Flames!!  Some of the bikes have fun paint jobs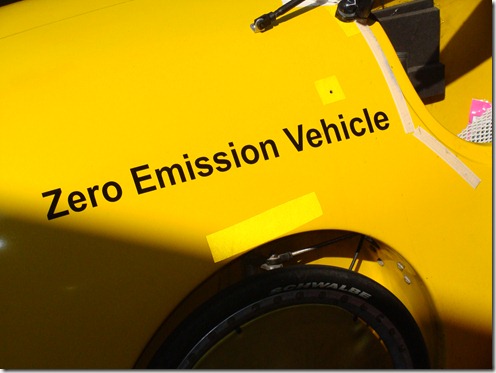 Just produces a lot of sweat on warm days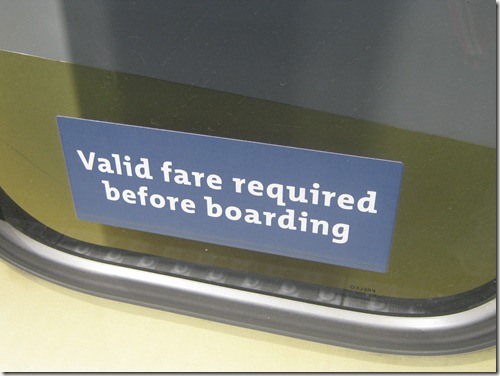 This sign is on the MAX Train (not a velo).  The girls and I rode out from the EXPO Center to the downtown rally point to watch the riders leave.  We curiously noted we'd purchased tickets for the train each day; however, no machine or person ever checked to see if we'd paid.  The tickets stayed in our pockets.  This is the first public train we'd ever been on that apparently runs on the honor system.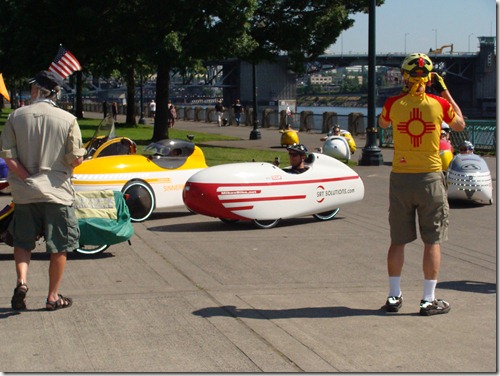 The riders (including Mike) arrive at the Tom McCall Waterfront Park near the circular fountain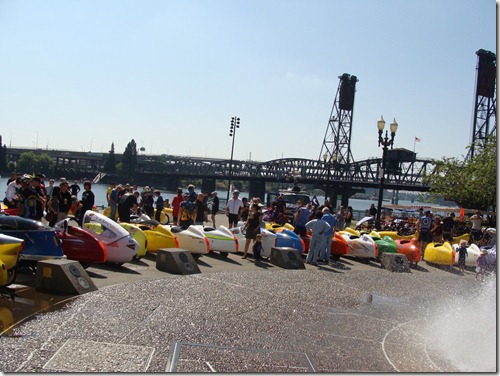 The bikes make a colorful show and begin to attract attention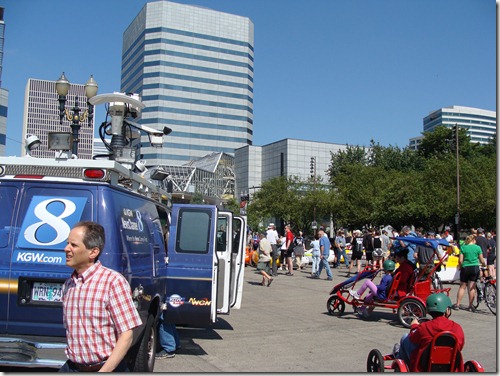 Channel 8 arrives, and bikers riding along the waterfront path pull off to check things out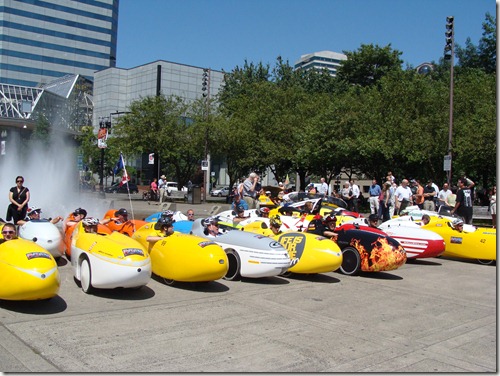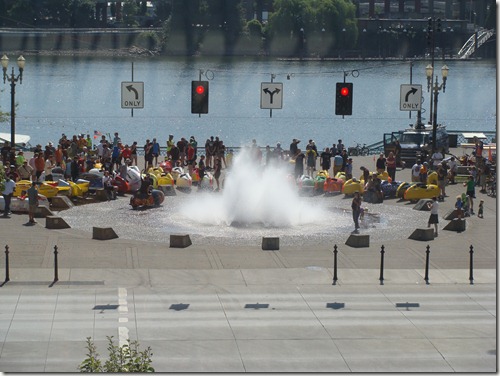 A view of the park from the skywalk in the World Trade Center.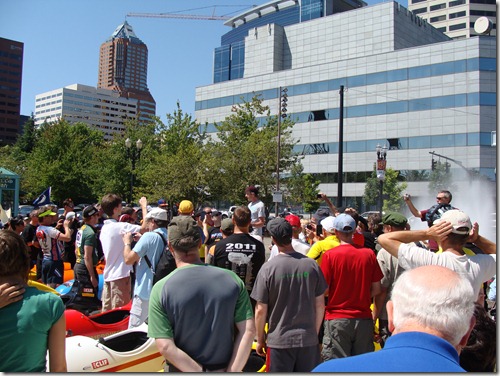 A representative from the mayor's office declares it "Velomobile Day" in Portland!
While the riders showed off their bikes and chatted with interested Portland pedestrians, I found the WTC plaza filled with food carts and farm market produce.  The girls and I picked up lunch and ended up with one basket of fish & chips, 2 gyros, a falafel, and a basket of blackberries.  After today, we're back to PB&J's during our camping time, so we've been splurging a bit while in the city. 
The ROAM bikers leave Portland on July 28, 2011
After watching the bikes leave, the girls and I joined other supporters in a train ride back to our vehicles (and now I'm watching everybody get on and wondering if they paid for their tickets 'cause nobody is going to ask and how is it possible all Portlanders are super honest?).  At 1:39 pm, we were in the truck and I took the exit for I-84 East.  We are now moving east, and every mile is one closer to home. We again saw the sign urging us to "Keep Portland Weird," and I noted we could do our part by leaving Julia behind, but she just smirked and  otherwise pretended she didn't hear me.  We said goodbye to Portland and decided we enjoyed it but will miss VooDoo Donuts and the food carts.   I agreed on both choices for "will miss most," but I get my own choice for "won't miss at all." My Android phone's GPS app!!!! We refer to the voice as Jeeves, and while 'ole Jeeves usually does a good job, he doesn't know Portland at all. Soooo many times this last week I've looked for a specific store and ended up in the middle of a bunch of warehouses or on a residential street. Even leaving town today, the GPS map pointed me south while the voice told me to go north. Hopefully, Jeeves is better with the rest of Oregon.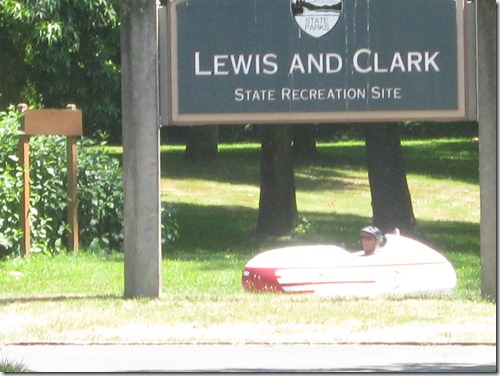 After making it through Portland, Mike arrives at the first meeting stop.  From Lewis & Clark, the group moved onto Interstate 84.  They met up again later when the Oregon Department of Transportation stopped traffic along the interstate in order to let the velomobiles navigate a very narrow quarter-mile tunnel (older tunnels with no shoulder would be very dangerous for a velo).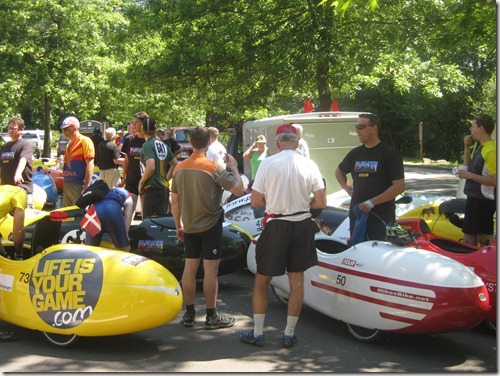 Water break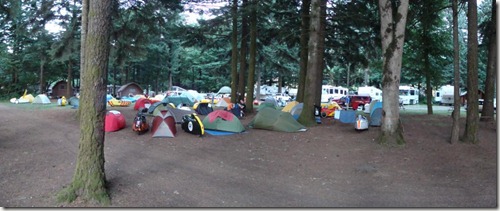 Cascade Locks KOA:  Final stop for the night.  Distance today:  45 miles