The girls have been bugging me to start this year's trip journal.  Mostly, I think they need something to do in the car . . . so here we go.
Our 2010 summer road trip was fantastic.  We knew we wanted to do another, but where did we want to go?  There were a lot of good ideas, but the plan  was settled when some velomobile riders from Europe  announced a 2011 summer ride across the United States.  Mike has been interested in a long bike trip, so the opportunity to see the country by velo with 49 other riders was too good to pass up.  As a result, everyone in our family is taking a long road trip; we just won't all do it at the same time.
This year's trip report will have three sections.
1.  The trip west. The girls and I will be transporting the velo from Michigan to Portland, Oregon.
2.  Family time in Portland:  We will meet Mike in Portland, spend some prep time there, and work as trip support for the first few days of the ride.
3.  The trip east:  Mike will pedal his way from Portland, OR, to Washington DC.  The girls and I will travel with him for the first few days.  We're still working on how he might keep a record of the trip once we head home, but hopefully some of it can go here. Alternately, you can see the ride plan/riders/updates from the official site, Roll Over America, at http://www.rolloveramerica.eu.
This is definitely not a typical family road trip.  The girls and I set out on July 6th, Mike arrives in Portland on July 23rd, the velo ride begins on July 28th, and Mike reaches DC on appx August 26.  That's a long time, and it should be exciting.  Check in on us once in a while!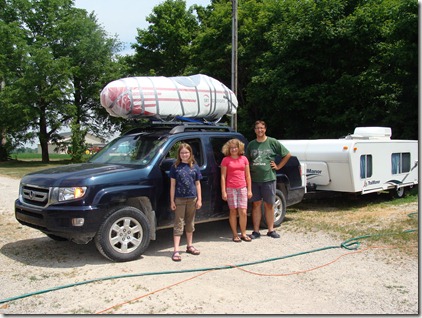 I promise we didn't just duct-tape it to the top of the car
Tow vehicle = Honda Ridgeline, Camper = Trailmanor 2720, Velomobile = Quest