June 29th is Mike's birthday, and he chose Hallstatt for "his" stop on the trip. Hallstatt is a tiny town (less than a thousand people), but it has been an inhabited site for salt mining for almost 7000 years. In more "recent" times, an early Iron Age settlement was on the site from 800 to 400 BC (known as the Hallstatt Era). By 1311, the site was a large market town, so it is assumed the town was prosperous much earlier. Salt mining still happens in the mountains over Hallstatt, but it also thrives on tourism. In fact, the town is so popular, a businessman in Asia built a complete replica of the city in Luoyang, China. Basically, with the hope of attracting tourists within China, he cloned an entire Austrian village. Weird — but that must mean it's worth seeing, right? With promises of touring an ancient salt mine and sitting by a picturesque lake populated with swans, we left Salzburg for what would become a very long journey.
If we had a car, we could have made the trip in an hour and a half. However, we had been repeatedly told that trains were faster and more efficient in Europe. So . . . We paid for a taxi to get us to the train station. Then I tried to work out with the ticketing agent how to get the best deal to Hallstatt. We could travel for $40 as a group after 10:00. For anything earlier, it was $22 per person. We only had one day in the town, though, so we paid the higher ticket price, got on the 9:00 train, and waited. And waited. And checked the time again. Then checked to see if we might be sitting on the wrong train. Finally, it was announced that our train would be delayed due to an adjustment in the line. Our train was now scheduled to leave at 9:55 (just before that 10:00 cutoff for the cheaper ticket). Ultimately, it didn't leave until 10:10. The late leave time meant couldn't catch our connecting train on time, too, so we were set back another 40 minutes. By the time we finally reached the Hallstatt train station, a trip that could have taken us an hour and a half if we went directly by car had stretched into almost 5 hours. I'm sure (or I choose to believe) the ticketing office didn't know our train would be delayed only 10 minutes after they sold me the more expensive tickets, but after being set back, I was in a bad mood. I'm sure we have just had extremely bad luck with the supposedly fantastic trains in Europe, but so far our experience has been two train trips that should have transported us to our destination in appx. 2 hours, and they both have had problems that stretched them into five or six hour trips.
It was hard to stay mad, though, as we boarded the ferry (if you arrive by train, you can only reach the town by a ferry scheduled to meet each train). The view of the little city set against the mountains was fairytale-esque, and it put everyone in a good mood again.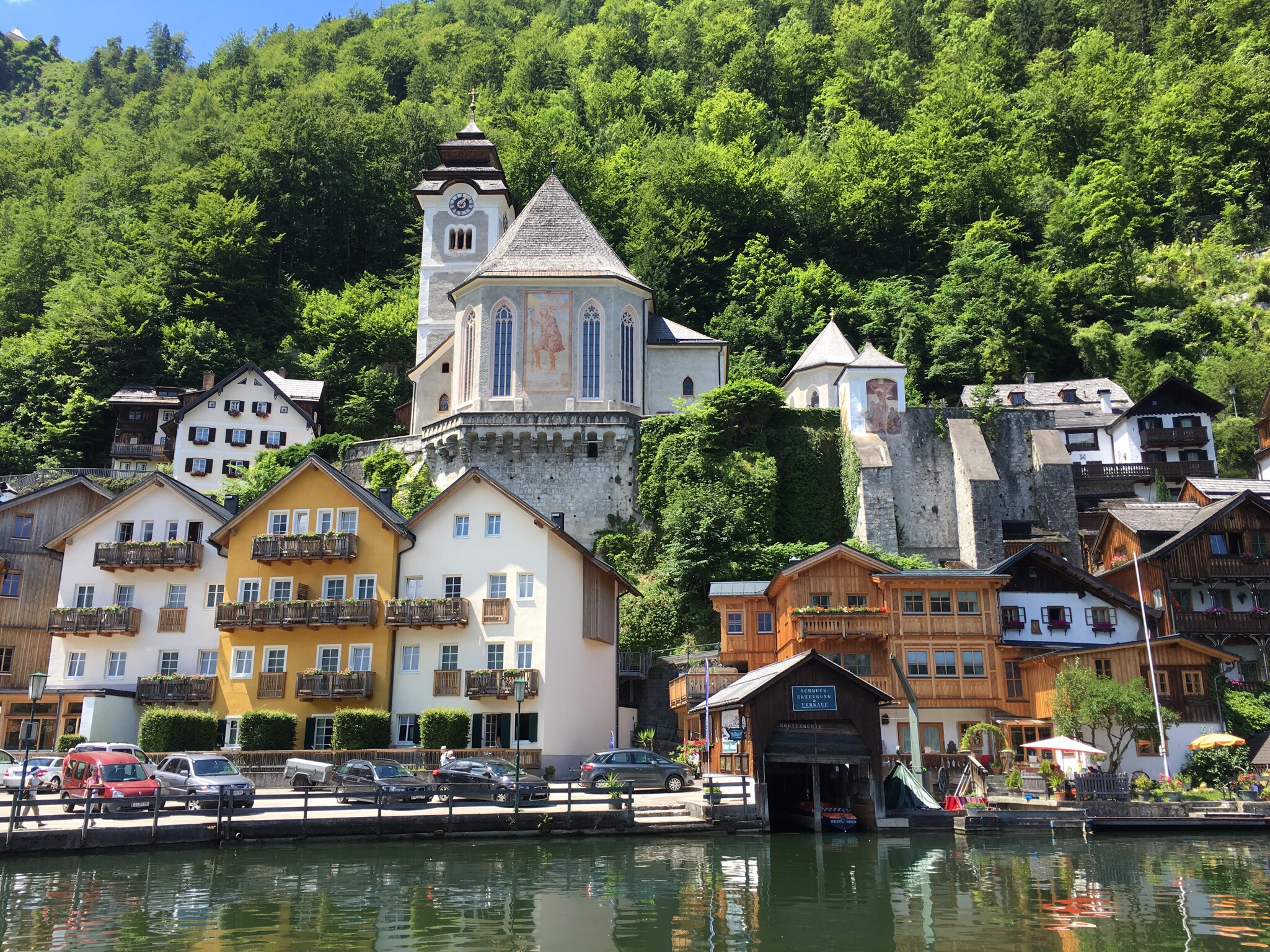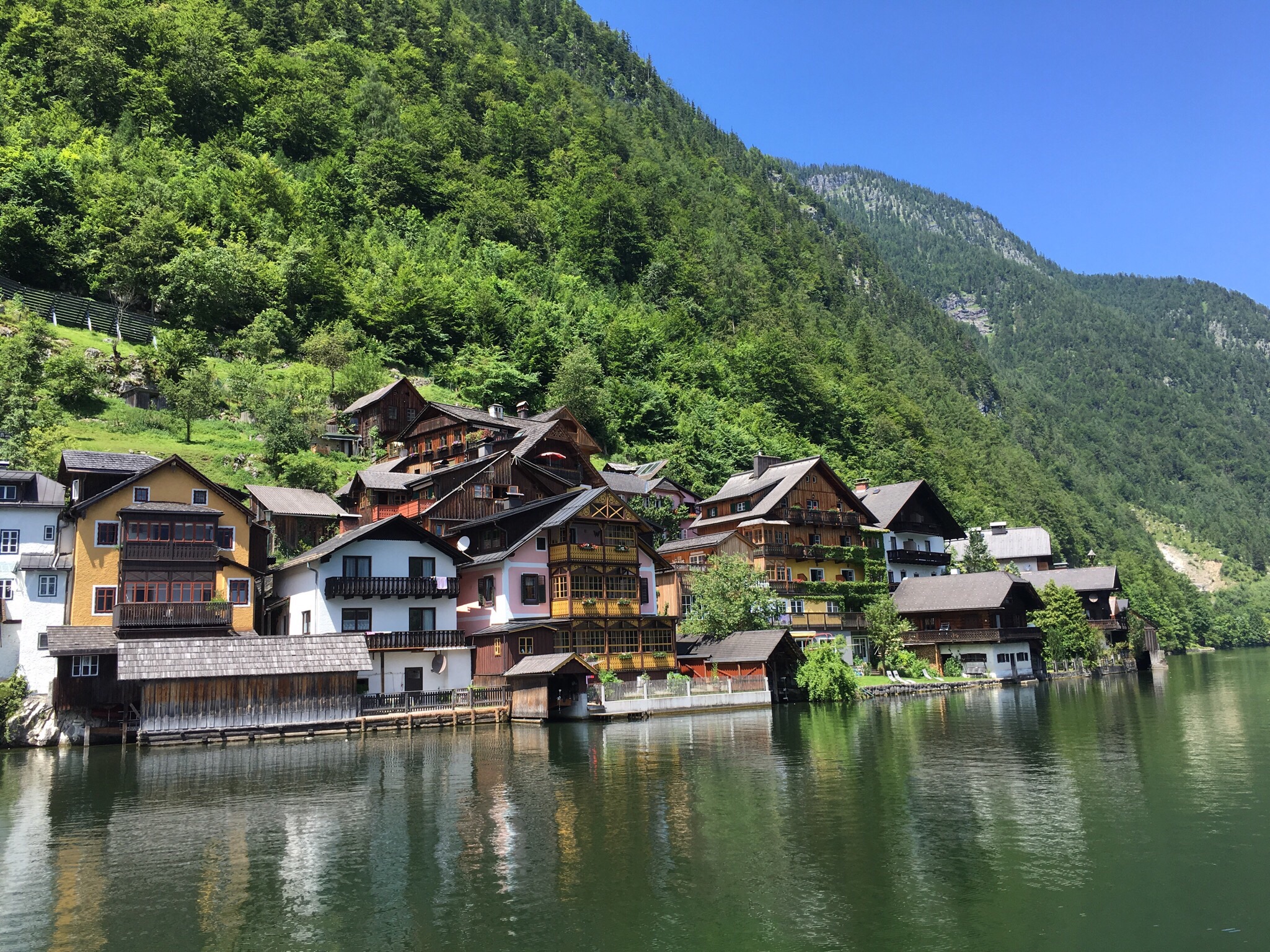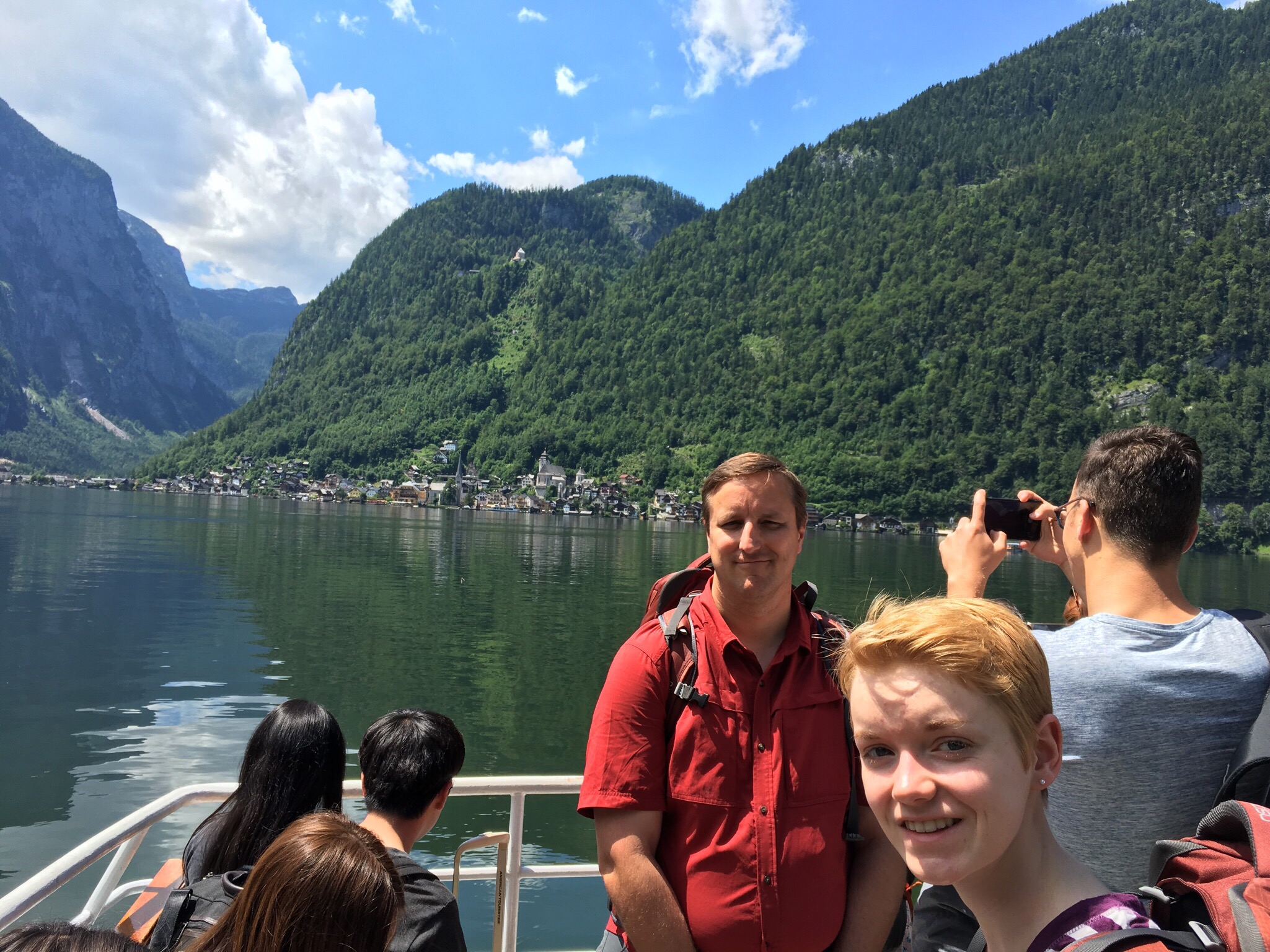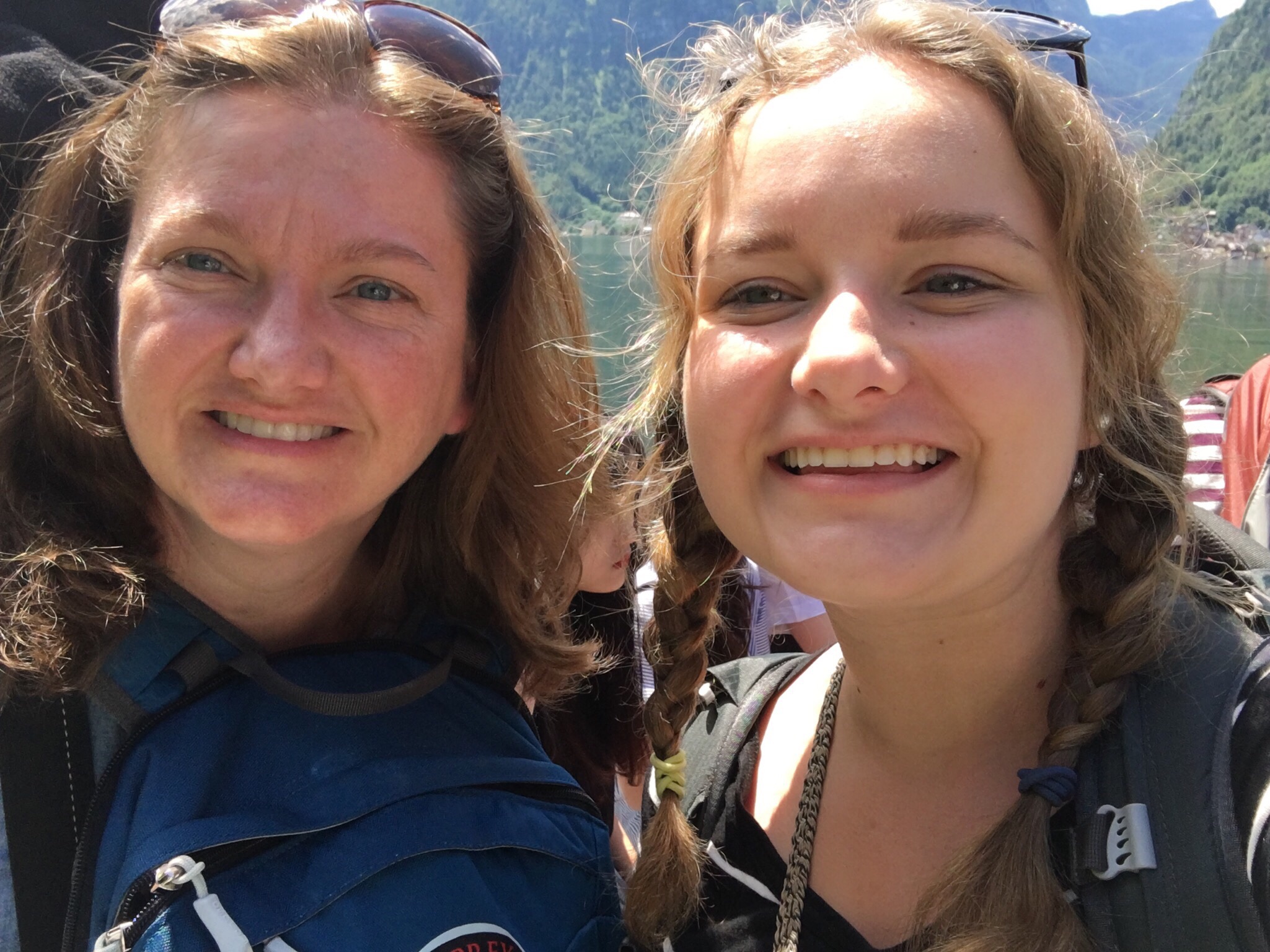 Our guest house, Gasthof Simony, was near the boat dock, so we quickly checked in, dropped our bags, grabbed our jackets, and did a quick speed walk to the other side of town (a less than 10 minute walk) and out to the salt mines. Getting to the salt mine tour involves finding the ticket office (on the opposite side of town from the ferry), taking a lift part way up the mountain, walking up a steep path to the salt mine tour office, and then waiting for the next tour to begin. Because we were so late arriving, we were worried we would miss the last tour, but groups were still going in when we finished our climb.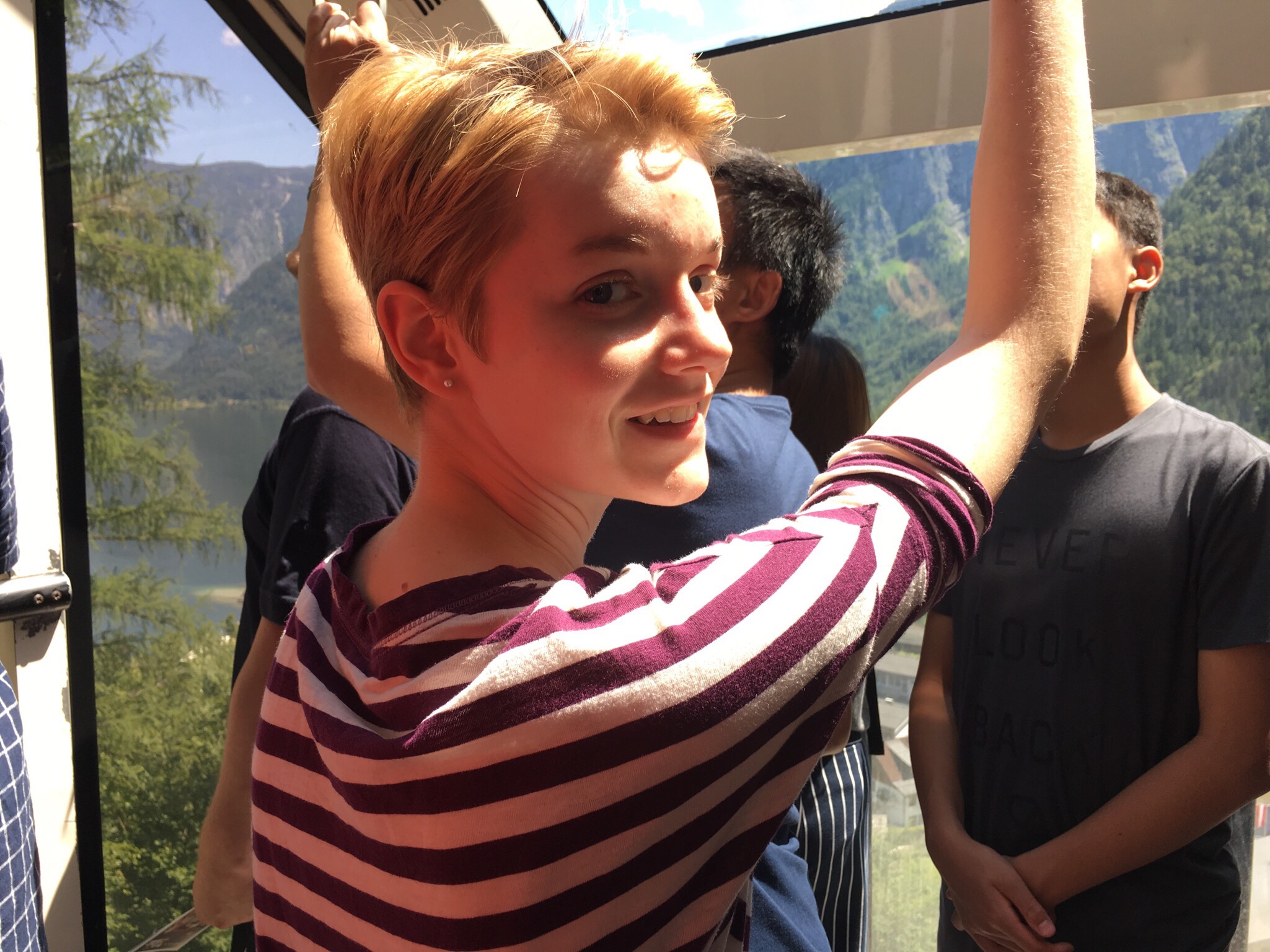 Before going in to the mines, everyone had to put on overalls to cover and protect clothes (it is also very cold inside the mine).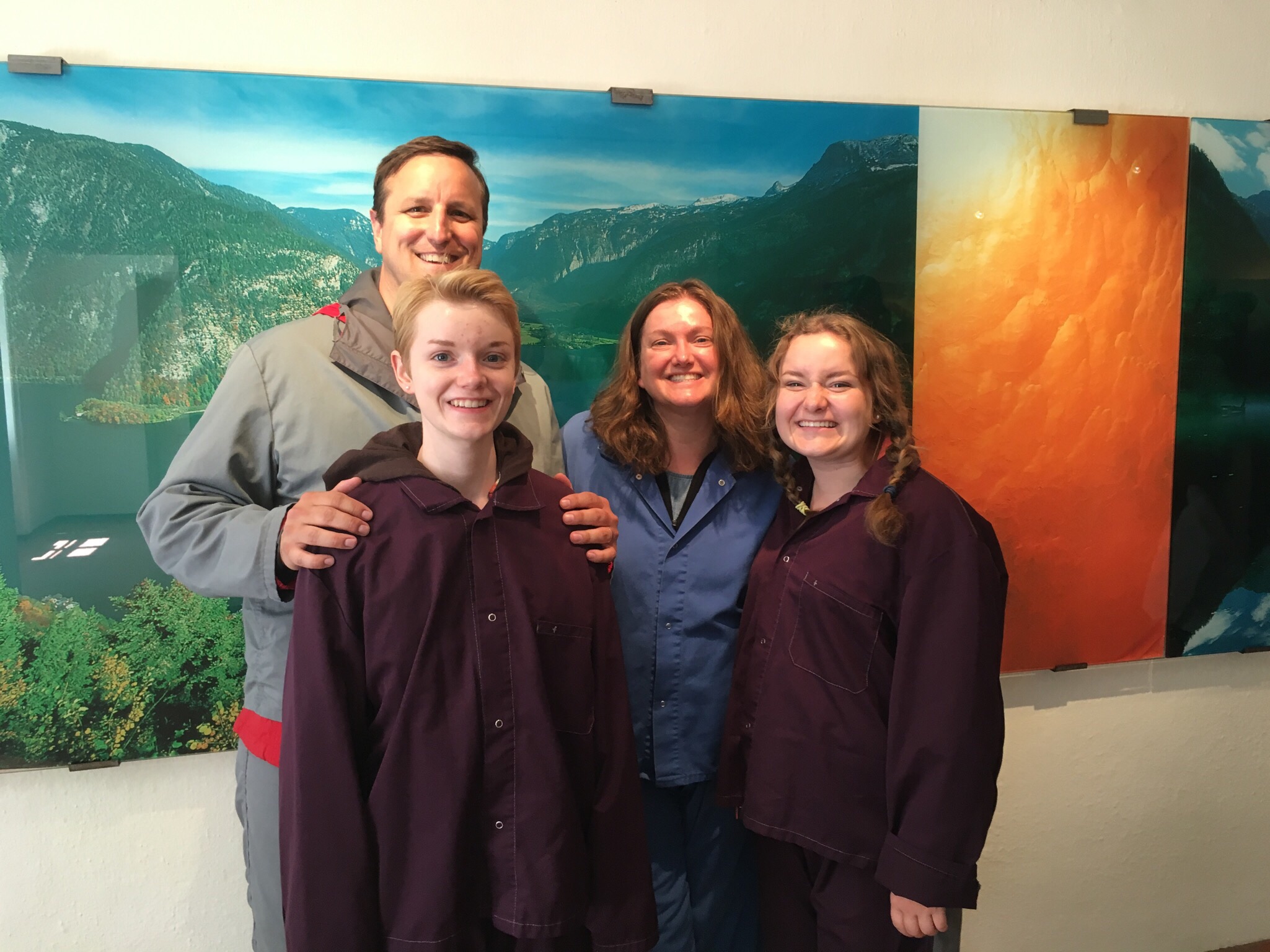 The tour was great! Our guide gave the tour in both German and English (which was awesome because I had assumed we were taking a tour on which we would understand nothing, so it was a nice surprise). We accessed the mines by a series of slides and tunnels.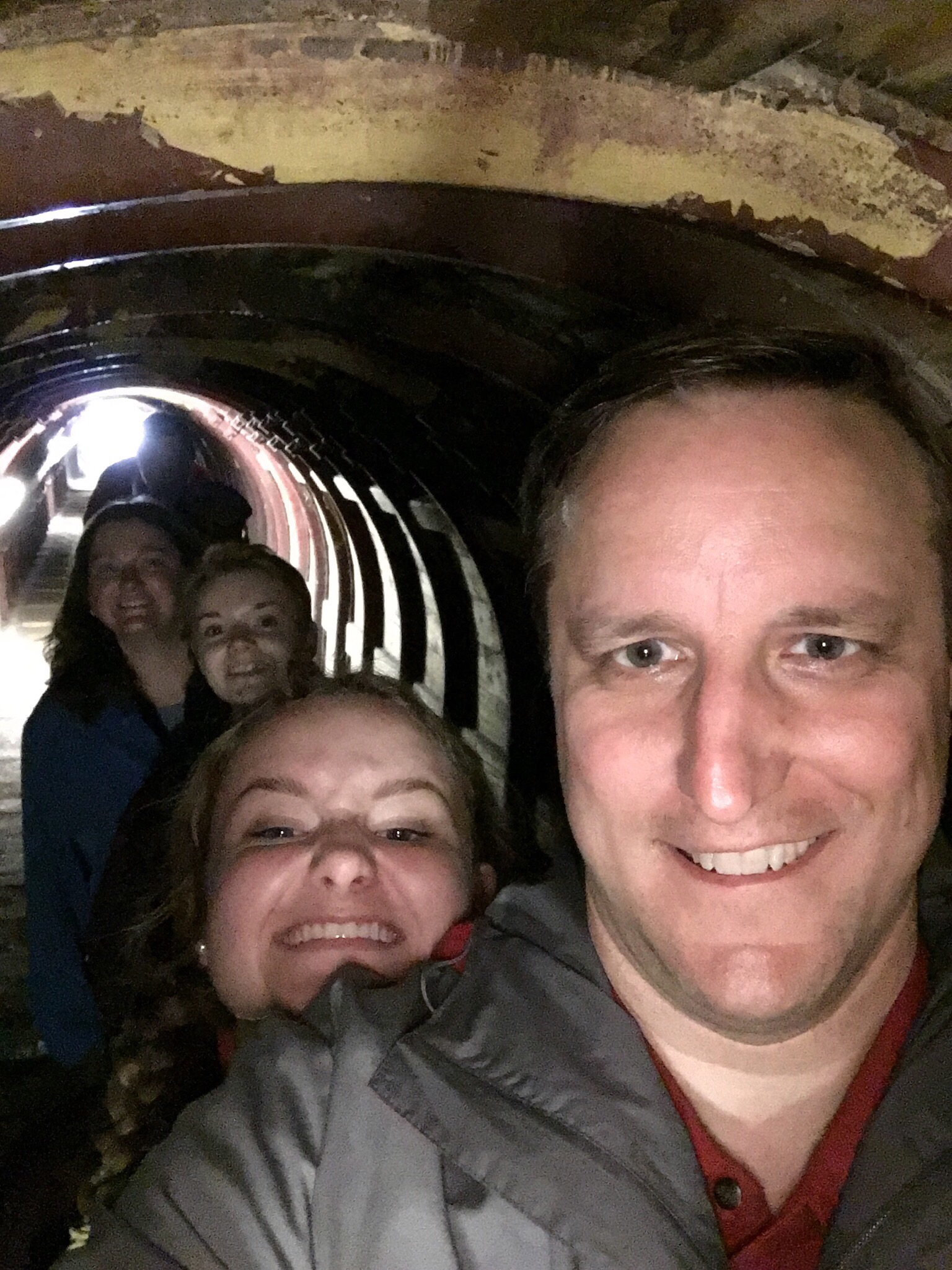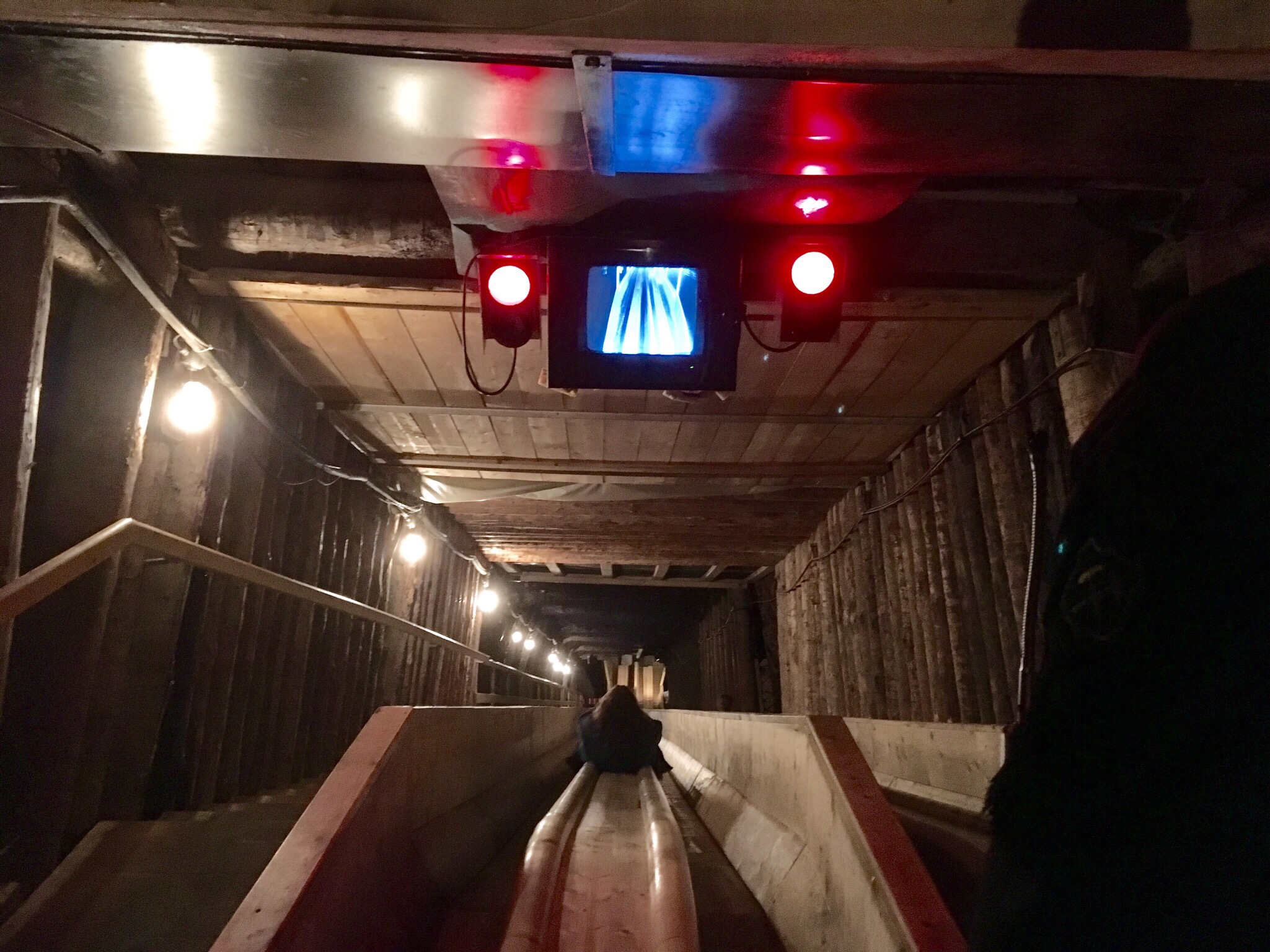 We learned how ancient people would have worked as a community to carve out the salt by hand and water. We were taken to a subterranean salt lake  which was very cool. We also learned the story of the "Man in Salt" who was found when a partial cave collapse in the early 1700's unearthed his preserved body. On the last part of the tour, we could view what is being called the "oldest wooden staircase in Europe." It was found during an archaeological dig several years ago, and it is now part of the mine tour. We left the tour certain Walt Disney glamorized those seven dwarves drawing them mining diamonds; based on the age of the story and its location, we're pretty sure they should have been mining salt.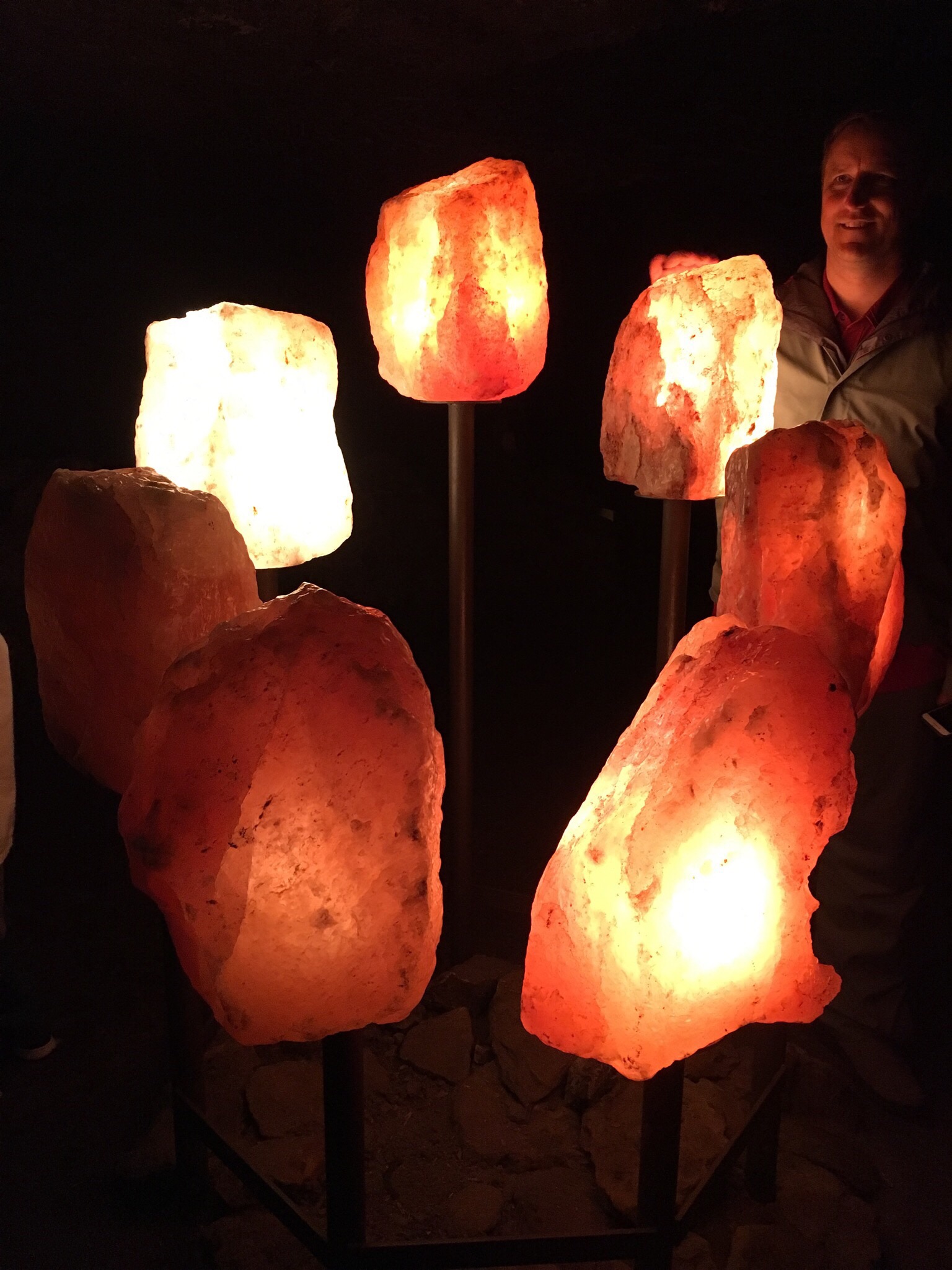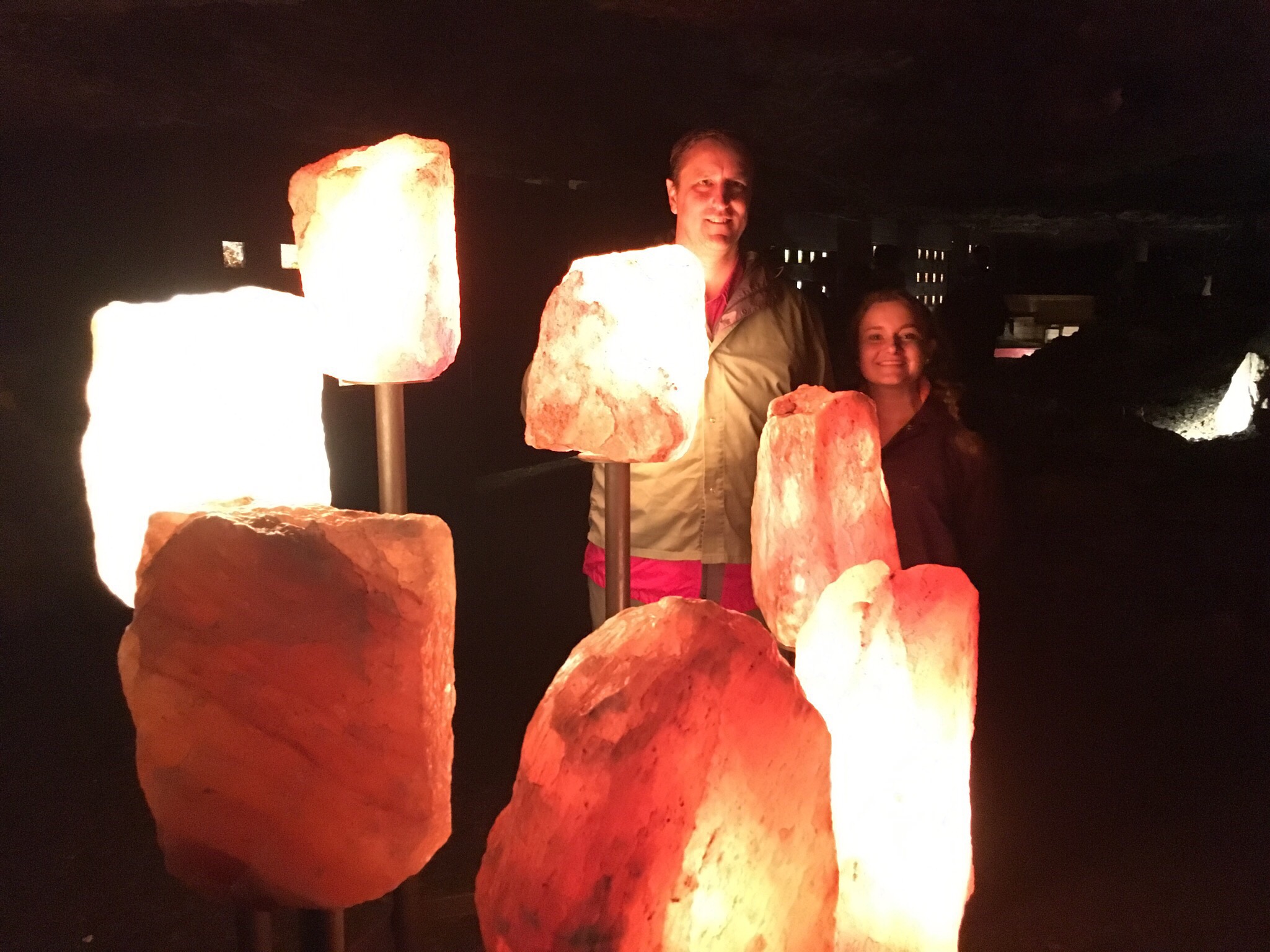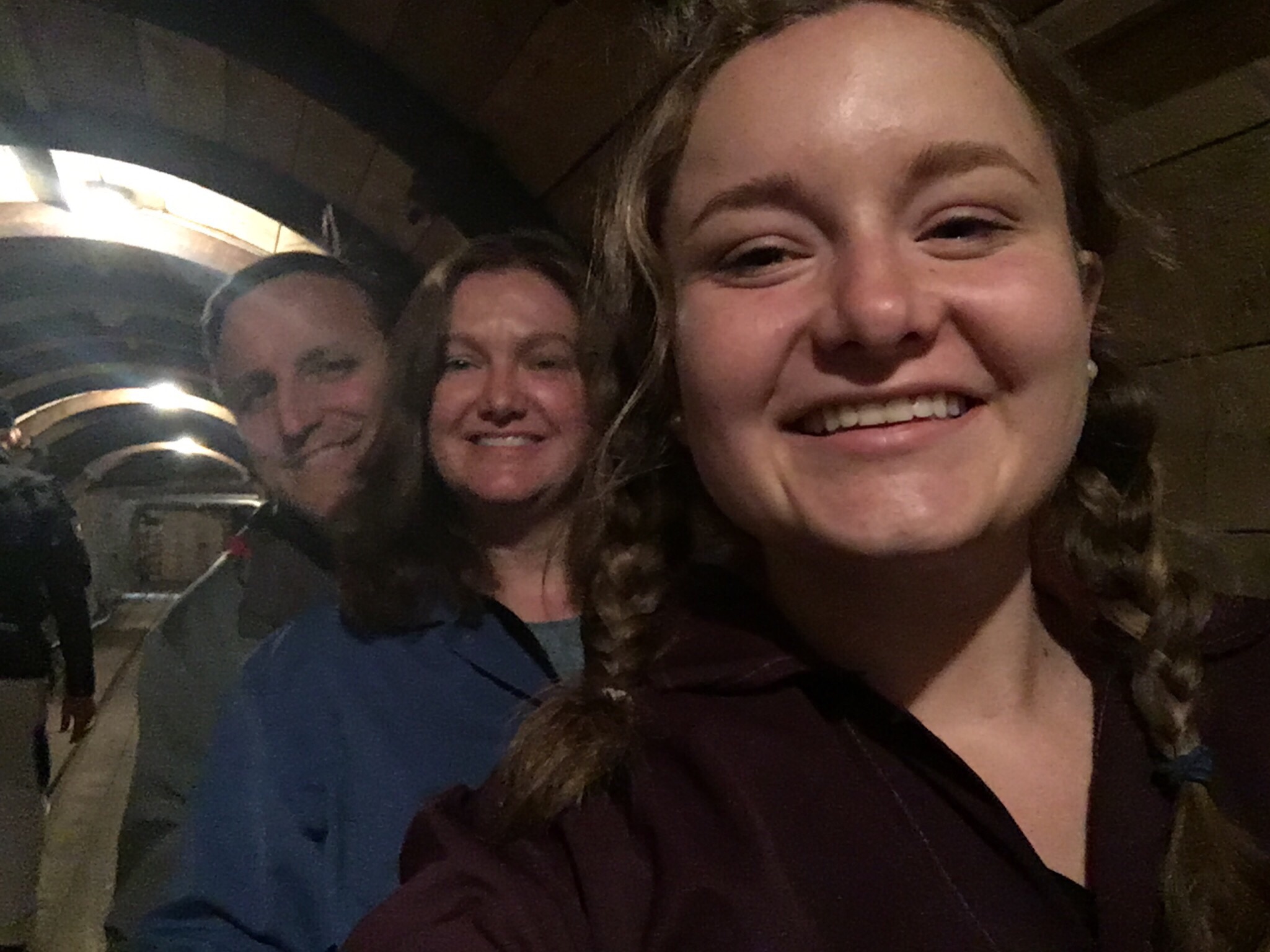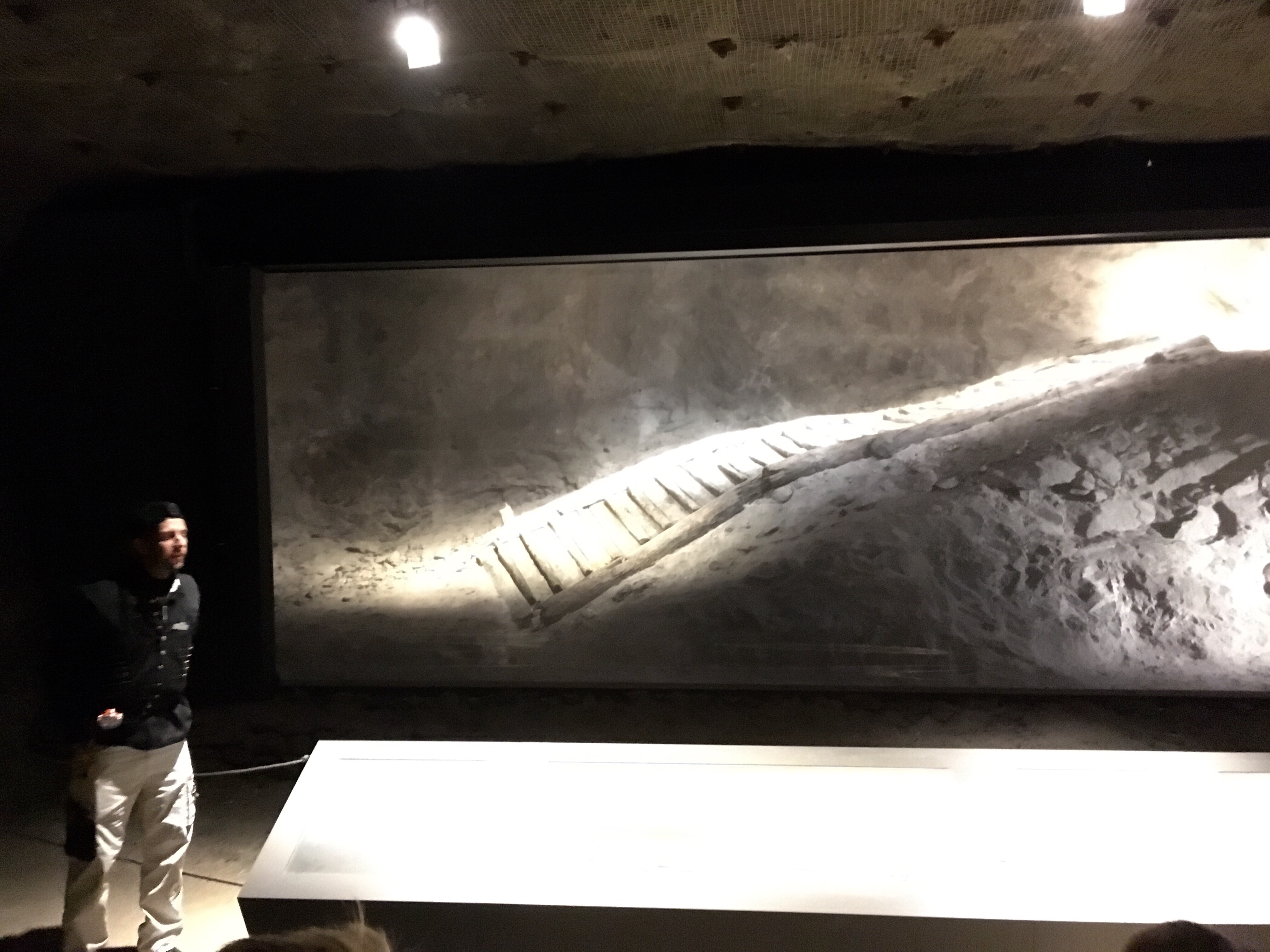 On our walk down from the mines, we stopped at some memorials and viewpoints we had skipped on the way up. One of these was a viewing platform where you had sweeping views of the town, lake, and mountains.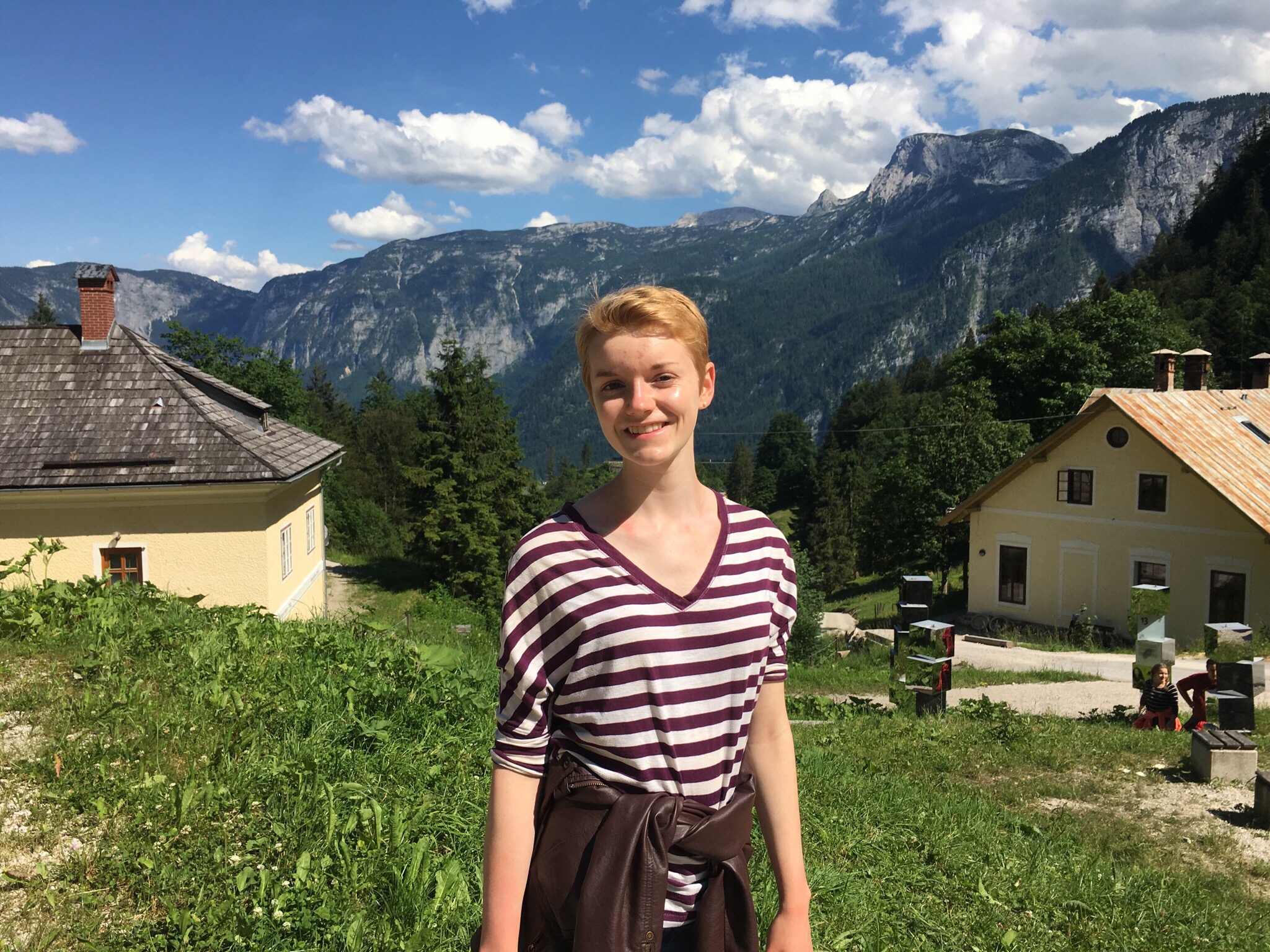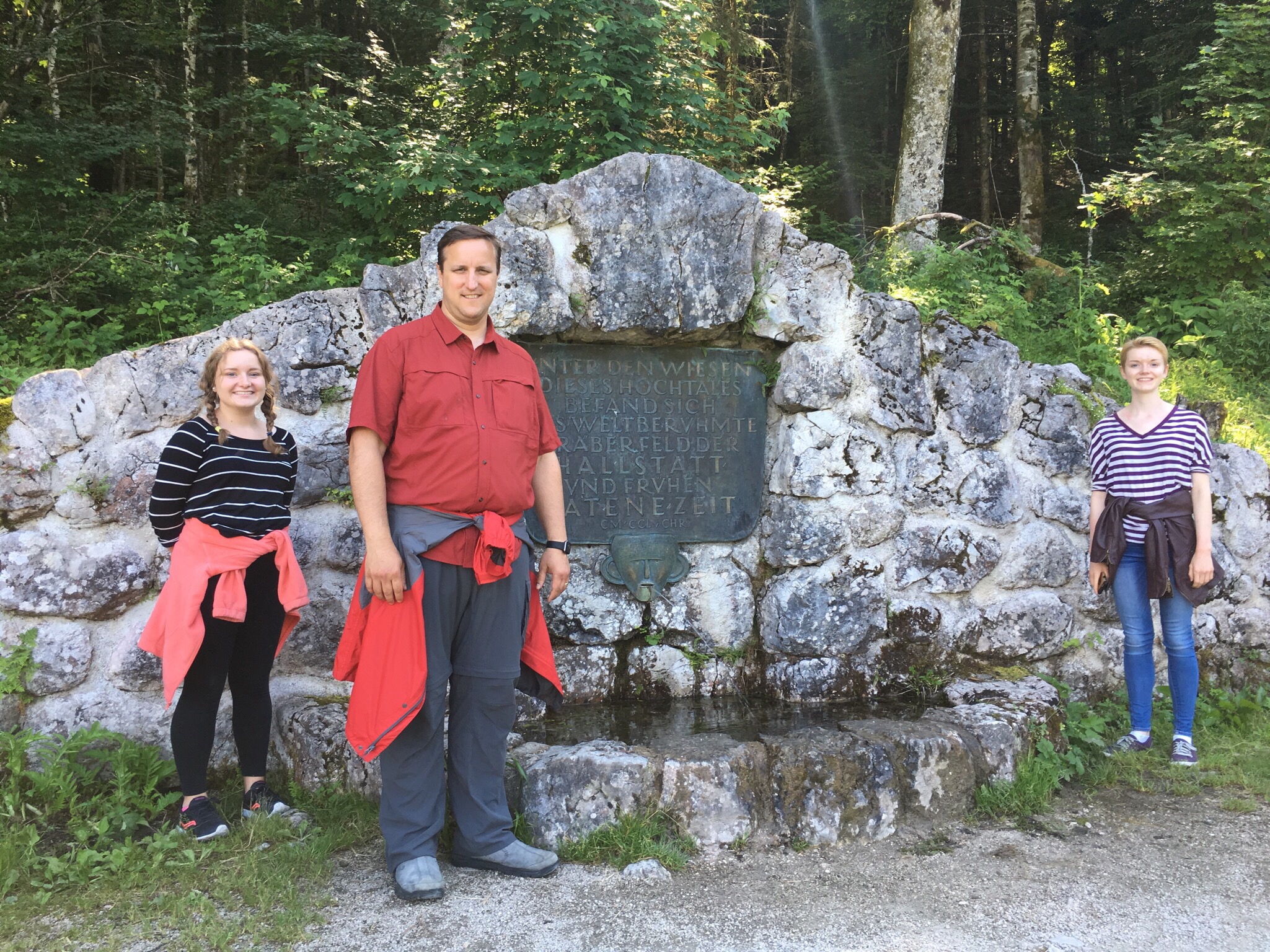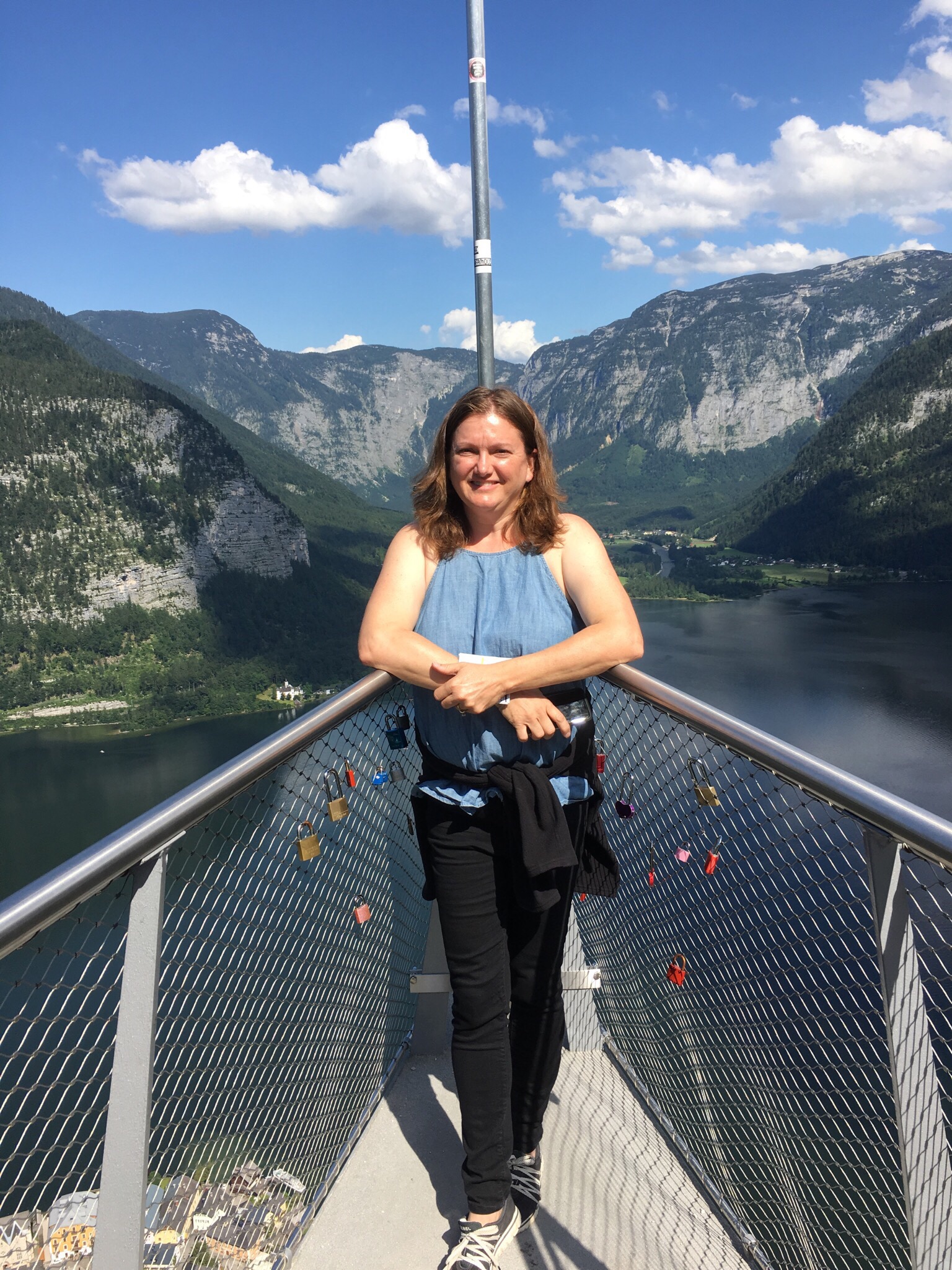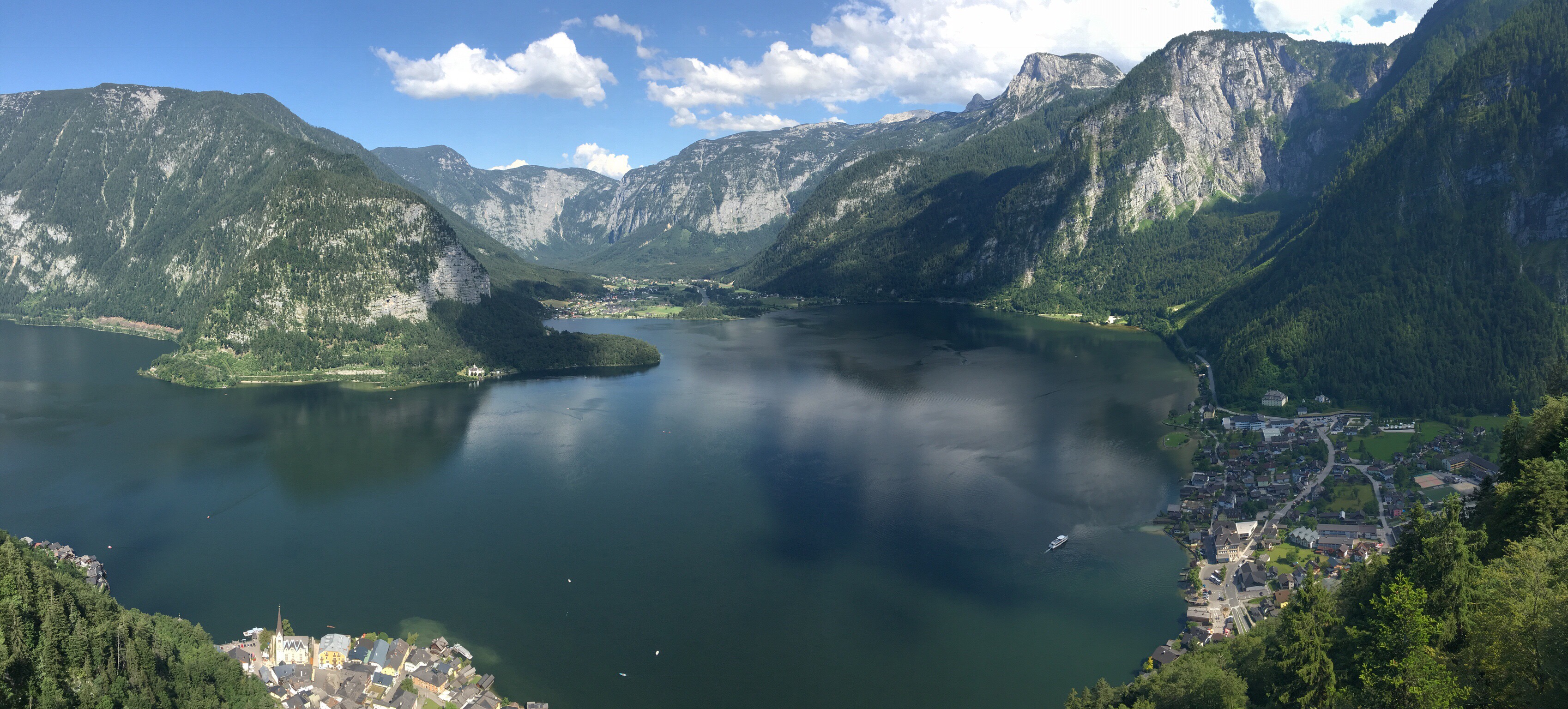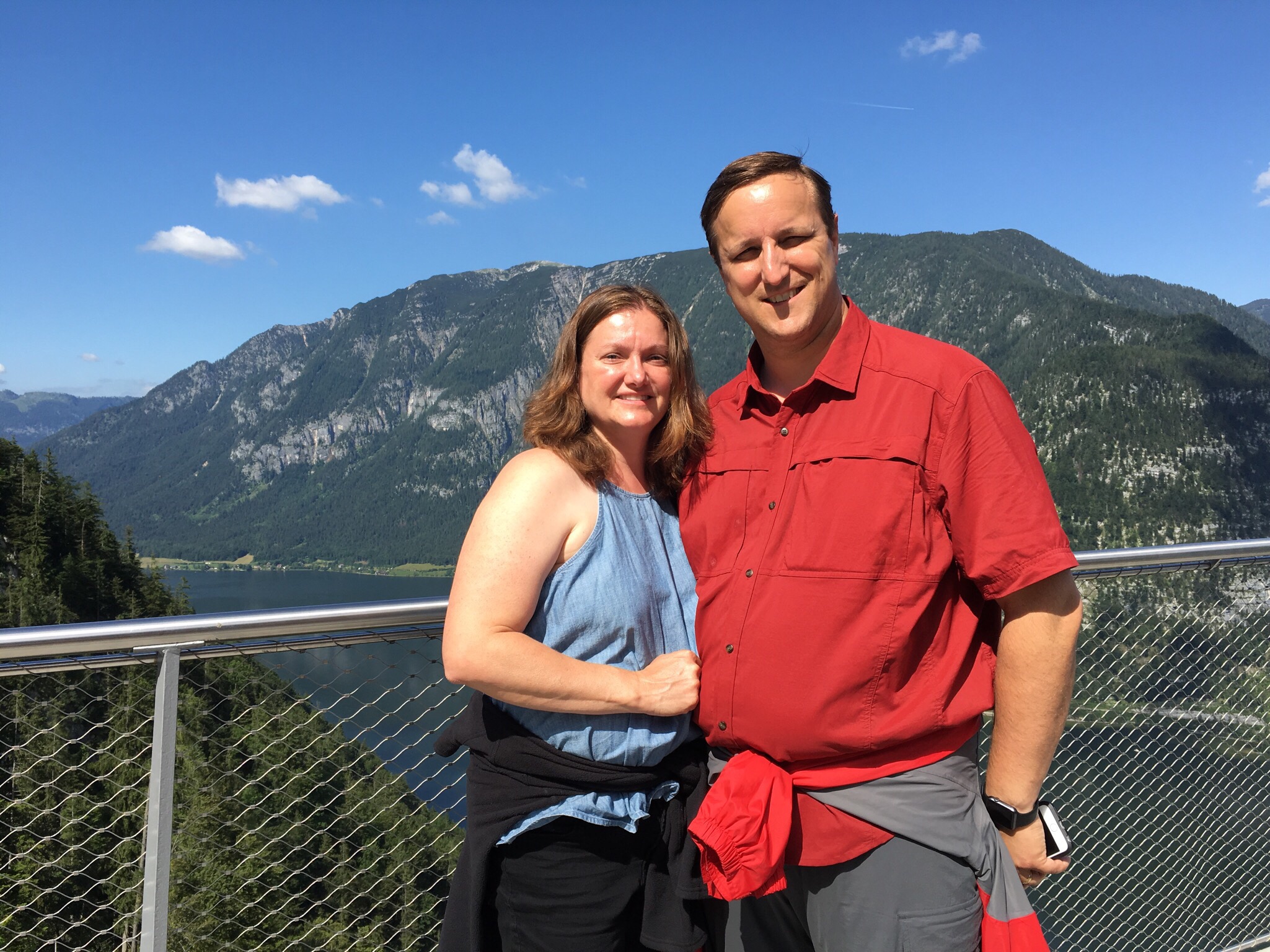 Hallstatt is famous for being a day-trip town, so after the shops all close up, many tourists disappear. By the time we stopped at the grocery near the mine entrance (we needed travel snacks for tomorrow as well as beverages to keep us going) and walked back to our hotel, the roads were clearing out.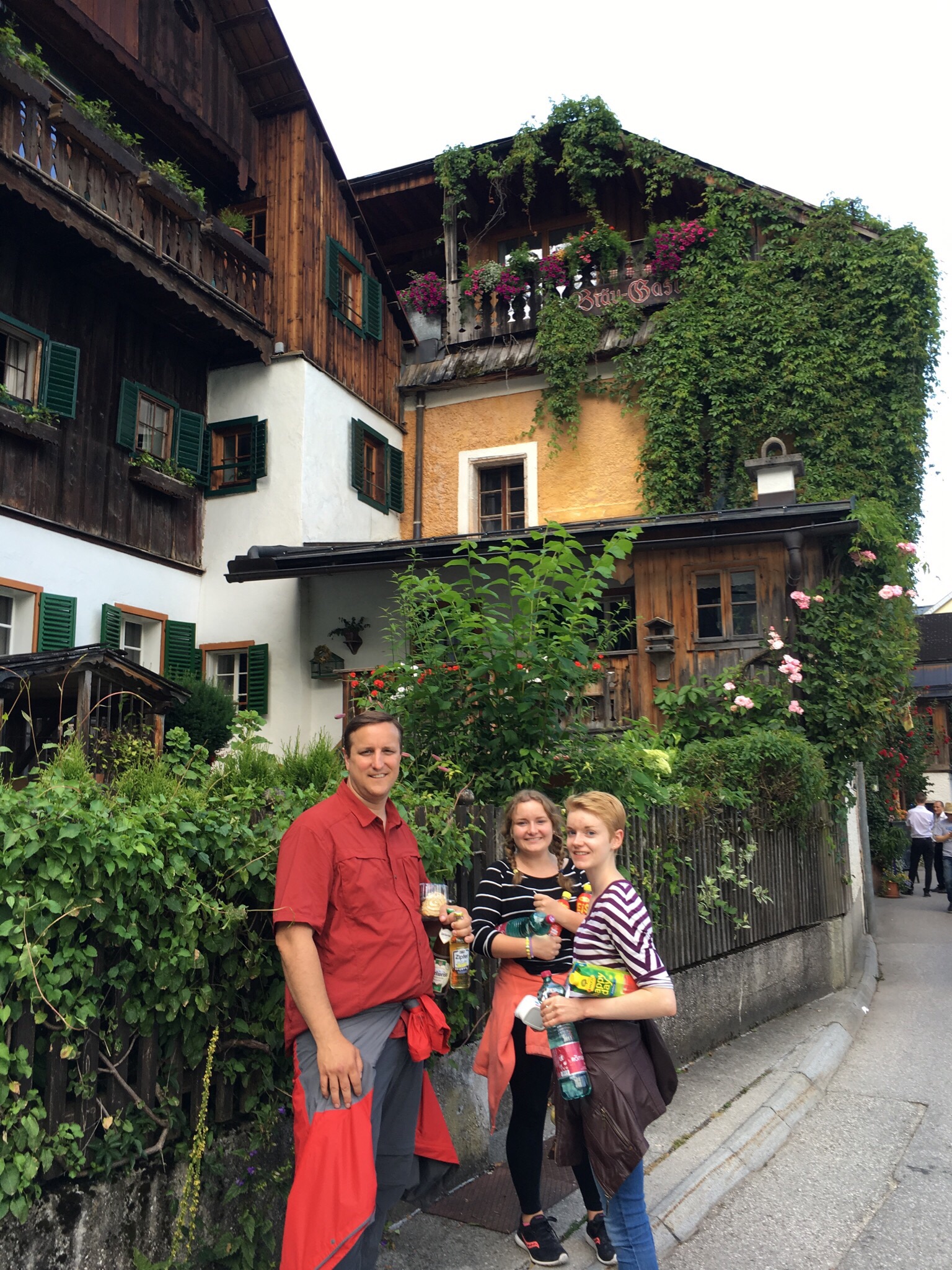 St Michael's Catholic Church, dating to the 12th Century, has an Ossuary, or Beinhaus (Bone House). More than 6000 skulls have been collected here and painted with beautiful designs to remember and name the dead.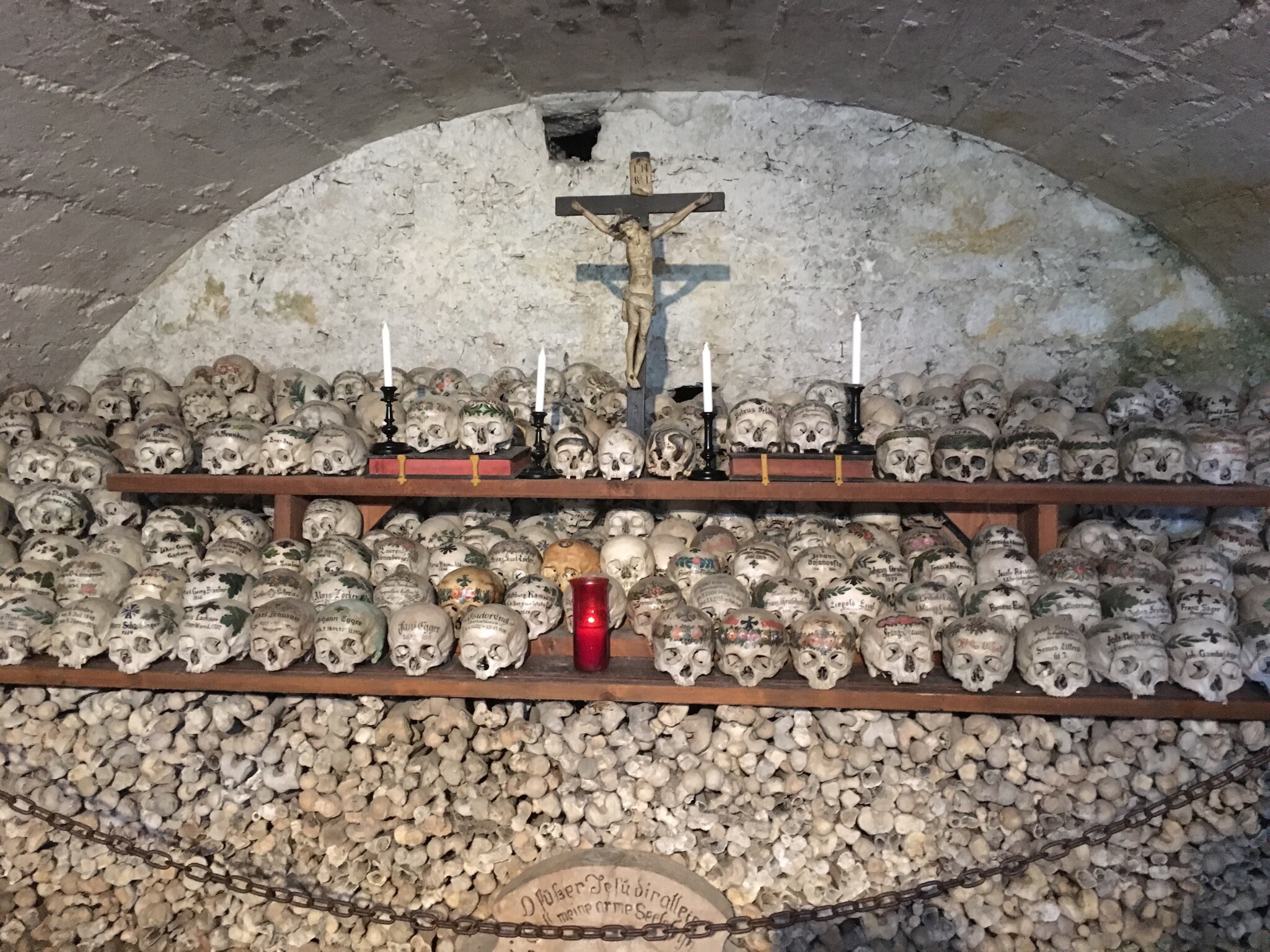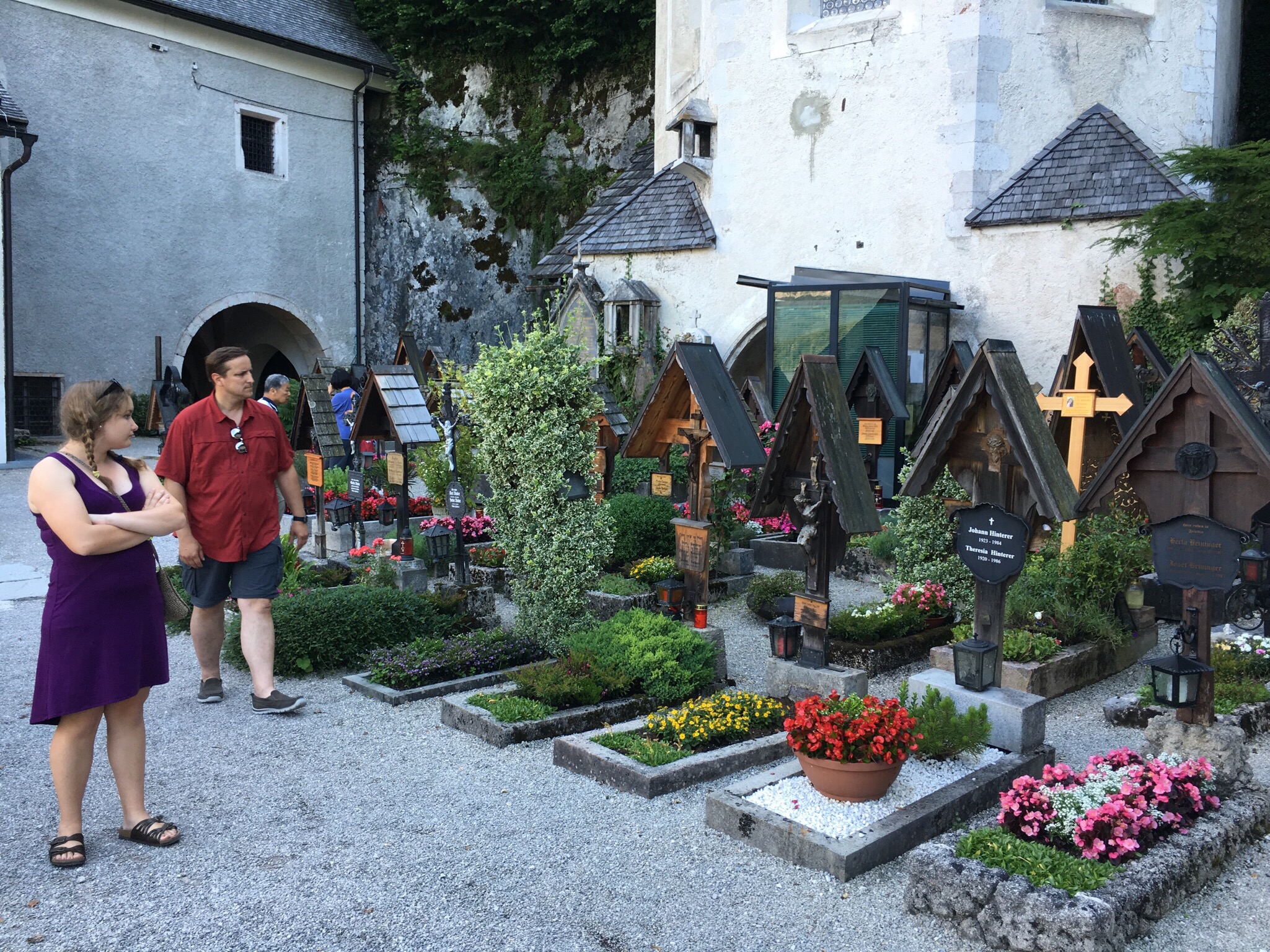 After paying what we hope was a respectful visit to the Bone House (although there is a parish member there taking donations and passing out prayer cards, it still felt intrusive), we wandered town until we were hungry enough for dinner.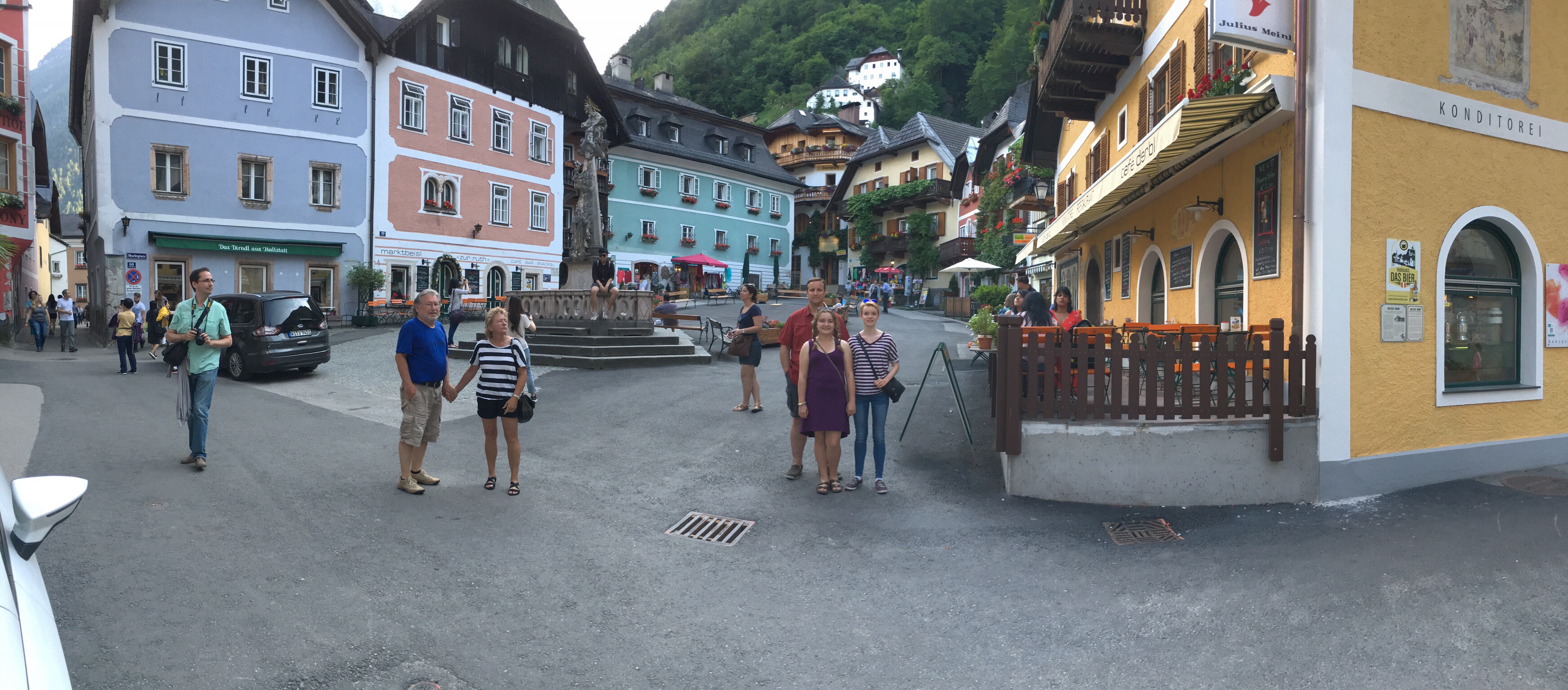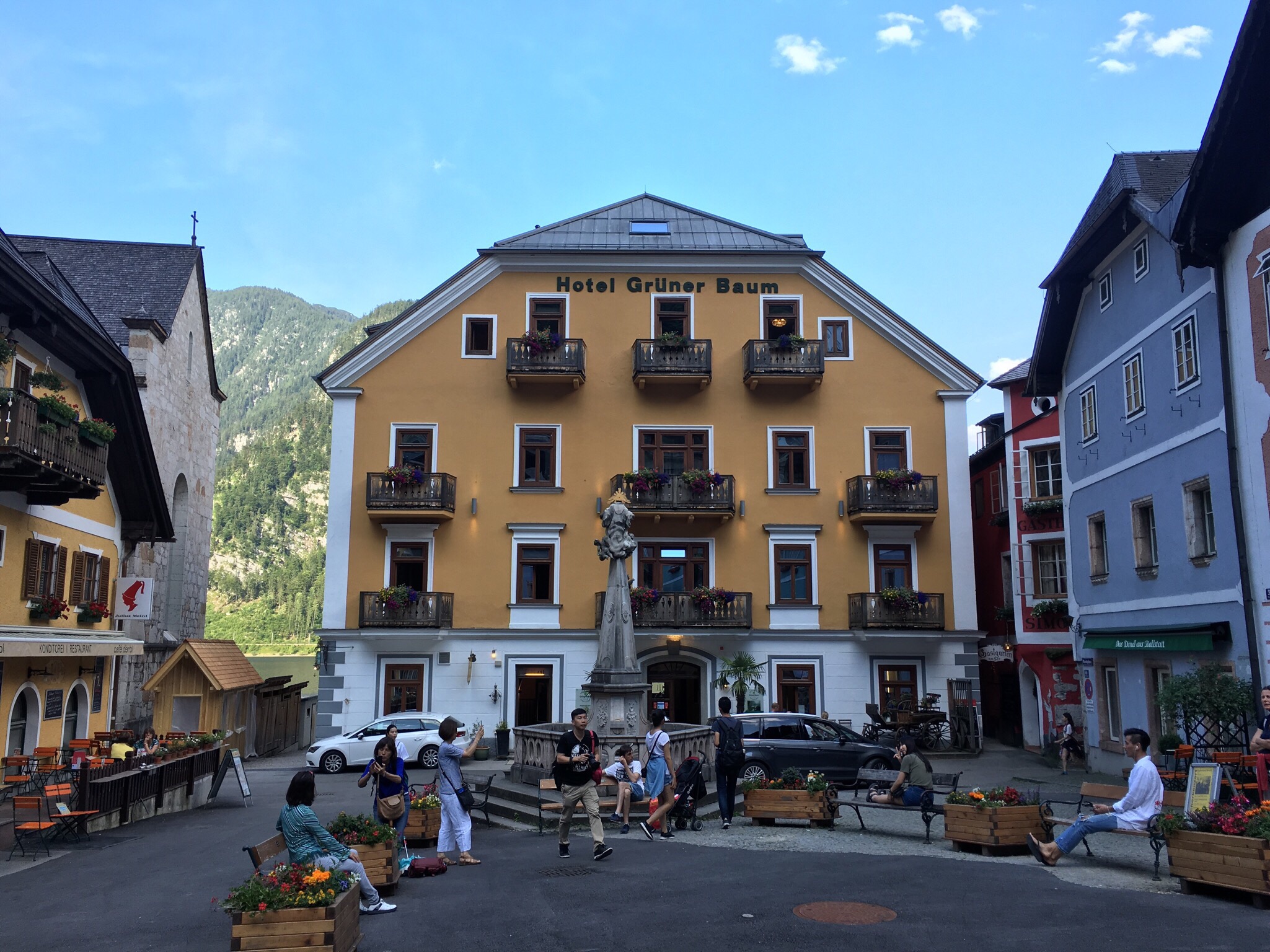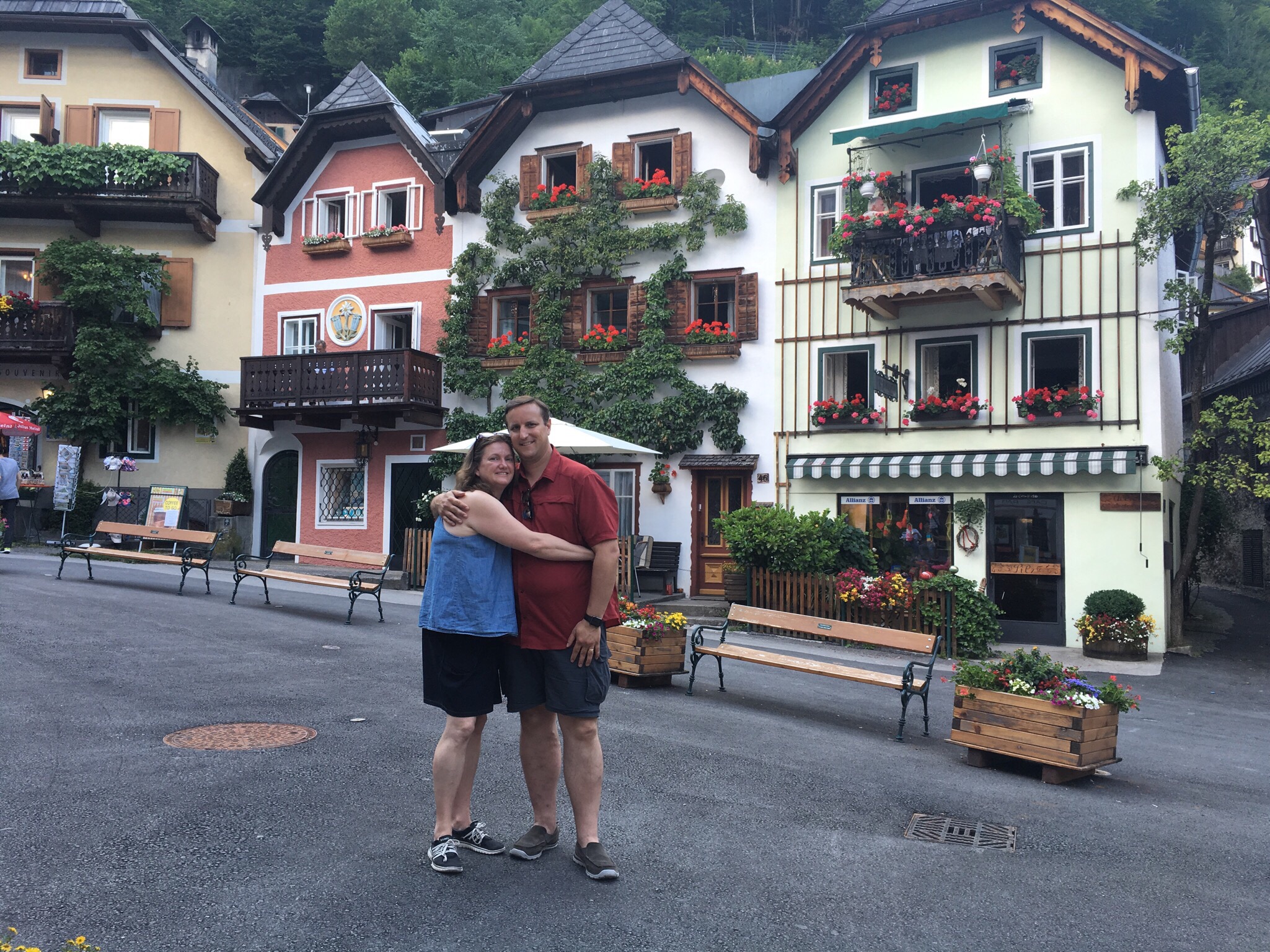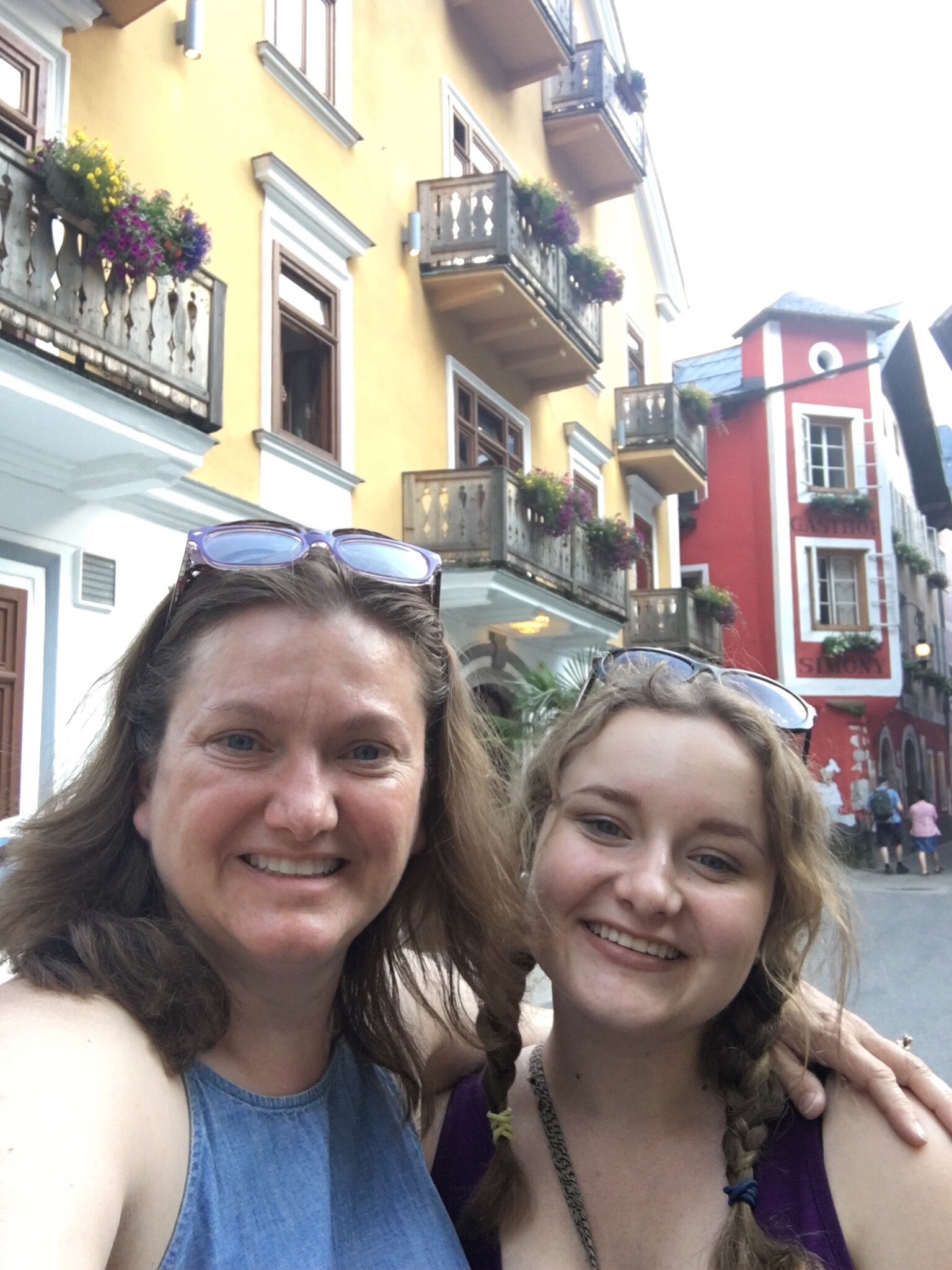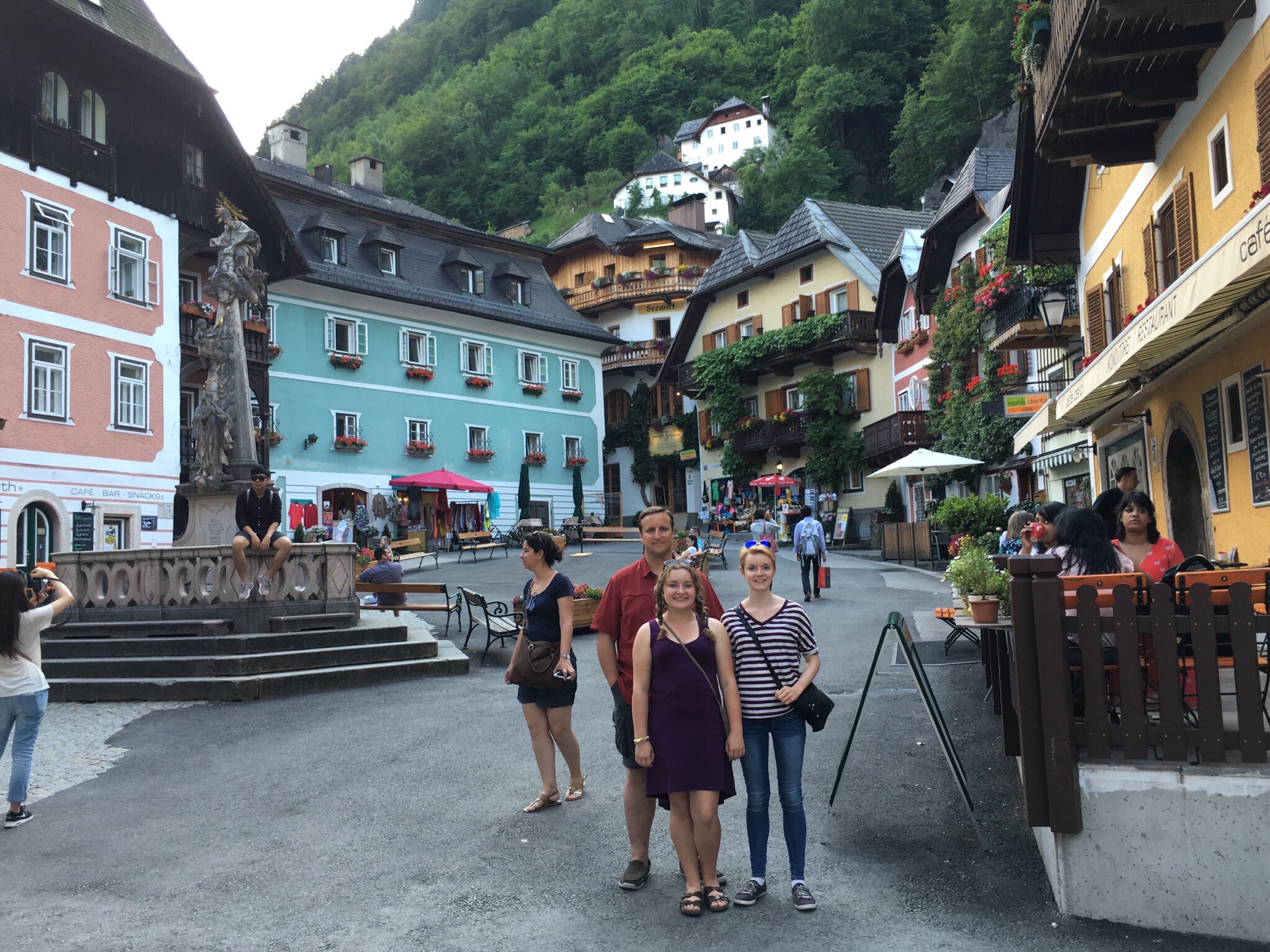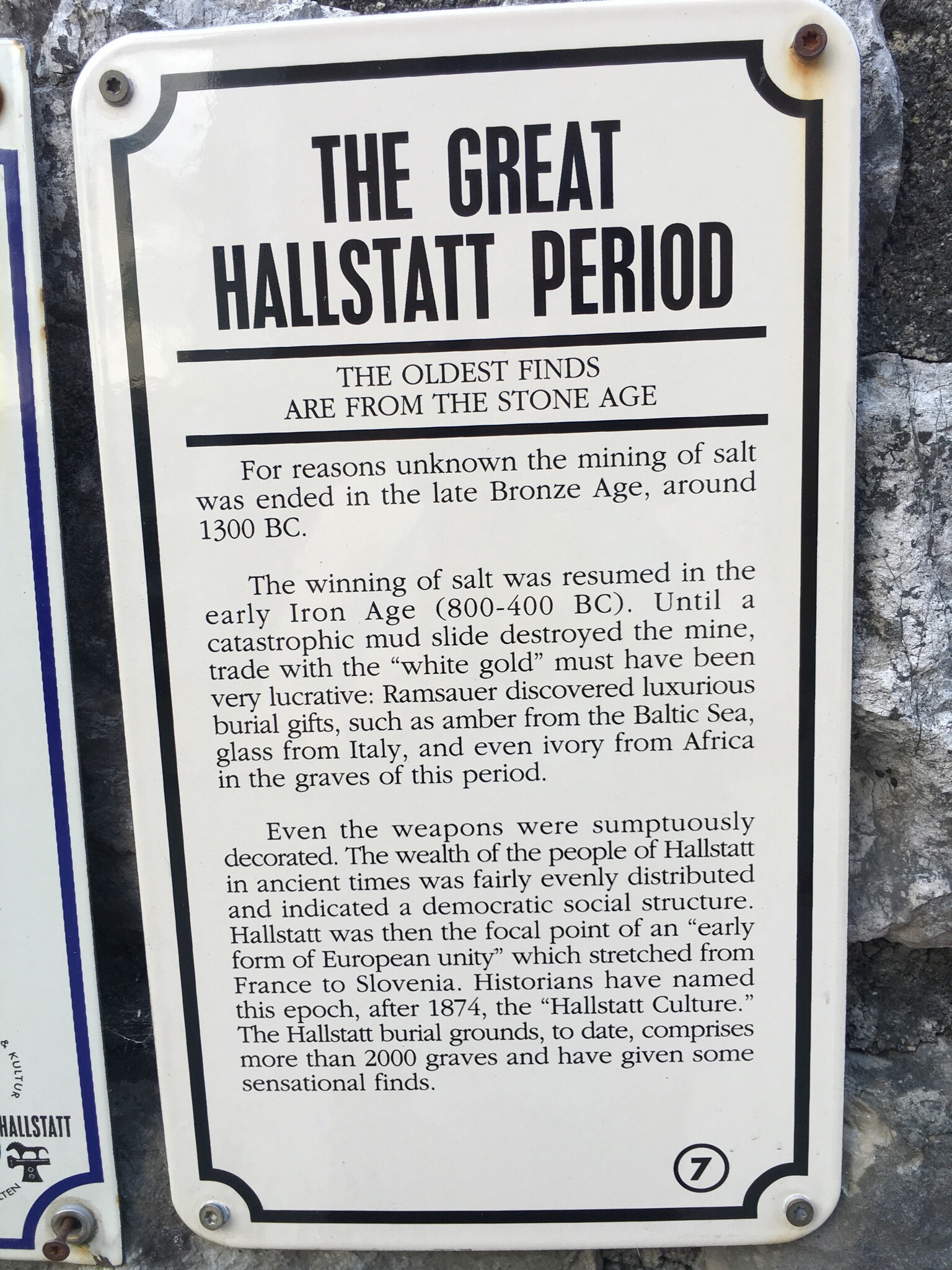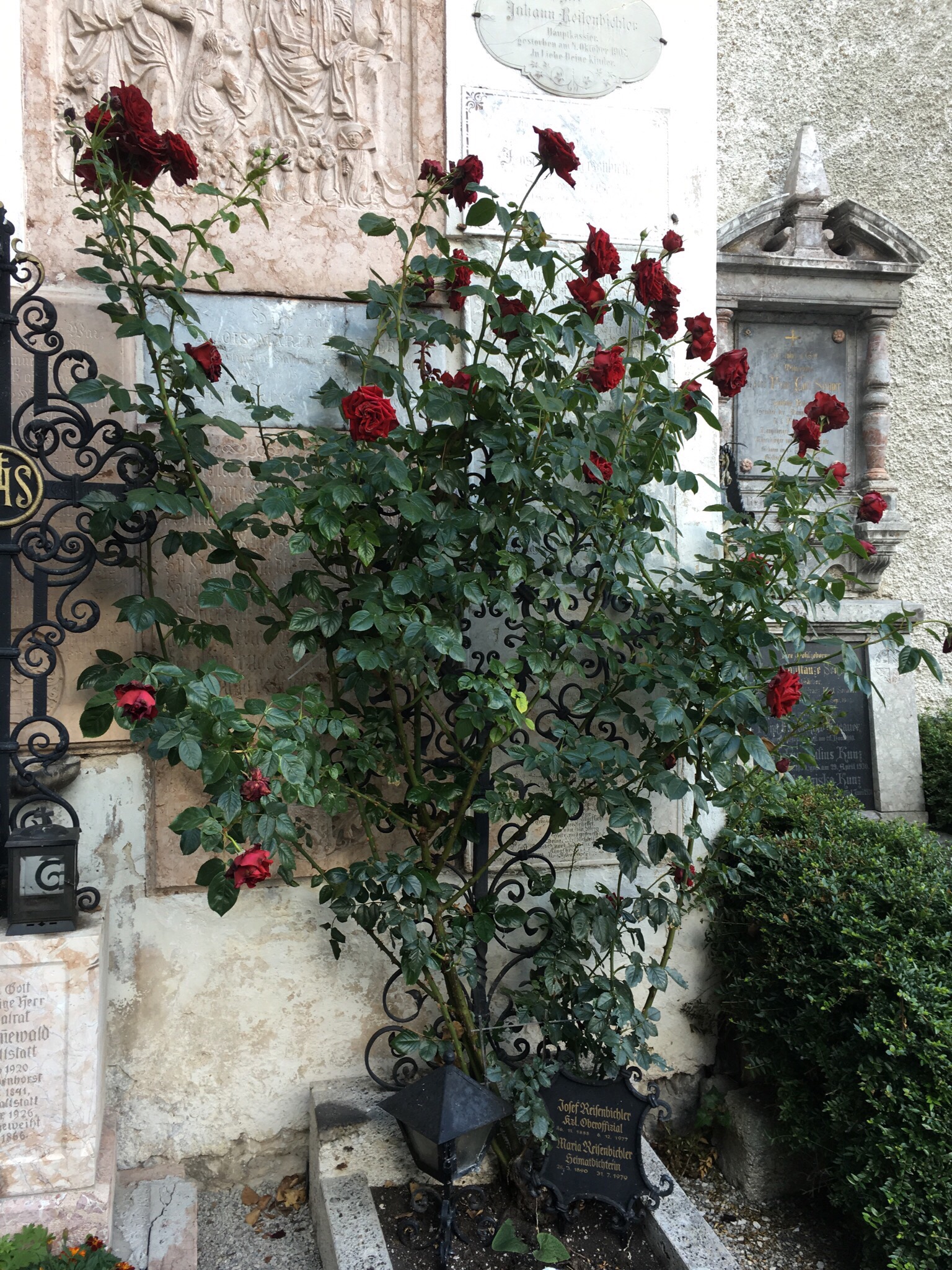 We celebrated Mike's birthday with dinner at our hotel's restaurant. We sat by the lake, enjoyed our dinner and drinks, and watched for swans.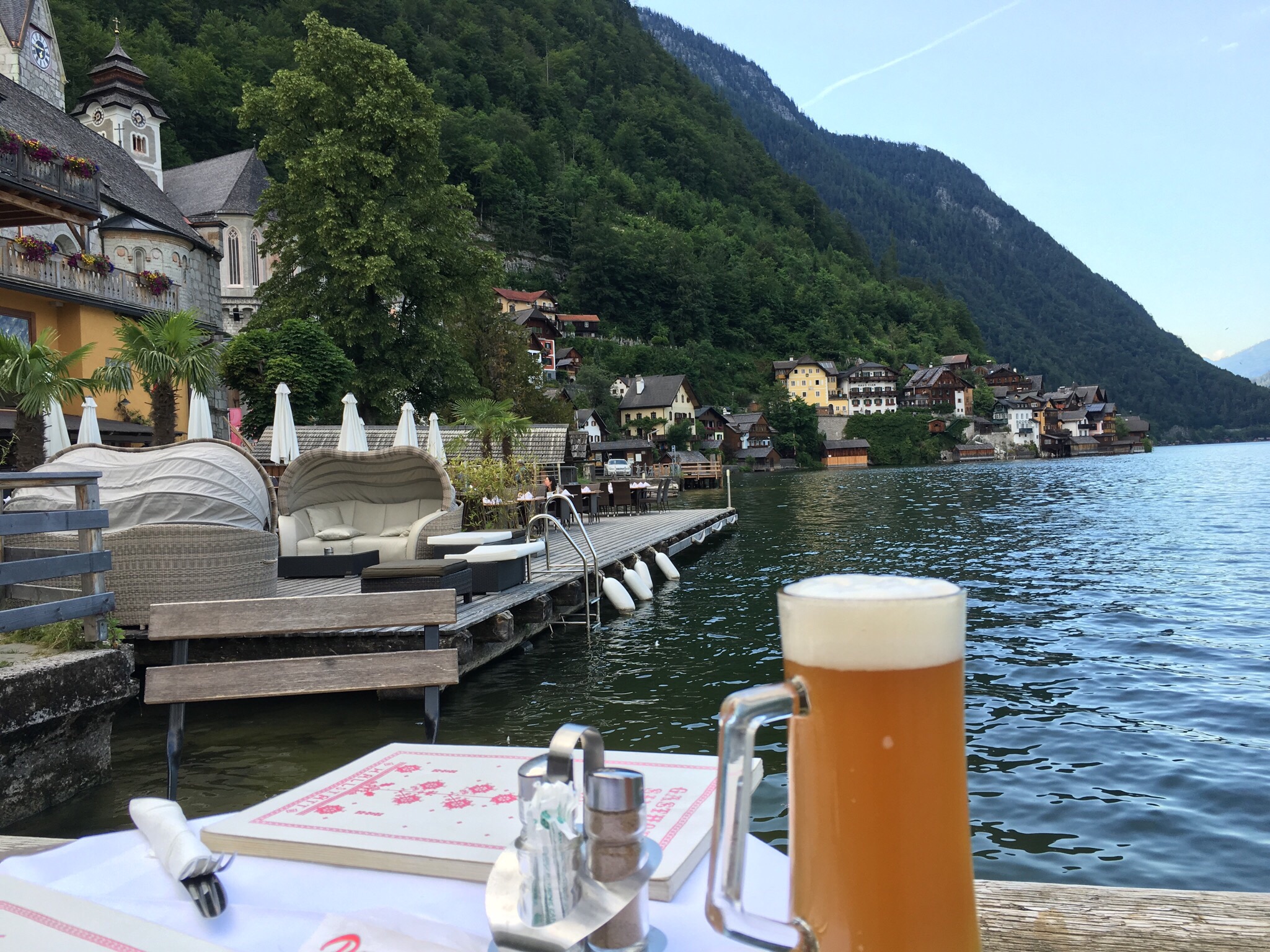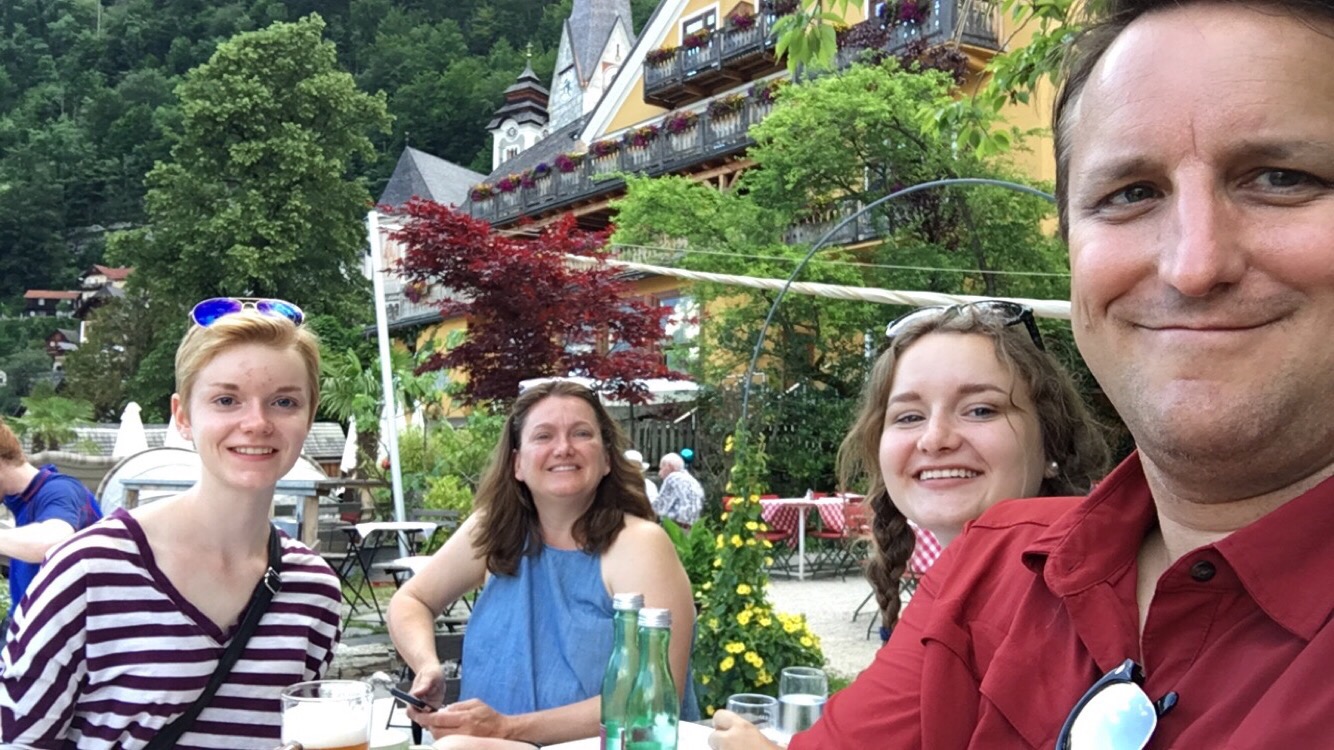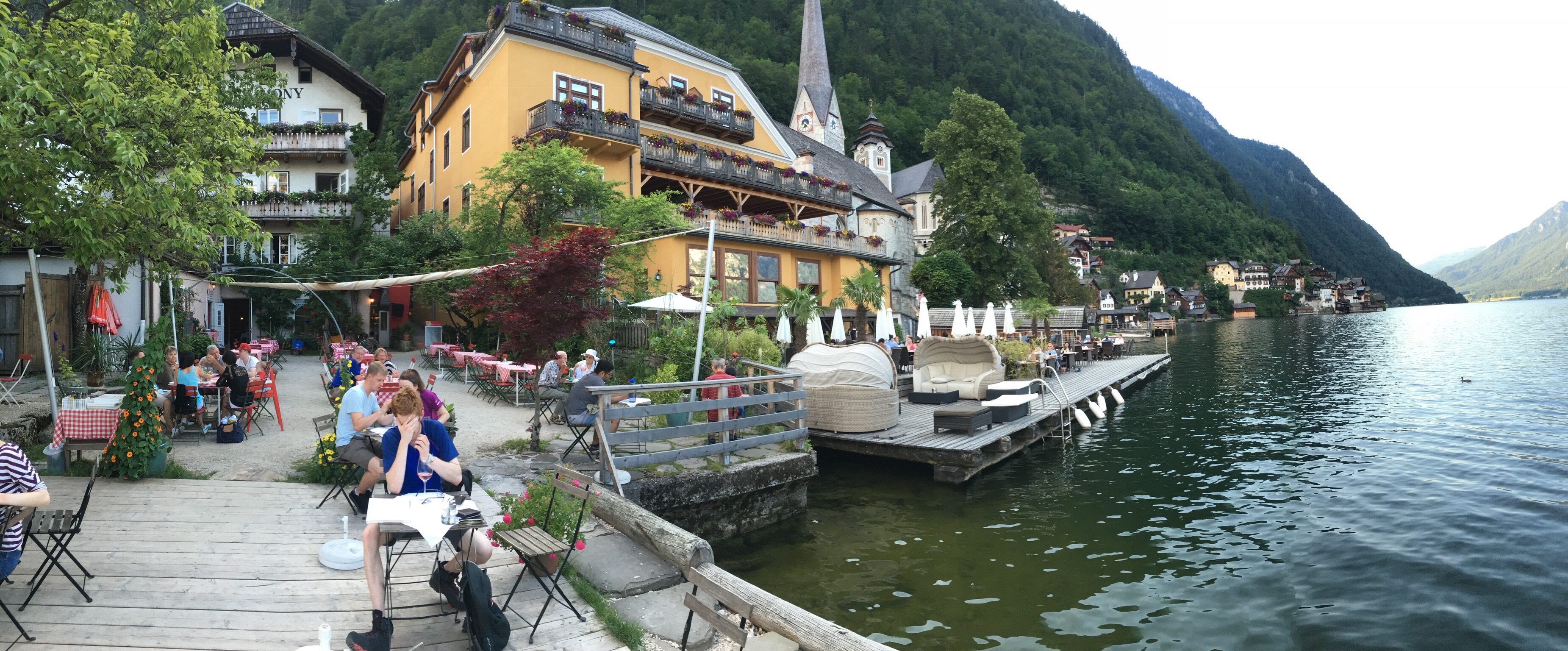 After dinner, our balcony provided more great views, so we settled there to eat the birthday dessert we'd picked up at the grocery.